Editor's note: This article is intended as an overview of some of the most commonly sought voluntary certifications available for finished mattresses, component parts and sleep accessories. It is not intended as a definitive guide and does not include discussion of mandatory federal flammability standards, which have been covered extensively in past issues of BedTimes (search the magazine's archives), or health and safety standards mandated at the state level. Information in the story was provided by the organizations. An organization's inclusion in this article does not imply endorsement by BedTimes, Sleep Savvy or the International Sleep Products Association. This article was originally published November 2012 in BedTimes magazine.
BY GARY JAMES
Consumers are becoming increasingly concerned about what goes into the products they buy, whether it's the food they eat, the clothes they wear or the mattress they sleep on. They want to know products are safe, don't contain dangerous chemicals and that their production doesn't harm the environment.
To help consumers identify products that meet these and other requirements, a number of voluntary certification programs have emerged. These programs set rigorous, uniform standards for various product categories and provide for testing and inspection to ensure those standards are met. Products that satisfy the requirements are given the right to use special logos and other branding in their marketing and advertising that convey their proven safety, quality and environmental characteristics.
Mattress industry manufacturers and suppliers that want to show consumers their products meet certain standards have a number of certifications they can seek. For instance, for polyurethane foam there are the CertiPUR-US and Greenguard programs. Textiles are covered by several groups, including the Global Organic Textile Standard, Oeko-Tex and the U.S. Department of Agriculture.
Here's a rundown, in alphabetical order, of some of the major seal, standard and certification programs applicable to sleep products:
CertiPUR-US
Issuing organization: Alliance for Flexible Polyurethane Foam Inc., a nonprofit organization.
What the seal means: Provides assurance that the foam in bedding or upholstered furniture has been tested and certified by an independent laboratory to meet specific criteria for indoor emissions, content and physical performance, demonstrating a commitment to environmental stewardship.
When the seal was established: The first phase of the CertiPUR-US program was launched in 2008. The program is based on the CertiPUR safety, health and environment standard for polyurethane foam introduced by the European Association of Flexible Polyurethane Foam Blocks Manufacturers in 2005. The U.S. program has a performance standard that is not part of the European program.
Which products can be certified: Flexible slabstock polyether polyurethane foam, including conventional foam, conventional FR foam, super-soft (low-density/low-index) conventional foam, high-resilience foam, visco-elastic foam, and other polyurethane foams, including some gel versions. The program is open to all foam producers, not just U.S.-based foam manufacturers.
Criteria to earn the seal: CertiPUR-US-approved foams are tested and certified to have been made without the following: chlorofluorocarbons or other ozone depleters; PBDE flame retardants; mercury, lead and heavy metals; formaldehyde; and prohibited phthalates. They also have low levels of VOC emissions that impact indoor air quality, and they must pass physical performance tests for durability.
How a company/product earns the seal: To use the seal, a terms of use agreement and verification forms need to be on file.
Benefits of participating: "Consumer interest in buying products containing foam that is CertiPUR-US certified is evident by the number of inquiries we receive daily," says Doug Sullivan, executive director of the CertiPUR-US program. "That interest is expected to grow exponentially in 2013 when we launch an aggressive consumer awareness campaign aimed at mattress shoppers." According to Sullivan, an increasing number of consumers are demanding information about the products they buy, making the CertiPUR-US program a value-added marketing tool for manufacturers and retailers of bedding and upholstered furniture. Marketing support from the organization includes hangtags, information cards, a 90-second educational video and a listing on the CertiPUR-US website, which is increasingly being used by consumers as an informational resource.
For more information: www.certipur.us.
Global Organic Textile Standard
Issuing organization: The International Working Group on Global Organic Textile Standard, composed of four member organizations: Organic Trade Association (based in the United States), International Association of Natural Textile Industry (Germany), Soil Association (United Kingdom) and Japan Organic Cotton Association.
What the certification means: GOTS is a stringent voluntary international standard for the processing of organic, fiber-containing products, addressing all the post-harvest processing stages, such as spinning, knitting, weaving, dyeing and manufacturing. It includes both environmental and social provisions for post-farm to retail-shelf management. Key provisions include a ban on the use of child labor, genetic engineering, heavy metals and highly hazardous chemicals such as formaldehyde, while requiring living wages and strict wastewater treatment practices.
When the certification was established: 2006
Which products can be certified: The standard covers the processing, manufacturing, packaging, labeling, trading and distribution of all textiles made from at least 70% certified organic natural fiber. Organic fiber includes cotton, wool, hemp, flax (linen) and other natural fibers grown according to national organic standards without the use of toxic and persistent pesticides, synthetic fertilizers or genetic engineering. Products may include, but are not limited to, fiber, yarns, fabrics and home textiles. A textile product carrying the GOTS' "Organic" label must contain a minimum of 95% certified organic fibers; a product with the label "Made with Organic" must contain a minimum of 70% certified organic fibers. The applicability of the GOTS certification system starts with the first processing step in the textile supply chain. For instance, in the cotton supply chain, ginning is considered to be the first processing step. In the wool supply chain, processing typically starts with scouring.
Organic fiber production is not directly covered by the GOTS certification system as GOTS does not set standards for cultivation. Instead, cultivation of organic fibers falls under the scope of governmental organic farming standards, such as the U.S. Department of Agriculture's National Organic Program standard. According to the Organic Trade Association, mattresses containing organic cotton may be sold as "organic" in the United States if their manufacture has been certified to GOTS. While it may display the GOTS seal, the label may not refer to National Organic Program certification or display the USDA organic seal.
GOTS certification requires that all processing stages, including manufacturing of the finished product, take place in GOTS-certified facilities. In addition, all traders involved in the supply chains of GOTS-certified products must be certified to GOTS standards. Manufacturers may not claim that their products are GOTS-certified if only certain components, such as batting or fabric, are certified to the standard. Only if these certification requirements are met may a GOTS-certified entity apply the GOTS label (including the GOTS seal) to a final product and claim in promotional materials that its products are GOTS certified. GOTS permits nonorganic accessory components (fiber and nonfiber) in organic consumer products, such as an innerspring or barrier fabric in a mattress. However, all such accessory components must meet certain material requirements and may not contain harmful or toxic characteristics prohibited in the standard.
Criteria to earn certification: Three sets of criteria must be met.
1. Environmental criteria: At all stages through processing, organic fiber products must be separated from conventional fiber products and clearly identified. All chemical inputs, such as dyes, auxiliaries and process chemicals, must be evaluated and meet basic requirements for toxicity and biodegradability. Prohibited materials include heavy metals, formaldehyde, aromatic solvents, functional nano particles and genetically modified organisms and their enzymes. The use of synthetic sizing agents is restricted. Knitting and weaving oils must not contain heavy metals. Azo dyes that release carcinogenic amine compounds are prohibited. Discharge printing methods using aromatic solvents and plastisol printing methods using phthalates and PVC are prohibited. All operators must have an environmental policy that includes target goals and procedures to minimize waste and discharges. Wet processing units must keep full records of the use of chemicals, energy, water consumption and wastewater treatment, including the disposal of sludge. The wastewater from all wet processing units must be treated in a functional wastewater treatment plant. Packaging material must not contain PVC. After Jan. 1, 2014, any paper or cardboard used in packaging material, hangtags, etc., must be post-consumer recycled or certified according to Forest Stewardship Council or Programme for the Endorsement of Forest Certification standards.
2. Technical quality and human toxicity criteria: Technical quality parameters must be met, such as rubbing, perspiration, light and washing fastness, and shrinkage values. Raw materials, intermediates, final textile products and accessories must meet stringent limits regarding unwanted residues.
3. Minimum social criteria: The key norms of the International Labour Organisation relating to working conditions, living wages, child labor, discrimination, work hours and collective bargaining rights must be met by all processors and manufacturers.
How a company/product earns certification: Entities that wish to become certified should contact a GOTS-approved certification body, which provides details on procedures, costs and timetables. Once assigned, the certification body then makes use of appropriate on-site inspection methods to determine a company's qualifications, including these elements: Review of bookkeeping in order to verify the flow of GOTS goods; assessment of processing and storage systems; assessment of the separation and identification system and identification of areas of risk to organic integrity; inspection of chemical inputs and accessories used; inspection of the wastewater system of wet processors; a check on minimum social criteria; and verification of the operator's risk assessment of contamination and residue testing policy. Certification is renewed annually through additional on-site inspections.
Benefits of participating: "Consumers can be sure that a product carrying the GOTS (organic) logo is not only produced with a minimum of 95% organic fiber content but is also processed according to strict environmental and social criteria," says Sandra Marquardt, GOTS representative in North America. "GOTS certification ensures certification to organic standards from field to finished product."
For more information: www.global-standard.org.
Greenguard
Primary marks: Greenguard Indoor Air Quality for products designed for use in office environments and other indoor spaces and Greenguard Children & Schools for products designed for use in schools, day care facilities and other environments where children spend significant periods of time.
Issuing organization: Greenguard Environmental Institute, part of Underwriters Laboratories Environment.
What the mark means: It helps identify interior products and materials that have low chemical and particle emissions. Achieving Greenguard certification gives credence to manufacturers' sustainability claims, backing them with empirical scientific data from an unbiased, third-party organization, according to the Greenguard Environmental Institute.
When the certification was established: 2001
Which products can be certified: Commercial and residential furniture, interior furnishings, mattresses and bedding. (Also certifies items such as building materials, cleaning products, electronic equipment and more.)
Criteria to earn certification: All Greenguard certification programs provide scientifically based, third-party environmental qualifications for a manufacturer's products. Products are tested to determine whether they contribute negatively to indoor air pollution. Greenguard standards are based on the U.S. Environmental Protection Agency's purchasing standards, the state of Washington's Indoor Air Quality Program, Germany's Blue Angel Program and requirements of the American Society of Heating, Refrigerating and Air Conditioning Engineers. The specific Greenguard certification determines which criteria need to be met.
Environmental test chambers and indoor exposure models are used to characterize emissions performance of products and their components. Testing requires rigorous sample selection procedures, defined sample collection and handling procedures, and implementation of precise and accurate analytical measurement systems and procedures. Additionally, the product manufacturer must have a production quality-control system in place that is capable of assuring that products are manufactured consistently with similar emissions characteristics over time.
How a company/product earns certification: As soon as a manufacturer initiates the Greenguard certification process, the Greenguard Environmental Institute works closely with a scientific partner to develop a specialized certification plan that takes into account each manufacturer's unique product line, manufacturing process and certification goals. Certification is awarded after a certification plan is developed, the compliance tests are completed and passed, and the final compliance package is submitted to Greenguard. The timeline for the certification process varies based on the complexity of the product, number of manufacturing locations and number of test groups.
Benefits of participating: A manufacturer can label Greenguard-certified products with the appropriate Greenguard certification mark and list them in the Greenguard Product Guide, which is used as a purchasing tool by consumers, architects, interior designers and building managers.
For more information: www.greenguard.org.
Oeko-Tex Standard 100 & Oeko-Tex Standard 1000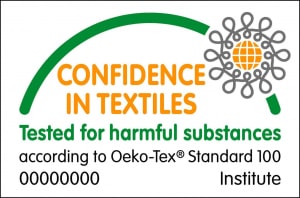 Issuing organization: International Oeko-Tex Association
What the certification means: Oeko-Tex Standard 100 is an independent certification system that tests textile products for potentially harmful substances at all stages of processing. The Oeko-Tex Standard 1000 is a testing, auditing and certification system for environmentally friendly operations in the textile and clothing industry. Its objective is the continuous improvement of an operation's environmental performance and working conditions.
When the certification was established: Oeko-Tex Standard 100 was created in 1992.
Which products can be certified: Yarns, fabrics, treated fabrics, manufactured articles, domestic and household textiles, bedding, towels, soft toys, down feathers, foams and more.
Criteria to earn certification:
For Oeko-Tex Standard 100: The tests for harmful substances cover legally banned and controlled substances; chemicals harmful to health, but not yet legally controlled; and parameters for health protection. Testing is geared to how the textile will be used. The more closely the product is in contact with the skin, the stricter the human ecology requirements it must meet.
A distinction is made between four product classes. Class I and II cover bedding products; Class III and IV are for outerwear and other home furnishings textiles. Specifically, Class I is for textile articles, including bedding, intended for infants and toddlers up to 3 years old; Class II is for textiles used close to the skin, which includes bedding (as well as clothing such as undergarments and T-shirts). The prerequisite for textile products to be certified under the Oeko-Tex Standard 100 is that all components of the article, without exception, comply with the required criteria, including nontextile accessories.
For the Oeko-Tex Standard 1000: In addition to attaining certification for the Oeko-Tex Standard 100 (at least 30% of total production must be certified), companies must meet strict specifications regarding wastewater treatment and waste air emissions; use environmentally compatible technologies, chemicals and dyes; optimize energy and material use; demonstrate workplace hygiene and safety; and comply with social criteria, including a prohibition on child labor and forced labor, providing wages commensurate with performance and regulated work hours. Certifications are renewed annually.
How a company/product earns certification: Companies apply to one of the 15 Oeko-Tex member institutes that serve specific geographic regions. Hohenstein Institute America is the institute that handles North America. For Oeko-Tex Standard 100 certification, products undergo an independent testing regimen. For Oeko-Tex Standard 1000 certification, the applicant must document the company's environmental efforts using a strength/weakness analysis. The institute and the company then prepare an action plan to implement the required criteria.
Benefits of participating: Oeko-Tex certification is accepted as proof of compliance with textile safety regulations such as the Consumer Product Safety Improvement Act in the United States and relevant sections of REACH (European Community Regulation on chemicals and their safe use).
For more information: www.oeko-tex.com.
U.S. Department of Agriculture Organic Seal
Issuing organization: The USDA Organic Seal is overseen and enforced by the National Organic Program, the governing body for the U.S. organic industry. NOP is part of the U.S. Department of Agriculture's Marketing Service.
What the seal means: The USDA organic label indicates that an agricultural product has been produced through approved methods that integrate cultural, biological and mechanical practices that promote ecological balance and conserve biodiversity. Synthetic fertilizers, sewage sludge, irradiation and genetic engineering may not be used.
When the seal was established: 2002
Which products can be certified: USDA organic regulations recognize four categories of organic products: Crops, livestock, processed products and wild crops. Most farms and businesses that grow, handle or process organic products must be certified. If a company makes a product and wants to claim that it or its ingredients are organic, that final product also needs to be certified.
Criteria to earn seal: Products that contain at least 95% organic ingredients may use the USDA organic seal if certified. Multiingredient agricultural products that contain less than 95% organic ingredients may be eligible to claim other categories of organic certification without using the seal.
Given that most of these methods and ingredients are more applicable to food processing versus textile processing, NOP labeling alone is unachievable for most mattress products, according to the Organic Trade Association. An NOP-recognized—and more practical option—is that organic fiber-containing products may be sold as "organic" in the United States if their manufacture has been certified to the Global Organic Textile Standard. (See listing on Page 28.)
How a company/product earns seal: The process starts with an application to a USDA-accredited certifying agent that contains a detailed description of the operation/product to be certified and other relevant background. The certifying agent reviews the application and an inspector then conducts an on-site inspection of the applicant's operation to determine compliance with USDA organic standards. Certification is renewed annually through an on-site inspection and other updates.
Benefits of participating: According to the USDA, the seal ensures the integrity of USDA organic products in the United States and throughout the world. Its standards also assure consumers that products with the USDA seal meet consistent, uniform requirements.
For more information: USDA NOP Web page.
USDA Certified Biobased Product Label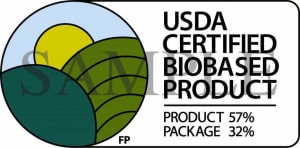 Issuing organization: The certification and labeling initiative is part of the U.S Department of Agriculture's BioPreferred program.
What the certification means: The BioPreferred product label certification assures a consumer that a product or package contains a verified amount of renewable biological ingredients. According to the program, consumers can trust the label to mean what it says because manufacturers' claims concerning the presence and amount of bio-based ingredients are third-party certified and strictly monitored by the USDA.
When the certification was established: The program was authorized in 2002; certification and labeling began in 2011.
Which products can be certified: The USDA identifies categories of bio-based products for a federal government procurement preference. In the process, minimum bio-based content standards are established for each product category. There are currently 77 BioPreferred-designated product categories required for preferred federal government purchasing, including bedding (blankets, bedspreads, comforters, quilts and other bed linens, though not mattresses). Certified bio-based products identified in these 77 categories must meet or exceed the published minimum bio-based content levels. For bedding, linens and towels that figure is 12%.
Criteria to earn certification: Defined by the 2002 farm bill, bio-based products are commercial or industrial products (other than food or feed) that are composed in whole, or in significant part, of biological products, renewable agricultural materials (including plant, animal and marine materials) or forestry materials. The 2008 farm bill extended the definition of bio-based products to include bio-based intermediate ingredients or feedstocks. A product must meet or exceed the minimum bio-based content percentage in its given category to use the certified bio-based product label. Bio-based products in categories not already identified by the USDA must contain 25% or greater bio-based content, as determined by a standard test method.
How a company/product earns certification: Manufacturers and vendors seeking use of the USDA Certified Biobased Product label must submit an application for each bio-based product for which they are seeking certification. Obtaining bio-based product certification is a multistep process that entails communication, both via email and personally with BioPreferred program staff and other entities, as well as testing by an approved laboratory. The review process generally is completed in fewer than 60 days.
Benefits of participating: The purpose of the USDA BioPreferred program is to promote the increased purchase and use of bio-based products. The program is expected to promote economic development, creating new jobs and providing new markets for farm commodities, according to the USDA. In addition, the increased purchase of bio-based products is expected to reduce petroleum consumption, increase the use of renewable resources, better manage the carbon cycle and contribute to reducing adverse environmental and health impacts.
For more information: www.biopreferred.gov.
FTC overhauls its Green Guides
On Oct. 1, the U.S. Federal Trade Commission issued revised Green Guides designed to help marketers make claims about the environmental attributes of their products that are truthful and not deceptive.
The revisions to the FTC's Green Guides reflect a wide range of public input, including hundreds of consumer and industry comments on previously proposed revisions. They include updates to the existing guides, as well as new sections on the use of carbon offsets, "green" certifications and seals, and renewable energy and renewable materials claims.
"The introduction of environmentally friendly products into the marketplace is a win for consumers who want to purchase greener products and for producers who want to sell them," said FTC Chairman Jon Leibowitz in a news release. "But this win-win can only occur if marketers' claims are truthful and substantiated. The FTC's changes to the Green Guides will level the playing field for honest businesspeople and it is one reason why we had such broad support."
In revising the Green Guides, the FTC modified and clarified sections of the previous guides and provided new guidance on environmental claims that weren't common when the guides were last revised in 1998.
Among other modifications, the guides caution marketers not to make broad, unqualified claims that a product is "environmentally friendly" or "eco-friendly" because the FTC's consumer perception study confirms that such claims are likely to suggest that the product has specific and far-reaching environmental benefits. Very few products, if any, have all the attributes consumers seem to perceive from such claims, making these claims nearly impossible to substantiate, according to the FTC.
The guides caution marketers not to use environmental certifications and seals that don't clearly convey the basis for the certification, because such seals and certifications are likely to convey only general environmental benefits.
Finally, either because the FTC lacks a sufficient basis at this time to provide meaningful guidance or wants to avoid proposing guidance that duplicates or contradicts rules or guidance of other agencies, the guides do not address use of the terms "sustainable," "natural" or "organic." For example, organic claims made for textiles and other products derived from agricultural products are covered by the U.S. Department of Agriculture's National Organic Program. (See listing on Page 31.) Nevertheless, in its initial proposal of the Green Guides, the FTC cautioned that if a reasonable consumer perceives a marketer's organic or natural claims as general environmental benefit claims, the marketer must be able to substantiate those claims.
The FTC first issued its Green Guides in 1992 to help marketers avoid making misleading environmental claims. The Green Guides are not agency rules or regulations. Instead, they describe the types of environmental claims the FTC may or may not find deceptive under Section 5 of the FTC Act. Under Section 5, the agency can take enforcement action against deceptive claims, which ultimately can lead to orders prohibiting deceptive advertising and marketing and fines if those orders are later violated. For more information, visit www.ftc.gov/os/2012/10/greenguides.pdf.
SSA program seeks to educate consumers
Aiming to better educate consumers about the specific components in their sleep sets, the Specialty Sleep Association launched the Environmental & Safety Program in 2010.
It's not a certification program but rather a three-step seal/tag and consumer disclosure program that helps consumers understand the environmental and safety attributes of participating manufacturers' products.
The seals/tags, plus a required SSA Consumer Disclosure Label, appear on mattresses from manufacturers who comply with requirements of the program and serve to inform the consumer about the minimum environmental and safety compliance levels to which a manufacturer claims its particular products adhere. For instance, the Consumer Disclosure Label lists material content (natural/bio-based, preconsumer recycled and recycled steel) by percentage of weight for the mattress fabric, quilt and core.
Any mattress currently manufactured is potentially eligible for inclusion in the program, but higher levels of classification require compliance with requirements for third-party certifications and increased use of natural/bio-based or renewable content, such as soy-based foam, latex rubber or preconsumer recycled content.
Manufacturers in the program pay a fee to the SSA to use the labels and seals/tags and complete an extensive application process with documentation that backs up claims.
"Purchasing safe and environmentally friendly products is an overwhelming concern of consumers," says Dale Read, SSA president. "The SSA Environmental & Safety Program is all about transparency and education. The program relies upon full disclosure and participation of manufacturers using existing certifications and standards."
Retailers have a role in the program, too. Manufacturers can provide seals/tags to retailers as long as the mattress makers have in place a program to ensure that retailers affix seals/tags only to qualifying products.
The SSA currently has three levels of seals that build upon each other with increasingly demanding levels of requirements. Detailed information about the requirements of each level can be found on the SSA website at www.sleepinformation.org.
In addition, earlier this year, the SSA created a comprehensive environmental glossary and marketing guide, Read says. The guide, also available on the SSA website, defines key terms used in environmental marketing claims and provides a list of key organizations, certifications and standards.
Guidelines for claiming products 'Made in USA'
Manufacturers and marketers that choose to make claims about the amount of U.S.-made content in their products must comply with the U.S. Federal Trade Commission's "Made in USA" policy.
The FTC requires that products advertised as Made in USA be "all or virtually all" made in the United States. The commission's Enforcement Policy Statement on U.S. Origin Claims provides specific guidance to marketers who want to make an unqualified Made in USA claim under the "all or virtually all" standard, as well as those who want to make a qualified Made in USA claim for products with a lower level of U.S. content.
When a manufacturer or marketer makes an unqualified claim that a product is Made in USA, it should have—and rely on—"a reasonable basis" to support the claim at the time it is made, according to the FTC. This means that a manufacturer or marketer needs "competent and reliable" evidence to back up the claim that its product is "all or virtually all" made in the United States. "All or virtually all" means that all significant parts and processing that go into the product must be of U.S. origin. The product should contain no—or negligible—foreign content. The term "United States" includes the 50 states, the District of Columbia and U.S. territories and possessions.
A qualified claim is appropriate for products that include U.S. content or processing but don't meet the criteria for making an unqualified Made in USA claim. It indicates a product has a significant amount of U.S. content or processing but isn't entirely of domestic origin. Examples of qualified Made in USA claims would include statements such as "60% U.S. content" or "Made in USA of U.S. and imported parts."
A company doesn't need approval from the FTC before making a Made in USA claim—the FTC doesn't preapprove advertising or labeling claims. As with most other advertising claims, a manufacturer or marketer may make any claim as long as it is truthful and substantiated. When the FTC investigates a Made in USA claim, it first looks to see if a product's final assembly or processing takes place in the United States. The commission then considers other factors, including how much of the product's total manufacturing costs can be assigned to U.S. parts and processing and how far removed any foreign content is from the finished product.
The Made in USA policy applies to all products advertised or sold in the United States, except for those specifically subject to country-of-origin labeling by other laws.
For more information, check this FTC Web page.
Note that a state's rules can differ from those applied by the FTC. For example, a California law has been interpreted to prohibit the Made in USA claim if so much as even a small component in the finished product is imported.
Certifications for forest products
Several organizations are involved in certifying the environmental attributes of wood, including:
Canadian Standards Association
The Canadian Standards Association (CSA Group) is a not-for-profit, membership-based association. It develops standards, provides training and advisory solutions, and offers global testing and certification services across a wide variety of products and industries. Its work is "dedicated to safety, social good and sustainability," according to the group.
The CSA O141 Standard applies to softwood lumber, certifying the quality and uniformity of softwood lumber manufactured in Canada. It doesn't cover trade practices. Qualified products can be designated "Canadian Standard Lumber."
The CSA Z809 Standard is for sustainable forest management. It sets requirements for sustainable forest management of a defined forest area, including standards for the management framework, performance measures and targets, monitoring of effectiveness, and continual improvement.
For more information, check www.csa.ca.
Forest Stewardship Council
The Forest Stewardship Council promotes the responsible management of forests worldwide by setting standards for forest management and chain of custody certification. The FSC itself does not issue certificates—they are issued by independent certification bodies.
The FSC offers three types of certificates: The Forest Management certification (for forest managers and owners); Chain of Custody certification (for manufacturers, processors and traders); and Controlled Wood (allows manufacturers to mix FSC-certified material with uncertified materials under controlled conditions). The trademarks provide a guarantee to consumers that the products they buy come from responsible sources.
Any products using wood from FSC-certified sources can be certified. To label products that are made from FSC-certified materials, manufacturers can apply for FSC Chain of Custody certification, which verifies that FSC-certified material is identified or kept segregated from noncertified material throughout a supply chain.
To earn FSC Forest Management certification, the group's most rigorous standard, a landowner must be audited to FSC standards by an independent certifier. For example, FSC prohibits highly hazardous chemicals, limits clear cuts to protect forest ecology and protects rare old growth. FSC also protects customary rights of indigenous people and local communities and prevents the loss of natural forest cover, also known as deforestation.
For more information, check www.fsc.org.
Sustainable Forestry Initiative
The Sustainable Forestry Initiative is an independent, charitable organization dedicated to promoting sustainable forest management. Its SFI 2010-2014 Standard is based on principles and performance measures developed by professional foresters, conservationists, scientists and others. The standard addresses key environmental, social and economic forest values and is reviewed through an open, public process every five years.
It offers three certifications: SFI Forest Certification promotes responsible forestry practices and certifies program participants who own or manage forestland that meets SFI land management requirements. SFI Chain of Custody Certification is an accounting system that tracks fiber content through production and manufacturing to the end product. Companies can make claims about how much of their product comes from certified lands, how much contains recycled content and how much is noncertified forest content. According to the group, SFI Certified Sourcing "addresses the 90% of the world's forests that are not certified." Program participants must show that the raw material in their supply chain comes from legal and responsible sources, whether the forests are certified or not.
In order to use SFI labels, companies must be certified to the appropriate SFI standards and have approval from the organization's Office of Label Use and Licensing.
For more information, check www.sfiprogram.org.