Immersive Van Gogh shows and Barnes & Noble transformation offer clues for change.
It's time to imagine an exciting new future for mattress stores. Our guides will be some guys named Van Gogh, Barnes and Noble. I don't know them personally, but they've done some great work and they have much to offer.
The Van Gogh is, yes, Vincent Van Gogh, the brilliant but tortured Dutch master who painted some of the world's greatest artworks. He achieved limited commercial success in his lifetime but is enjoying a renaissance these days. And that renaissance offers a valuable business lesson in the power of immersive experiences.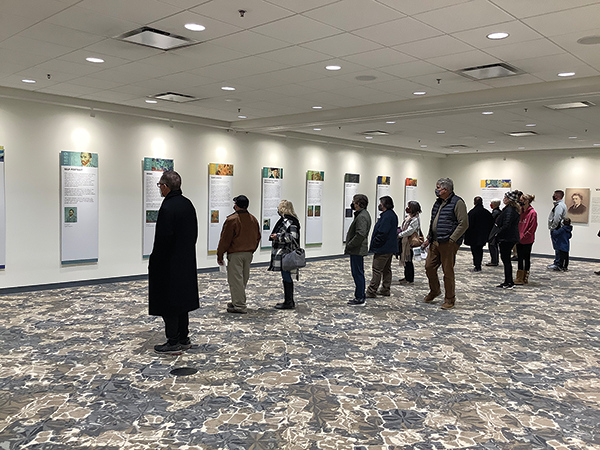 Look at the two photos above. Both are from Van Gogh Alive, a show presented by the Grande Experiences multimedia company that I saw on the beautiful Biltmore grounds in Asheville, North Carolina.
The left image shows the traditional way that art is displayed in museums. The pictures are on the wall and visitors pass by them. In this case, visitors are looking at details of Van Gogh's paintings and comments on them, but it's the same idea. Let's call this the old school way of presenting art.
The photo on the right is something very different: This is a dramatic presentation of cinema-sized images from Van Gogh's works. The images dominate the darkened gallery. You can't hear the soundtrack, but it was evocative. This was an immersive experience, one that took you inside Van Gogh's world and his art. This is the new-school way of presenting art, and it's one that is drawing rave reviews around the world.
Which of those approaches is more inviting? It's not even close.
I know mattress stores are not full of great art, although I do think a growing number of mattresses almost rise to the level of art with striking ticking and beautiful craftsmanship. But wouldn't it be exciting if mattress retailers found ways to immerse shoppers in their products? Too often, walls in mattress stores are virtually blank canvases, bereft of art. Why not turn at least one wall into a masterpiece of mattress images? Hint: Bigger is better. And mattress retailers should consider adding video kiosks to their floors. Moving images are more interesting than static images.
Now, let's bring in William Barnes and G. Clifford Noble, two entrepreneurs who got together in 1917 and launched Barnes & Noble in New York City. The Wall Street Journal recently published a fascinating look at how America's largest bookstore chain is reinventing itself after a dismal run of poor performance.
CEO James Daunt "speaks quietly, as if he were in a library, but the insight at the heart of his management philosophy is worth screaming from the rooftops: Find people who are passionate about books and let them sell books as they see fit," the story notes. Yes, passionate employees are critical.
The Wall Street Journal also highlighted that the flagship Barnes & Noble store in New York City features improved traffic flow, taller shelves to "reclaim the air," and "a lot more books." The cash registers have moved from the front of the store to the back of the store and local managers have more control over their business.
Just as immersive art shows are reinvigorating the works of old masters, Barnes & Noble is reinventing an old business model to make it more compelling for customers. Surely there are some important lessons for mattress retailers in these transformations.