Because of more secure financial technologies, credit card companies no longer require consumers to sign on the dotted line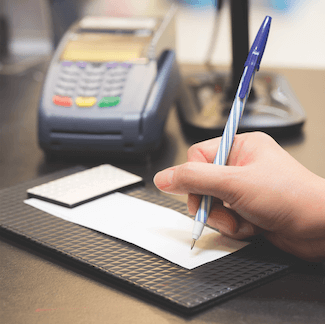 Good news, retailers: Credit card signatures on sales transaction receipts are going the way of rotary phones, floppy disks and eight-track tapes.
Four major credit card companies—American Express, Discover, MasterCard and Visa—no longer require customers to sign receipts. The phaseout began in April.
Why the change? With the advent of new technologies, such as the EMV card chip, credit cards are more difficult to counterfeit, and there are more secure ways to prove identity. "Signatures are becoming more irrelevant," Harshita Rawat, a senior research associate for Sanford C. Bernstein & Co. LLC in New York, told The New York Times.
Forest City, California-based Visa echoed Rawat's observation about credit card security. "Less than two years since the EMV chip launched in the U.S., fraud declined 66% at EMV chip-enabled merchants," the credit card company says in a statement.
In addition, the change should simplify and quicken the checkout process.
"While security remains paramount, we know that convenience is also a large part of what consumers want when they are shopping and paying," says Linda Kirkpatrick, executive vice president of U.S. market development for MasterCard, with global headquarters in Purchase, New York. "Removing the need for a signature is a change our merchant partners support. The move will help merchants speed customers through checkout, provide more consistent experiences for every customer with every purchase and should decrease costs associated with safely storing signatures."
Retailers can decide if they want to require shoppers to sign for sales made by credit card, according to USA Today. Consumers who have credit cards without chips and conduct transactions at terminals without a chip reader still will have to sign.
Forbes.com reports the four credit card companies have differing processes for handling the change:
American Express has eliminated the signature requirement worldwide.
Discover no longer requires signatures in Canada, the Caribbean, Mexico and the United States.
MasterCard has made signatures optional in Canada and the United States.
Visa no longer requires cardholders to sign receipts in North America.
Here at Sleep Savvy, we often wondered if any of those signatures were legible anyway.