NEWS RELEASE | FALL 2023 HIGH POINT MARKET 
NORTH BRUNSWICK, N.J. – Leading mattress manufacturer, Bedding Industries of America (BIA), will be introducing a hybrid roll pack showroom display at Fall High Point Market in Crown Mark Plaza, Floor 4 to highlight the possibilities inherent in its innovative roll packing strategies for dealers.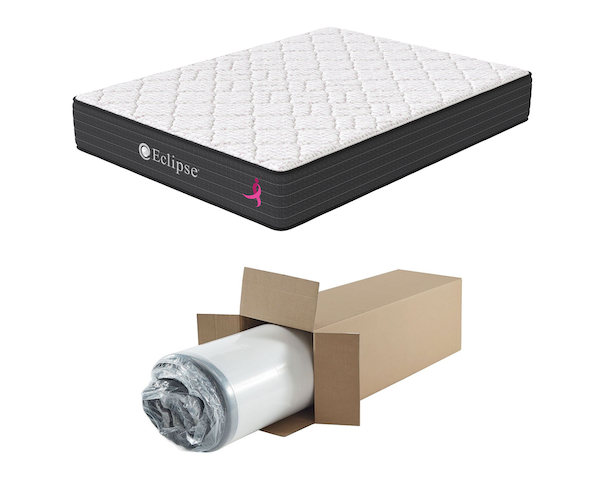 Bedding Industries of America recently expanded its existing lineup of C3 roll pack machines in order to better serve its private-label e-commerce and retail customers in shortened delivery times. To showcase this expanded capability, BIA plans to exhibit its roll packing line-up, featuring the Moray, Yellowstone, Spinal Zone III, Susan G Komen "Hope" and Bella mattresses in its showroom.
"High Point will be the first time we are exhibiting the full lineup of product to dealers. The response we have seen to our investment in state-of-the-art roll packing equipment has been rewarding already. We now have a full suite of mattresses we can offer and the scalability to manufacture and fulfill orders quickly and efficiently anywhere in the country," said BIA CEO Stuart Carlitz.
The roll packing lineup includes: The Moray, a high-quality, low-profile pocketed mattress that is ideal for day beds, bunk beds and low platform beds; The Yellowstone, which offers an eight-inch pocketed coil with a four-inch coil mounted together; the Spinal Zone III, which features a posturized center spring with one-inch nano coils, a Polar Touch PCM (phase change material) cover and carries the Chiropractic Seal of Approval; and The Bella, an 11-inch euro-top mattress and the company's original hybrid mattress in a box.
Like many High Point Markets prior, BIA will celebrate Breast Cancer Awareness month with its Susan G Komen "Hope" mattress. The roll-pack model is made with a pink-patterned, heat wicking Tencel cover that includes a pink Breast Cancer Awareness ribbon embroidered on the corner of the mattress.
All models that will be featured in the roll packing showroom display include BIA's proprietary Spinal Zone technology. All roll pack offerings can be shipped via UPS from any of the company's 13 strategically placed manufacturing facilities with a single billing point of contact.
Bedding Industries of America has been making mattresses since 1866 with 13 factories in the U.S. and license factories worldwide. Known for its design innovation in creating advanced sleep products, the company has an extensive global licensing network that distributes mattresses under 11 brands – Chittenden & Eastman, Eclipse, Eastman House, Fieldcrest, Ernest Hemingway, Harvest, Lifetime, Millbrook Beds, Natural Dreams, Velika and Van Vorst. A well-established leader in the bedding industry, Bedding Industries of America designs products crafted with high-quality components, including latex, memory foam, gel, and eco-friendly materials such as cotton and wool. For additional information, visit beddingindustriesofamerica.com.