NEWS RELEASE | SUMMER 2023 LAS VEGAS MARKET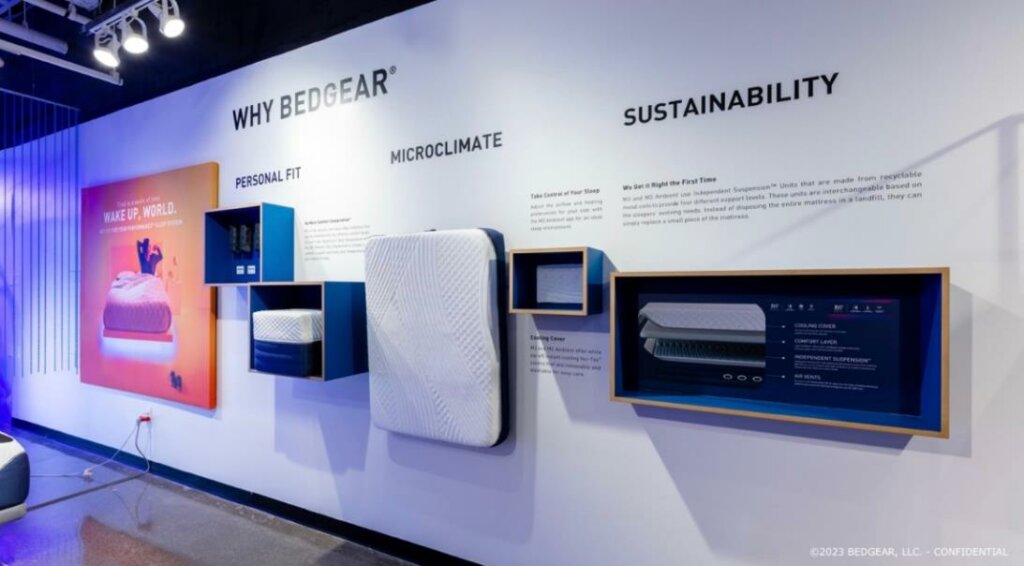 FARMINGDALE, N.Y., July 27, 2023 – BEDGEAR®, a pioneer in the Performance® bedding category, providing innovative sleep essentials for the active consumer, announces the debut of several new groundbreaking bedding products coming this year. In addition to the new offerings, the brand will showcase a sustainability-themed retail theater display at the bi-annual Summer 2023 Las Vegas Market.
Las Vegas Market attendees will get a sneak peek look at the newest product innovations, rolling out later this summer which continues BEDGEAR's mission to provide consumers with personalized and modular sleep products with sustainability in mind.
To further demonstrate the brand's commitment to sustainability in the bedding category, BEDGEAR's retail theater will highlight the significant impact the bedding industry is causing on the environment, fueled by mattress returns and excessive bedding waste. By Getting it Right the First Time and offering truly personalized modular products, BEDGEAR is on a mission to help consumers find the right mattress fit from the start, reducing the number of returns that inflict damage upon the planet. Bedgear's Retail theater will also give attendees an in-person look at a handful of their most popular pillows and mattresses.
A Revolutionary Modular Sleep System for Couples
BEDGEAR 's new revolutionary SplitHead Line is making its debut in September 2023, offering a groundbreaking modular sleep system which will provide increased personalization for ideal co-sleeping. The SplitHead design allows consumers to customize their positioning, finding optimal support and comfort for their upper body independently. The SplitHead design will be available on a variety of BEDGEAR's popular mattress models such as the M3, H4 and H6. In addition, the SplitHead line will be complete with an adjustable Flex LSX base with customizable head and lumbar support functionality and specially designed mattress protectors and sheet sets.
Cooling Power for Extreme Performance
The new BEDGEAR Night Ice Performance Pillow is joining the extensive lineup of pillows with an improved standard in cooling technology. The Night Ice Performance Pillow incorporates React™ Crown with cooling gel and a React™ blend fill, ensuring optimal pressure relief and resilient support without bounce. The Ver-Tex™ cover offers additional cooling features, catering to individuals who tend to overheat. The BEDGEAR Night Ice Performance Pillow will be rolling out in Fall 2023.
To check out the retail theater and the new BEDGEAR products at Las Vegas Market, visit the BEDGEAR' showroom at the Las Vegas Design Center located in Building B on the 11th Floor, Suite B-1100. BEDGEAR's products are available in stores nationwide, in 32 countries, and on bedgear.com.
About BEDGEAR®
Launched in 2009, BEDGEAR® is the Performance® Sleep Brand that provides innovative essentials for those who live an active lifestyle. BEDGEAR's sleep solutions are engineered with fabrics that are moisture-wicking and instant cooling and maximize airflow to allow the body to naturally regulate its temperature. With a core belief that One Size Does Not Fit All™, BEDGEAR has redefined how people view sleep by developing interactive in-store experiences and breathable bedding products that are personally fit to a consumer based on specific factors, including body type, sleep position, and temperature. BEDGEAR is dedicated to integrating environmental responsibility into product development to ensure fewer returned goods are sent to landfills. BEDGEAR is essential to the rest and recovery routines of athletes and active people who need to maximize their sleep. A proud manufacturer in the USA, BEDGEAR offers mattresses, pillows, sheets, mattress protectors, blankets, and pet beds, as well as travel, kids, and baby products that often feature removable and washable covers to maintain a clean and healthy sleep environment. BEDGEAR is represented in more than 5,000 retail stores across the globe and has earned more than 220 U.S. and worldwide patents, trademark registrations, and pending applications. Sleep Fuels Everything®!