NEWS RELEASE | SUMMER 2023 LAS VEGAS MARKET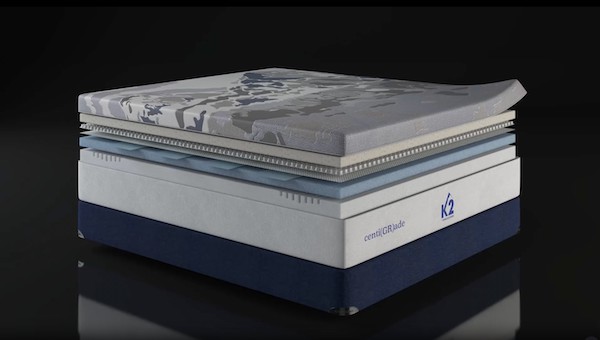 MEBANE, N.C. –Ignore the over-heated weather reports: Kingsdown (Space C1401) is set to be the "Koolest" place to be at the Las Vegas Market, with the introduction of its much-anticipated new foam collection, K2 by Kingsdown™.
Showcased in the showroom's front window, K2—designed to turn heads both at the Market and on retail floors—features eight models with two distinct looks on the beds' uniquely "Kool" knitted covers. A snow-capped mountain range indicative of the world's second-highest peak stretches across the surface of the collection's premium models, while a snowflake pattern on a darker background drift across the opening price point beds. All eight are backed by custom-made, back-lit headboards picturing the mountain range and the tagline "Koolest Mattress in the World.™"
With suggested retails ranging from $1799 to $2799, K2 offers a unique cooling story with a focus on heat removal and marks a significant expansion into the all-foam category by Kingsdown. "We believe there is plenty of room in the marketplace for a great foam line to do extremely well," said Kingsdown Chairman Mike James, "and we know that retailers are looking for alternatives."
Drawing on the learning from the success of Kingsdown's regional Zedbed brand, James said, "We knew that to be successful across the U.S., the product has to have a great story and a great feel, so the design team really tore the engine apart and started from the ground up in creating the K2 collection." The team began by experimenting with softer cores and railroaded components to innovate the ideal core structure.
"While coolness and heat removal are vital for sleeping well, and we address that at every level in these beds, comfort is paramount, and the feel has to be right. Given the increasing popularity of adjustable bases, we also looked at bendability. Inspired by the articulation of Zedbed, "which bends wonderfully on a motion base," James said, "we have incorporated a flex-stretch bottom to allow for smooth transitions on motion bases. We then visited suppliers to find foams that would offer a really wonderful, cuddly feel on the surface with a cooling story, along with something that would be a bit firmer. The result is that we're bringing to Market two great feels, a firm and a plush, at every price level, with the most premium version incorporating microcoils."
Additionally, although James noted that the collection's knit covers do incorporate PCM, the team found ways to avoid the slick and slippery feeling that cooling yarns tend to impart to create "a much better hand." All of the models feature heat-wicking centi(GR)ade technology (which uses graphene strips to dissipate heat from the body) and all of the core and upper foam layers are ventilated for cooling performance. Covers are also ventilated to allow heat to escape.
Finally, the K2 collection is supported with a full slate of engaging marketing materials for what James called "a total package that we expect to really stir up the dust in the marketplace this summer."
Kingsdown, Inc., founded in 1904, is a manufacturer of premium mattress systems that serves leading retailers across the United States, Canada, and in more than 20 countries. Each Kingsdown product is manufactured using handcrafted techniques, combined with state-of-the-art research, materials, and equipment.
Research and product development, manufacturing and distribution facilities are headquartered in Mebane, North Carolina and Ontario, Canada, with additional international offices located in England, Hong Kong, Japan, and Mexico. Canadian manufacturing and distribution are based in Woodbridge, Ontario; Calgary, Alberta; and Shawinigan, Quebec. Additional manufacturing facilities are located in California, Florida, Texas, Virginia, Australia, Brazil, China, Malaysia, Mexico, Taiwan and Vietnam. In 2018, The Kingsdown Group was formed through the acquisition of Zedbed International, a leading foam mattress manufacturer, and the merger of Owen & Company with Kingsdown, Inc. to form one of the fastest-growing sleep technology groups in North America.