NEWS RELEASE | SUMMER 2023 LAS VEGAS MARKET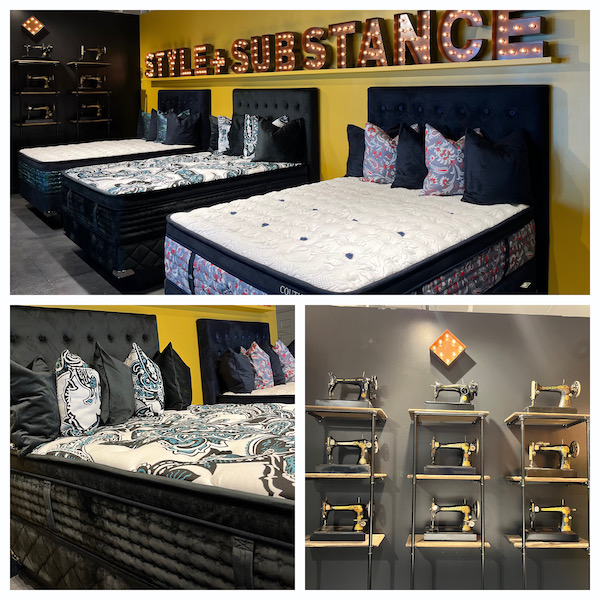 MEBANE, N.C. – Inspired by legendary department store windows that shoppers viewed as special events in themselves, Kingsdown has once again decorated its Las Vegas showroom window (Space C1401) with a dynamic display of Vintage Couture beds dressed in a fresh round of high-fashion fabrics designed to stop buyers in their tracks.
"We believe our job is to create excitement for retailers and their customers," said Mike James, chairman of Kingsdown, "and to keep pushing the envelope in terms of the importance of connecting apparel fashion with the mattress business. Ultimately, our goal is to capture the attention and imagination of shoppers on store floors with dramatic looks that are very different from everything else they see, and to help our dealers stand out in their marketplaces with fashion-forward designs that can't be found anywhere else."
To emphasize the couture nature of its flagship Vintage Couture brand that carries retail price points of $10,000, three queen-size beds share the newly revamped window space with a wall of antique Singer sewing machines. Each bed is set off by custom tufted headboards upholstered in the accent ticking of the bed below it, and the now familiar Kingsdown tagline "Style and Substance" is spelled out across the wall above in custom made, three-dimensional marquee lettering crafted in steel with a copper finish.
The overall impression, "is very stylish and very Kingsdown," said James who has long been influenced by leading designers in apparel, furniture, floor, wall, and window coverings. Indeed, inspiration for the new high-style fabric selections was drawn from a variety of sources. One—aptly named "Royal Flush"—was designed from a photograph of a lush carpet pattern in a well-known Las Vegas casino. Another cover was drawn from a stunning woman's scarf and rendered in "a decadent navy, light blue and green," accented by a blue suede border. The third, which James described as "the most unbelievable panel that I've ever seen from BekaertDeslee was so colorful and beautiful that we decided to use a black velvet border for sheer drama."
Inside the showroom, mannequins dressed in the new fabric selections are posed near each of the beds. "The couture part of our business is where we have the most fun because we get to be our most creative," James noted, adding that dealers are already taking notice. "We think the most important thing is to look different because everybody else looks the same and we're using that window at Market as a vehicle to try and bring buyers in that we don't presently do business with, or at the very least, get people talking about our brand. And while you might say that all three of the beds in the window are way outside the box, we've actually already sold all three."
Kingsdown, Inc., founded in 1904, is a manufacturer of premium mattress systems that serves leading retailers across the United States, Canada, and in more than 20 countries. Each Kingsdown product is manufactured using handcrafted techniques, combined with state-of-the-art research, materials, and equipment.
Research and product development, manufacturing and distribution facilities are headquartered in Mebane, North Carolina and Ontario, Canada, with additional international offices located in England, Hong Kong, Japan, and Mexico. Canadian manufacturing and distribution are based in Woodbridge, Ontario; Calgary, Alberta; and Shawinigan, Quebec. Additional manufacturing facilities are located in California, Florida, Texas, Virginia, Australia, Brazil, China, Malaysia, Mexico, Taiwan and Vietnam. In 2018, The Kingsdown Group was formed through the acquisition of Zedbed International, a leading foam mattress manufacturer, and the merger of Owen & Company with Kingsdown, Inc. to form one of the fastest-growing sleep technology groups in North America.