BY JULIE A. PALM
PHOTOGRAPHY BY ERIK PHOTOGRAPHIC STUDIO
Originally a seasonal fireworks operation, this Evansville, Indiana-based sleep shop has grown from a local mattress outlet to a regional 23-store chain with its own line of sleep products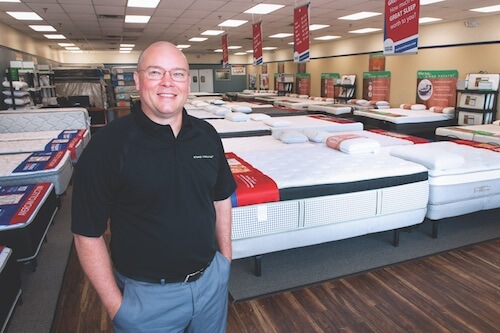 With his chain of mattress stores based in the land that gave us NBA legend Larry Bird and "Hoosiers," it makes sense that Mark Hisle's retail philosophy comes from the basketball court — hustle, rely on your teammates, outmaneuver your opponents.
And now Mark's Mattress Outlet is elevating its game. It first evolved from its origins as an outlet store to a sleep specialist selling its own brands and now is becoming a wholesaler offering a broad sleep products line to other retailers.
"Everything I do, including my success, is rooted in my background in athletics," says Hisle, founder and president of the Evansville, Indiana-based chain. "I learned at an early age about the importance of a work ethic from my dad, Ernie Hisle, through the game of basketball."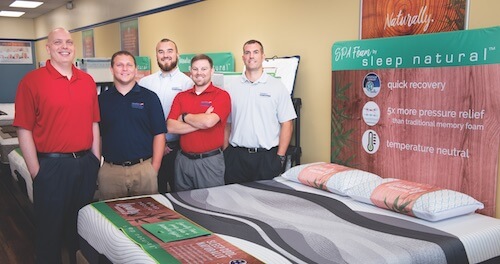 It started with a bang
Hisle landed in Evansville after earning a scholarship to play ball for the University of Evansville. After graduating in 1994, he put professional basketball aspirations behind him, though he has coached ever since, including the teams of his three kids, Kaylie, Kenna and Kobe. Post-college, Hisle held a few different sales jobs as an independent contractor and had spent time helping an uncle in his fireworks operation. In 1999, he decided the explosive business might be for him and founded Mark's Fireworks, a seasonal retail operation. Two years later, he launched a companion wholesale company, RGS Brand Fireworks. (Scroll down for more information.)
"The first year, I had one store and the next year tried to do six," Hisle says. "I barely broke even and did everything wrong that you could do wrong. But I learned a lot." One lesson he grasped quickly: The fireworks season is short, leaving stores empty for months with bills still coming due. He tried starting a tool outlet to fill the retail spaces. It wasn't successful but gave him a feel for the closeout business.
"At the time, I had a buddy getting out of the furniture business. He'd been in it for a long time and he told me if he had to do it all over again, he'd just sell mattresses," Hisle says. It sparked another idea: He would turn his fireworks stores into mattress outlets in the off-season, selling bedding liquidations, closeouts and overstocks. It was not, Hisle admits, a traditional business model.
"If you'd done a business plan in college and said, 'We're going to do fireworks and mattresses,' you'd get an F," Hisle says with a laugh. "But it works."
Hisle launched Mark's Mattress in 2005. The chain has grown to 23 stores in Indiana, Kentucky and Tennessee. For several weeks each summer, about 10 locations switch from selling pillow-tops and hybrids to selling Roman candles and sparklers. "When people come inside the fireworks stores, they don't have a clue we sell mattresses the rest of the year. And after the season, you'd never know we sold fireworks. It goes right back to looking like a mattress store," he says.
Earlier this year, the retailer opened three new stores in and around the Indianapolis metro area and two new locations in the Nashville, Tennessee, metro area.
"I've got some stores that have more of an outlet feel than others, but regardless, all are clean, well-organized with a nice fragrance in the air," he says. "Our newer locations have more of a mattress sleep shop vibe."
Some Mark's Mattress locations were chosen because they were perfect for fireworks sales and others because they worked well as sleep shops, which means they vary in terms of location and size, ranging from 3,000 to 10,000 square feet. The retailer owns some stores and rents others.
When it comes to opening new stores, Hisle operates as if he's on the basketball court: If he sees an opening, he takes it. "I'm opportunistic," he says. "If something comes along, I'll make it work. The main things I look for are location, price and timing."
That doesn't mean he lacks a game plan. "Knowing your numbers, studying your demographics and understanding where and when to expand are really important items to nail down when you're trying to successfully grow," he says. "Without a plan that addresses these key parameters, you simply won't grow successfully."
Game changer
Mark's Mattress promotes itself as offering "Name Brands, For Less" and promises shoppers they can "Save Up to 80% Off Top Name Brand Beds." The stores offer a selection of deeply discounted mattresses that changes frequently and differs from store to store. (Through agreements with its vendors, it doesn't advertise specific brands.) Customers have come to expect good deals on bedding and the retailer will continue to offer closeouts, overstocks and other special deals — or what Hisle likes to call "opportunity buys." But today, he says, that's a relatively small part of the business. Increasingly, the retailer's focus is on its own sleep products brand, Sleep Natural, and that line, Hisle believes, is key to the company's future. He notes that the newest stores have signage branding them as both a Mark's Mattress Outlet and Sleep Natural Gallery. Sleep shops branded only with the Sleep Natural Gallery moniker may be the next step for the retailer, he says.
Sleep Natural was launched in 2011 and has evolved into full line of mattresses and other sleep accessories.
"Sleep Natural came about because we felt the marketplace needed a luxury quality of bed, for less," Hisle says. "We wanted to build mattresses here in the United States, using the best in luxury foams and components. We also wanted to do it at a level where, as a direct-to-consumer manufacturer, we can offer consumers very competitive pricing."
Sleep Natural products are available in all Mark's Mattress stores, where they are displayed in their own section, and also online at SleepNaturalNow.com. In addition, beginning this year, the company is making the line available to other retailers.
In its stores, the company also offers its American Collection brand, which includes a mix of U.S.-made innerspring, foam and hybrid beds, but with lower price points. American Collection beds retail for less than $1,000 in queen size. Soon the line will be added to the retailer's website as part of a comprehensive web makeover.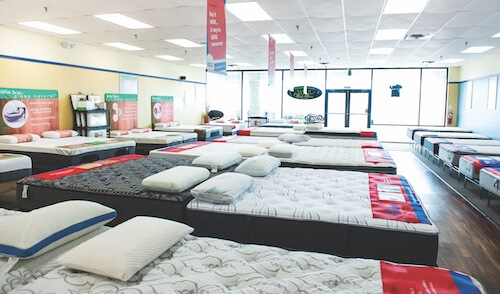 "All about a great conversation"
Not surprising for a retailer that began as an outlet, its customers tend to be budget conscious.
"They work hard for their families and they watch their spending," Hisle says. "Many even follow the advice of our friend and customer, Dave Ramsey, who teaches millions how to budget appropriately. He always highly recommends Mark's Mattress." Ramsey is a national radio show host, speaker and author of books such as "The Total Money Makeover: A Proven Plan for Financial Fitness." Hisle says his own business practices draw on Ramsey's teachings, as well.
The retailer uses both traditional and digital media to reach customers, striving for a consistent message regardless of whether an ad is on TV or online. "We've adopted and invested in digital marketing more and more over the last couple of years. We've partnered with an experienced digital marketing agency that specializes in the mattress industry and it's paid off," Hisle says. "We work hard to rank across organic and local search engines so our customers can find and get to us easily, or learn more about us and our current promotions."
When shoppers do arrive at a store, Hisle says, he wants them to feel at home. "We set our stores up so that as you walk in, you feel like you've arrived — meaning you chose the right mattress company," he says. "The in-store vibe is critical."
Retail sales associates ask a series of qualifying questions designed to get to know shoppers and their sleep needs, habits and problems. RSAs also share what they know about sleep.
"We talk about its importance in a healthy lifestyle. We share things that our customers may know, but rarely think about — things like great quality sleep leads to a better overall quality of life, which includes healthier relationships, more energy to accomplish goals, a better work ethic, better grades in school for students, and the list goes on," Hisle says.
He adds: "Coupled with the core questions we ask, it's really all about a great conversation. We want the consumer to have a sense of trust with our RSAs. So, first we have to be really good listeners. We train our RSAs to do just that — ask a question clearly and then listen attentively. The goal is always to fit the best bed to their specific needs — within their budget."
If shoppers research and shop the retailer online, they have the option of downloading "Mark's Mattress Buying Guide: Discover the Life-Changing (Sleep) Benefits of Finding the Perfect Mattress," a comprehensive 46-page e-book on sleep and buying sleep products. The company's blog and Facebook page regularly cover similar topics.
Teamwork
When it comes to hiring, Hisle recruits like a coach selecting players for a squad.
"Taking from my basketball background and having had the opportunity to play for some of the best coaches around, I learned one of the most important keys is to surround yourself with people that are not afraid to work hard, are team players and are loyal," he says, giving credit to his high school coaches, Jim Jones and his own father, as well as his college coach, Jim Crews, for setting that managerial example.
In fact, many of Hisle's early hires, particularly on the fireworks side of the business, came straight from the basketball court.
"I'd call up high school coaches and say, 'I want the guy who's the last to leave the gym, who will jump in front of someone to take the charge. He doesn't have to be a star. I want the real team player,'" he says. "I'm not big on titles here. I'm big on getting things done. We were all out in the warehouse today, dressed the same, loading trucks. That's how we've been able to grow. We're all out there working hard."
The retailer employs between 50 and 75 people, with more coming aboard during fireworks season. Mattress sales are led by two or three RSAs at each store and a regional manager who oversees six to eight stores. Key longtime players on the team include Cris Brunson, vice president of sales for Mark's Mattress, and Randy Kessler, who manages one of the mattress stores but also directs the development and production of the fireworks line overseas.
Hisle is proud of a pay structure (mostly commission with base hourly pay and bonuses) and scheduling policy that allow store managers and RSAs flexibility. For instance, someone can work 3 ½ days a week while a co-worker chooses a six-day schedule.
"We're a retail business and that means retail hours, but I don't want that to be a negative," he says. "It's important for me to get good people on the team, and we don't want to force them into a schedule that doesn't work for them. Quality time off is important to me and my team, so we are very flexible from that standpoint."
Just as practice is required for a basketball team, ongoing training is important for RSAs.
"The core of our business is recruiting, training and retaining our team," Hisle says. A new RSA will train in a retail store for a few weeks and then go to Evansville for additional education. Ongoing training is done through video and, soon, via tools available on a revamped backend of the retailer's website.
"When you are fortunate enough to find these types of people, and when you place those people into the right positions for them, you're certain to experience success," he says. "I'm blessed to say that everyone at Mark's Mattress is a hard-working team player. They have monthly and/or yearly goals that I help them achieve wherever I can, because we're one big team."
A Brand of Its Own
Mark Hisle is offering retailers a new mattress and sleep products line with a key selling point — it already has a good track record of sales, says Hisle, founder and president of Mark's Mattress Outlet, with headquarters in Evansville, Indiana.
Hisle launched Sleep Natural in 2011 as an imported boxed bed and has been expanding and refining the line since, using the 23 Mark's Mattress stores in Indiana, Kentucky and Tennessee as testing grounds. Sleep Natural now includes mattresses, adjustable bases, pillows and mattress protectors. (Bucking industry trends, a boxed bed is not currently part of the line.)
The company now is ready to roll Sleep Natural out to other retailers, targeting brick-and-mortar sleep shops and other mattress specialists.
"We want retailers who have the same vision that we have. We're offering great value with our (product) builds. It's not the commodity bed that everyone else has," Hisle says. He expects many retailer partners will be in the Midwest and mid-South, in markets not currently served by Mark's Mattress stores.
"The biggest thing is these are proven sellers at proven price points," he says. "We've modified the line over years and we know this is doing well at retail."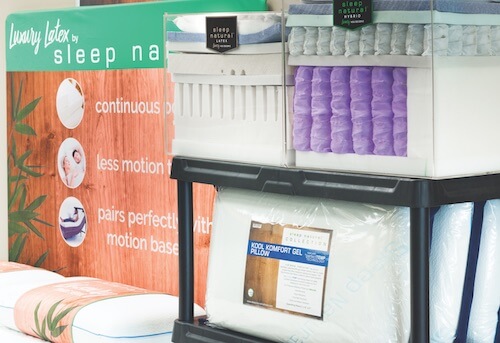 Sleep Natural has the tagline "Luxury You Deserve," but Hisle likes to describe it as "the best Tempur-Pedic alternative." "When compared side by side, we believe it's a better build, and for up to 50% less," he says.
The brand is built around three mattress collections — latex, gel memory foam and hybrid. The top bed in the latex line, the Nightengale, retails for $3,099 in queen size. It features a latex core topped by additional layers of plush latex, super-soft latex and Kool Touch foam, all wrapped in a cooling cover. At $2,799 in queen, the Integrity Plush Eurotop Hybrid, tops the hybrid group. It includes zoned pocketed coils in the core, plus microcoils, latex and the company's Kooling Gel Swirl memory foam. Opening price points in the gel memory foam group include the firm Sunset, which features a "quicker recovery latex-like" Kool Komfort Spa foam ($1,699 in queen) and the Bamboo Dreamzz, which has a cover that includes rayon from bamboo fiber, Kool Komfort Ventilated Gel Swirl foam and Kooling Quick Response foam ($1,299 in queen).
The beds are designed by Hisle and his team and use CertiPUR-US certified foams. Foam models are made at the company's own domestic factory; hybrids are built using contract mattress manufacturers in the Midwest, Hisle says.
Pillows include gel memory foam and latex options, many with cooling features. They retail from $79 to $149. The Sleep Natural line also includes two mattress protectors. A five-sided option with Tencel retails for $149 in queen. In addition, five power bases are available, including the Gold, which features wireless capability and USB ports, undercarriage lighting, massage, a wall-hugging design, programmable positions, emergency backup power and other capabilities. Sleep Natural accessories are manufactured overseas under the supervision of Hisle's team.
The company is offering a host of support materials for retailers, including product-specific videos, high-resolution photos of products and logos, point-of-sale materials, shareable social media content, social media-ready ads, infographics, blog insights and more — all available online. Retailers can learn more at SleepNaturalNow.com/Wholesale.
"We're very excited about launching the new Sleep Natural wholesale division to allow great retailers across America a choice to Tempur-Pedic and other brands," Hisle says. "We believe the entire line — from mattress to pillows to adjustable bases — offers great design and the best value overall."
Booms and Beds
Fireworks and mattresses. It's hard to think of two products more different. One is loud and sparkly, the very essence of excitement — a product that draws oohing-and-aahing crowds. The other is, well, none of those things.
And yet Mark Hisle has been successful running both a fireworks enterprise and a mattress chain — selling both from the same locations.
Hisle is president and founder of Mark's Mattress Outlet, headquartered in Evansville, Indiana. Most of the year his 23 Mark's Mattress stores in Indiana, Kentucky and Tennessee sell mattresses and other sleep products. But for about six weeks each June and July, the company moves out all the bedding in about 10 locations and moves in fireworks to become Mark's Fireworks stores.
Hisle got into fireworks first, selling them at retail and then launching his own fireworks company, RGS Brand Fireworks, which are sold in Mark's Fireworks stores and through distributors across the United States. (The RGS stands for "Really Good Stuff.") The company is known for Black Widow artillery shells and other branded products it designs and manufactures overseas. Hisle likes to say that the Black Widow is to the RGS line as the Nightengale mattress is to the retailer's Sleep Natural mattress line.
As products, fireworks and mattresses don't have much in common, but the process of retailing and manufacturing the former taught Hisle much about the latter. In particular, he took what he and his fireworks team learned over the years about designing products, managing the manufacturing process, overseeing supply chains and marketing brands and put it all to use when creating its Sleep Natural bedding line.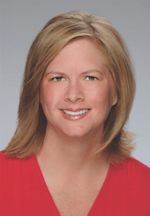 "When it comes to being a bedding brand, we don't want to sell a commodity. It's the same in the fireworks business. Someone is always going to have it cheaper," he says. "So, we want to create brands with value at a good price."
Julie A. Palm is chief wordsmith at Palm Ink LLC in Winston-Salem, North Carolina. She has 25 years of experience as a writer and editor for newspapers and magazines and as a publications director. She is a past editor in chief of both Sleep Savvy and BedTimes magazines. She can be reached at japalm623@gmail.com.