BY JULIE A. PALM
PHOTOGRAPHY BY TINA'S PHOTOGRAPHY
This four-store sleep-shop chain in northern California scores big by promoting and providing its customer base with quality bed sets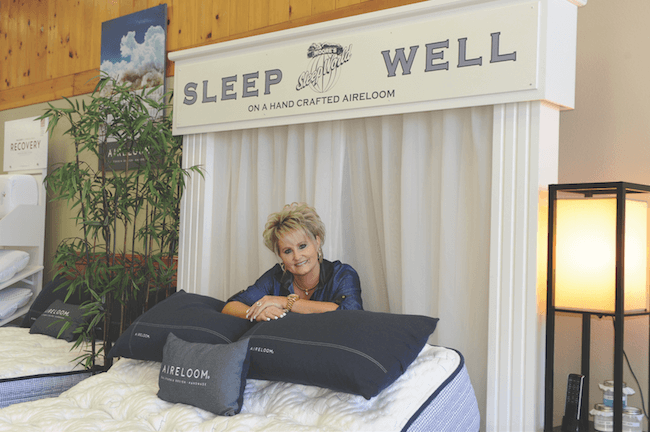 Jennifer Rudick is something of a mattress evangelist, wanting everyone in her area of coastal Northern California to shop Moore's Sleep World and experience a great night's sleep on a quality mattress ensemble that includes everything from a new frame or adjustable base to pillows and sheets.
That means if she encounters someone who bought a mattress at a competitor, she'll encourage that person to visit her store and buy a good pillow and mattress protector to complete the sleep set. And while that shopper is in the store, she'll encourage rest-testing of a few mattress models and adjustable bases.
"I'll remind them that the big-box store has a wonderful return policy and that, if they find a mattress they like better at our store, we'll load up that other mattress and take it back for them!" says Rudick, owner, president and chief executive officer of the four-store sleep chain based in Eureka, California.
That level of confidence and enthusiasm has created a loyal customer base of repeat business and referrals for the retailer.
"I have good word-of-mouth," Rudick says. "People talk about the wonderful experience they had here—about how they didn't know before what rest-testing entailed or how important sleep is for their health. I want people who bought a bed here to say, 'We had the best experience. We know Moore's is going to take care of us and helped us buy the best bed—and it fit our budget.' "
Jumping into the mattress business
Rudick found her own passion for mattresses at a somewhat unusual time—when she became owner of Moore's Sleep World.
Dave Moore, whose family had been in the furniture business, opened the original store in Eureka in 1986. Rudick's husband, Darin Rudick, worked across the street and took note in 2007 as Moore's talk of eventually selling the business turned serious. When Moore put the store up for sale in November 2007, the Rudicks bought him out. By December 2007, Jennifer Rudick was training with Moore in the store; in January 2008, she took ownership. (The Rudicks jointly own the business, but Darin Rudick, who is general sales manager for an auto dealer, isn't involved in day-to-day operations.)
Although Rudick had no mattress experience when she bought the store, she had worked in various fields, including real estate, automobile sales and banking, that prepared her to own a retail mattress operation. "Sales has always been really easy for me," she says. "Buying this business was one of the best decisions of my life. I've never had a passion for something like I do for this."
And she has good instincts. "Dave was open five days a week," she says. "I opened the store to six days a week and then seven days. I just kind of knew we had to be open every day."
To get up to speed on mattresses, Rudick asked questions—a lot of questions of Moore during the first year but also of two of Moore's friends—Earl Kluft, founder of luxury bedding producer E.S. Kluft & Co., and Michael Quirk, a Spring Air rep. She became fans of both men, too. Rudick says Kluft and his wife, Pam, are "near and dear to my heart," and she hired Quirk as her general sales manager.
Rudick faced hurdles early on—first the Great Recession and then, in May 2009, the sudden bankruptcy declaration by Consolidated Bedding, which owned the Spring Air name and closed most of Spring Air's factories. Had we mentioned that, at the time, Moore's Sleep World was a Spring Air-only store?
"It happened on my birthday, but my husband waited to tell me until the next day," Rudick says. She faced the problem head-on, viewing it as an opportunity rather than a crisis and quickly replacing the Spring Air lineup with Serta and Kluft's Aireloom brand. "The new beds were here almost immediately, and it wasn't as devastating as you might think it would be," she says.
The links in the chain
Since Rudick bought Moore's Sleep World, the retailer has expanded steadily, opening three additional stores in Humboldt County—Arcata in 2010, Fortuna in 2011 and McKinleyville in 2017. All three are within about 20 miles of the original Eureka store, which serves as chain headquarters.
The retailer is based in a relatively isolated area along California's famed redwood coast, closer to the Oregon border (about a 90-minute drive) than San Francisco (about a five-hour drive). The remoteness has kept most national and regional mattress sellers away. Moore's biggest competitors are local furniture stores, plus Sears and Costco.
With each expansion, Rudick has been open to opportunities for growth, always keeping an eye out for promising store locations. For instance, in Arcata, home of Humboldt State University, she found an available spot on a plaza in the heart of town.
"It's a desirable place to be, and I knew it would be a good location for us," she says. "But talk about scary: Making that first leap to expand was nerve-wracking. But as I got into it, it was really fun, especially merchandising a new place." In McKinleyville, Rudick saw a vacant bank building on a main thoroughfare and believed she could "create a gem." "I knew that area needed to be covered, and with each store, it's getting easier to open them. I have it down now," she says.
Each Moore's Sleep World location is roughly 4,000 to 4,500 square feet, which allows for a consistent 37 mattress SKUs on the floor, plus room in each store for a small warehouse. The Fortuna store, which Rudick says has felt cramped, is being expanded to match the footprint of the others.
In addition to Aireloom and Serta's iComfort brands, Moore's Sleep World carries mattresses from Corsicana Mattress Co., Sherwood Bedding, Simmons and Spink & Edgar USA. Prices for queen sets open at $299 for a Sherwood model with a VertiCoil innerspring unit and top out at $5,199 for an all-natural Spink & Edgar model packed with microcoils, plus wool, alpaca, cashmere, cotton, hemp and flax.
The retailer's average mattress ticket is $1,200—an increase over past years because Rudick has increased the store's high-end offerings. But Humboldt County is home to many retirees, working-class families and students, so Moore's Sleep World offers 12-month financing on mattress sets and each store features a Value Collection—a space-maximizing way to show off and sell lower priced bedding. The centerpiece is a rack of twin-size promotional Corsicana and Sherwood mattresses that can be swapped on and off a nearby twin-size foundation for rest-testing.
Moore's Sleep World carries four adjustable bases from Leggett & Platt Inc., and sales in 2017 were "ridiculously good" thanks to an advertising push, Rudick says. She plans to add more feature-filled bases this year. The retailer also sells bed frames from Knickerbocker Bed Frame Co.; pillows, sheets and protectors from PureCare; and pillows and toppers from Malouf.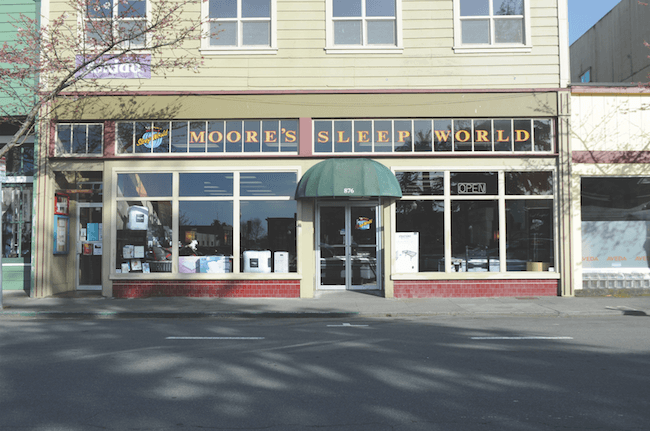 'Everyone deserves to lie on the best'
When shoppers enter the store, they're greeted by a retail sales associate with what Rudick describes as "a mellow approach but peppy greeting" that shows how much they are valued. "When every customer walks through the door, we want to treat them like a golden egg," she says. "I'll say, 'Thanks for coming in. I'm Jennifer, and your name is … ?' "
And then the qualifying questions—a mix of queries about sleep habits and mattress preferences—start: What made you come in today? What size mattress are you looking for? How do you sleep at night: side, back or stomach?
"It's all about asking the customer questions in a subtle, nonaggressive way and then listening to their answers," she says. "We want to have a conversation, not make a sales presentation."
RSAs help shoppers choose a pillow to carry with them during their store visit.
Rest-testing begins on luxury Aireloom mattresses because, Rudick says, "everyone deserves to lie on the best bed."
As rest-testing continues, RSAs explain the benefits of various mattress components and introduce topics such as warranties—and the importance of supportive bed frames and mattress protectors to keep those warranties valid.
"So, you're building a ticket but you're also educating people," she says. "We're constantly pointing out features and benefits of the beds and listening to what customers are telling us. We are here to put people in the right bed."
As part of that educational process, RSAs encourage customers to rotate their new mattress every 30 days and to use that monthly rotation as a good time to wash mattress and pillow protectors. Foundations, they remind customers, should be rotated in the spring and fall.
"My RSAs have 'Mattress Expert' on their name tags and it's in our advertising," Rudick says. "It is our belief that if you wear the name tag, you have to have the knowledge to back it up."
RSAs are expected to know what sales and promotions competitors are running, and Rudick gives them flexibility in making a final sale. "We know if a competitor is running a 'no sales tax' sale. If a customer says they want to look at that store, we can say, 'You like this mattress and it's a good fit for you. What if I match their no tax offer?' "
Bucking mattress retailing trends, Moore's Sleep World doesn't offer comfort returns, except on iComfort models, which Serta accepts back from the retailer. "We do a really good job fitting the person with the right mattress," Rudick says. "When you do that, why should you need to take a mattress back?"
Other trend-bucking policies: The retailer doesn't sell mattresses online or even list pricing on its website, with Rudick believing the best way to help people find the right mattress is to do in-store education and rest-testing.
Rotating RSAs
With no other mattress specialists in the area, Moore's Sleep World can't count on new RSAs to have mattress selling experience, and people who have worked retail in larger markets aren't always effective in this laid-back coastal region of California.
"Aggressive salespeople don't resonate well in our market," Rudick says. "We're in a very relaxed area and we take that approach to sales. So, I'm looking for a sincere person I can have a conversation with—someone who is positive and self-motivated. Sales experience of any kind is helpful, but mattress sales experience is rare."
New hires train directly with Rudick and David Taylor, the retailer's assistant manager, whom Rudick describes as "a great addition to our team." RSAs start at the Eureka store and then, like all the retailer's RSAs, rotate among all four stores. "No one goes to one spot every day," Rudick says. "I try to be very fair so everyone has a chance at every store. It's a constant, daily rotation."
Every morning, Quirk calls each store to review operations and goals with RSAs, who are expected to maintain and review detailed store traffic logs that help everyone stay up to speed on what's been happening at each location.
Moore's Sleep World supplements initial training with regular guidance from Quirk, plus frequent product training from manufacturers' 'representatives. "Because everyone is in Eureka (where Quirk is based) at least once a week, everyone gets a piece of Mike's time," Rudick says. "Before he was a Spring Air rep, he had 20-plus years of retail experience and has so much knowledge to share."
Rudick is proud of the team she's assembled: "I could not be successful without my team," she says. "They all work very hard and I appreciate each of them."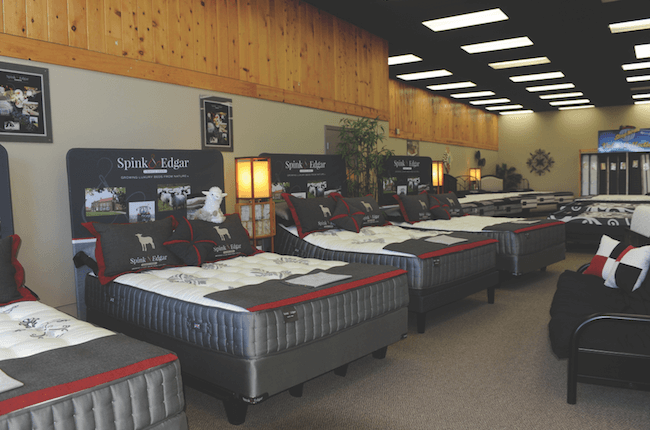 Spreading the message
Moore's Sleep World had a good reputation and loyal customers when Rudick took ownership. "Dave built all this and I just grew it," she says.
Part of the way she grew the business was to advertise broadly, and the retailer saturates the market with ads. Moore's Sleep World advertises on social media sites such Facebook and Instagram, and search engines such as Google, but also buys space on billboards and buses and will microtarget consumers by doing things like sending flyers to other local businesses, offering their employees 10% off a purchase.
And, here again, the retailer goes against trend, continuing to advertise in local magazines and newspapers, including The Trader, a free biweekly publication for people who want to "buy, sell, trade," and North Coast Journal, a free weekly newspaper. "I have a demographic where people still use the phone book up here," Rudick says.
"We're always trying to find new ideas to generate traffic, but for us TV and radio are the big ones," she adds, explaining that about twice a month she visits three local radio stations, doing live hits to promote a sale or new mattress arrival.
Rudick, who has infectious enthusiasm about bedding and seemingly boundless energy, also stars in the chain's TV commercials, which tout promotions but emphasize the retailer's wide selection of quality bedding and expertise in helping shoppers find the right mattress.
"The thing about TV is you have to switch it up. I keep my commercials fresh and sometimes drive my production people crazy when I say I want to shoot a new spot tomorrow," she says. "Sometimes the message is about a sale, but it's always about the importance of a good mattress and the advantages of getting a good night's sleep."
Rudick adds: "I've been doing the commercials for quite a few years now and when I go to breakfast or Costco, people will come up to me and say, 'You're the mattress lady!' And I'll turn it around and say, 'Yes. I am. And when are you coming in for a new mattress?' "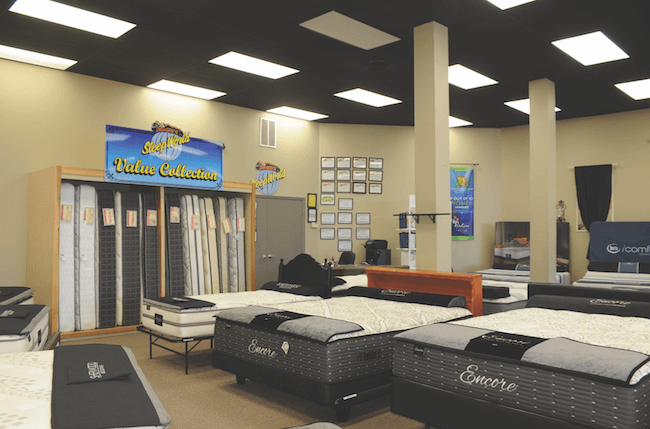 Sales don't end in the store
The delivery teams at Moore's Sleep World not only provide
white-glove mattress delivery and setup in customers' homes, but they serve as adjunct retail sales associates, too.
While customers still are in the store, RSAs discuss the importance of mattress protectors and sturdy, supportive bed frames, explaining that the items protect the customer's investment and terms of the mattress warranty. But there always will be shoppers who leave without purchasing the accessories.
To give them another opportunity to buy the items, Moore's Sleep World stocks each delivery truck with protectors and bed frames in every size, plus box springs in two heights to ensure new mattress sets fit well in customers' existing bedroom furniture.
When delivery personnel arrive at the home, they give customers a thank-you letter from the store that also includes information about the protectors and frames for them to review as the team assesses the bedroom and removes the old mattress set. The packet shows clearly the hazards that await people if mattresses aren't set up on proper frames and covered in a good protector.
"So, our delivery guy can say, 'I noticed your current bed frame doesn't have a center support and that concerns me. Your new mattress could start to dip in the middle and that could void the warranty. I've got a new frame on the truck that would prevent that,' " says Jennifer Rudick, owner, president and chief executive officer of the Eureka, California-based sleep chain.
Delivery personnel can accept checks or credit card payments on-site and they earn a commission on every sleep accessory sold.
"It's not a high-pressure sale," Rudick says. "It's part of the education process. And I don't look at it like an RSA didn't close the sale originally. Sometimes a customer doesn't know what kind of frame they have at home or realize the importance of a protector until they get the new bed home. We have them emphasize, like we do in the store, that we sell 'from the floor up'—everything they need for a complete bed and a good night's sleep."
Moore's Sleep World has spirit! Yes, it does!
With both Humboldt State University and College of the Redwoods in its market, students are a big part of Moore's Sleep World's customer base.
To make students feel valued and ensure they see Moore's Sleep World as the place to go for mattresses, Jennifer Rudick, owner, president and chief executive officer of the Eureka, California-based retailer, had Sherwood Bedding make promotional mattresses geared toward each school and its mascot—the Lumberjack for HSU and the Corsair for College of the Redwoods.
Moore's Sleep World gives students discounts on both mattresses and delivery and even offers payment plans over the summer, with beds paid off and ready for delivery when classes begin in August.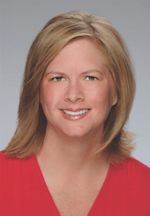 "We get a lot of referrals from students," Rudick says. "We'll go to their fairs and give out waters, T-shirts, Serta sheep, pens. We do what we can to support the schools." That includes donating queen-size mattress sets for auctions and other events.
Julie A. Palm is chief wordsmith for Palm Ink LLC in Winston-Salem, North Carolina. She has 25 years of experience as a writer and editor for newspapers and magazines and as a publications director. She is a past editor in chief of both Sleep Savvy and BedTimes magazines. She can be reached at japalm623@gmail.com.​