Shaping the Sustainability Conversation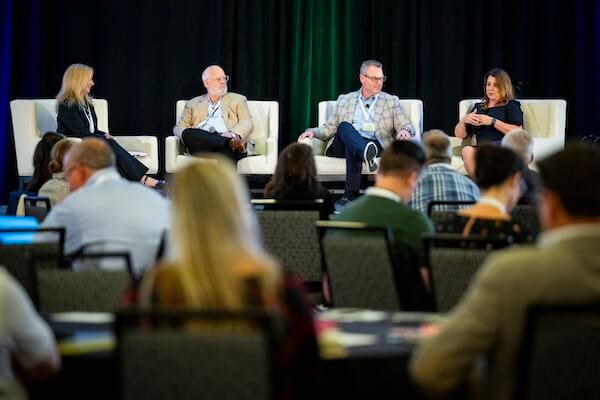 Trying to convey messages to consumers about the sustainable aspects of your products or company, can feel overwhelming. Know that you're not alone. At the International Sleep Product Association's second annual Sustainability Conference in Charlotte, North Carolina, on Sept. 13-14, a lineup of panelists addressed "How to Communicate Your Sustainability Story to Retailers and Mattress Shoppers." Brent Limer, vice president of sales for A Lava and the chair of the Better Sleep Council, introduced the panelists: Barrie Brown, managing director for Retail Strategies LLC; Don Plfug, senior vice president of operations for mattress manufacturer King Koil; and Rhiannon Burch Hallam, senior vice president of sales for textile supplier BekaertDeslee USA Inc. Moderating the discussion was Lisa Donaldson, performance materials marketing, for Covestro, a foam supplier.
Retailers Need to Be Prepared to Talk About Sustainability
The newest research from the Better Sleep Council, "Sustainability and the Mattress Experience," framed the day's conversation. Most notably, the survey found that "the majority of retailers surveyed do not feel very or extremely prepared to talk to consumers about environmental sustainability regarding mattresses." From the consumer perspective, 47% of survey respondents shared that "more informative in-store materials about sustainability would help improve how they are informed about this feature, followed by more knowledgeable sales associates."
All panelists acknowledged that for better (or for worse), customers often come into brick-and-mortar stores with strong opinions informed by their online research, including visiting the company's website, reading or watching online reviews, reviewing social media posts or some combination of all of the above.
"The majority of consumers have made up their mind by the time they have come in, sometimes even before they come into the store," Hallam said. "Especially the younger consumers who are more sustainably-minded. As we think about our companies, sustainability has to be part of it, including how you present your company, community involvement, corporate governance and operational policy. Consumers will make that decision based on your actions, not just with the products you put on the floor," Hallam says.
Communicating Your Sustainability Story Through All Channels
Although we live in an age of readily available information, there's also misinformation and lots of clutter to cut through, Hallam continued. If you're not getting your story out there, someone else might be, so taking ownership of the narrative is crucial. To effectively communicate your sustainability story, it is important to use all mediums (online, in-store signage and RSAs) in tandem with one another to strengthen overall messaging and get it clearly and directly to the consumer. "It's going to be incredibly important to us as manufacturers and suppliers to get clear in our messaging as there's a sense of distrust and lots of misinformation," Hallam adds.
Tools and Resources for Retailers
For those who might not be as informed or research-oriented, Donaldson queried the panelists about any tools their companies provide to retailers to help approach these customers. Pflug said King Koil focuses on the point of sale and information showcased on the floor. Using six interchangeable panels allows King Koil to accentuate various features that differentiate its products. Brown added that show-and-tell can also be a powerful sales tool. For example, pouring water over a waterproof material to demonstrate its capabilities rather than just talking about it.
The Importance of Open Dialogue
The panel agreed the industry needs more open dialogue between all aspects of the supply chain. "I still think that there is a huge disconnect from the whole chain of vendors, manufacturers, retailers and consumers," Brown said. According to the latest Better Sleep Council research, 71% of retailers state they would "feel more prepared to talk with consumers about environmental sustainability if they were provided educational materials by  the mattress manufacturer." Ongoing conversations at all levels could better inform product development, creation of marketing materials and, ultimately, assist in better meeting consumers' needs and wants by the time they get to showroom floors.
"We're consumers ourselves, and there is a certain element of that in how we design our products," Pflug said. "We partner with our retailers, do face-to-face meetings with them and try to bring them into our facilities as much as possible. We listen to their needs because there's ownership on their end with what they're going to sell."
Sustainability is the Future
No matter where your brand or company is in its sustainability journey, one thing is for certain – the most important step is the first one. "We're just starting to scratch the surface," Brown said. "If you haven't started within your own company, just start. Start small, get those little victories and build on those."
While some companies offer a few sustainable products within their broader lineup, Pflug said King Koil is working toward incorporating it into all their mattresses. "What we're talking about today will become the norm in products. It used to be a big thing to have power windows and power locks in the car. Now it's standard, you don't even have to think about it," he said. "That's where we are all headed with sustainability."