Cooling sleep products get lots of attention, but some sleepers want to warm up their beds, regardless of season.
Cool. Cool. Cool. Or, as Detective Jake Peralta, Andy Samberg's character on the "Brooklyn Nine-Nine" TV comedy, would say, "Coolcoolcoolcoolcoolcool."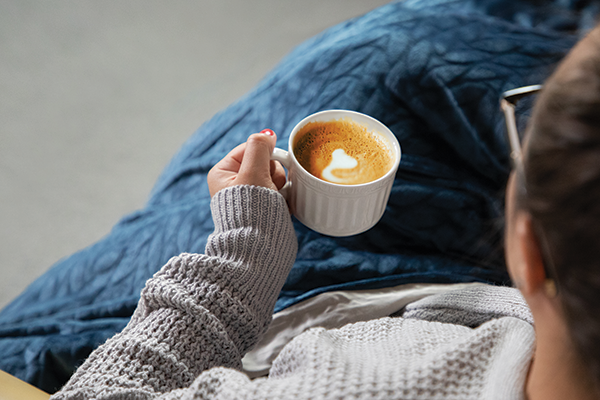 For years, the bedding industry has focused on new ways to cool the sleep environment — beginning with the then-emerging popularity of body-conforming memory foams, whose earliest iterations tended to "sleep hot."
But sometimes, people want to climb into a cozy bed, not a chilled one.
As we head into the winter months, Sleep Savvy is shining our Product Spotlight on comfy sleep products that will keep your customers cozy — physically and emotionally — as the weather grows colder and the days shorter.
And just as people dress for cold weather by wearing, say, a T-shirt topped with a fleece then layered with a jacket or heavier coat, you can help your customers dress their beds in warming layers to create a sleep ensemble that keeps them comfortable. Discover warm sleep products for winter.
---
Ways to Sell Warmth
Promote gift giving.
Cozy sleep accessories make great gifts for winter holidays like Christmas and Hanukkah. And you can also promote them in the cold months that follow. January and February are typically frigid but filled with other special times, like Presidents Day weekend and Valentine's Day, that spur shopping.
Encourage layering.
For a bed ensemble that gives your customers the best night's sleep year-round, promote the sale of comforters, blankets and throws that sleepers can put on and take off as the seasons change. Even hot-sleeping shoppers who've bought a cooling mattress and sheet set will occasionally want a warmer blanket.
Focus on flexibility.
Reversible mattress protectors and flippable mattresses that offer a warmer side and a cooler side meet the needs of a wide range of consumers and can be used in all seasons and climates.
Tout different materials.
Many people still think "flannel" for winter sheets, and there's nothing wrong with a classic. But microfibers and other fabrics can create an inviting sleep environment, too. Show your customers a host of new options.
---
Consumers in the coldest climes — or those who have trouble staying warm regardless of the weather — may want to pile cozy products to create the snuggest of beds. Others might want to add only one warming layer or two to their bed each year as the outside temperatures drop. By offering a variety of sleep accessories, you can meet the needs of both types of shoppers.
And although these products are ideal for seasonal promotions, you can offer them to your customers year-round because new materials and technologies, plus features like flippability, make many of these items suitable for spring, fall and even summer, when air conditioning turns the bedroom brisk.
Start with the mattress
When we say, "cozy bedding," you might first think of fluffy comforters or snuggly throws, and we'll get to those shortly. But bedding producers are making warming mattresses, too.
During the recent Las Vegas Market, Spring Air International unveiled its reimagined Four Seasons brand with a sharp seasonal focus. When originally launched in the 1990s, Four Seasons focused on year-round comfort, according to the company. In keeping with that, its new two-sided beds are designed with, well, all four seasons in mind. One side features cooling fibers and a snowflake-dusted cover; the other side incorporates Joma Wool with a cover motif of quilted leaves.
"These are not just double-sided beds," says Nick Bates, president of the Woburn, Massachusetts-based licensing group. "They are designed for four seasons and year-round temperature regulation. While there is great emphasis on products designed to sleep cool in our industry today, we believe that the true temperature solution for a good night's sleep is not just to make everything freezing cold."
The five new Four Seasons models also include Serene foam and Talalay latex, and are priced from $1,599 to $2,599 in queen size. The licensing group plans to introduce additional models at the Las Vegas Market in January.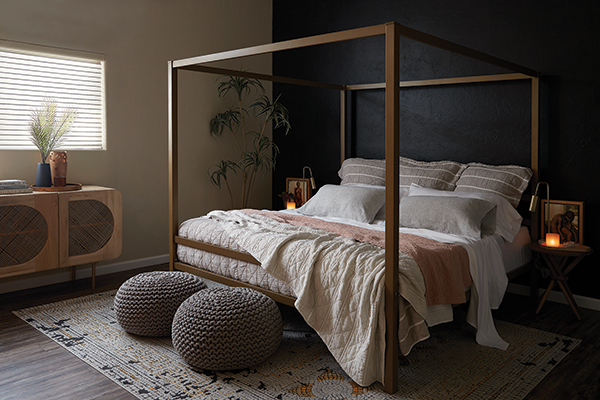 At the spring High Point Market, Magniflex showcased its double-sided Virtuoso Elegante mattresses. Its "winter" side is made of soft cashmere and Merino wool. Flip it to its "summer" side and you'll find refreshing linen and silk. The Prato, Italy-based bedding producer incorporates even more comfort options into the bed by adding a zippered cover that allows sleepers to flip either side of the dual core for a softer or firmer feel.
With its Climate360 smartbed, Minneapolis-based bedding maker and retailer Sleep Number warms sleepers in a different way — and may provide an answer to the "socks on/socks off" conundrum many people face each night.
"The Climate360 smartbed first gently warms your feet on either side, which is proven to aid in falling asleep faster," the company explains. "Then, the temperature-adjustable mattress actively cools your body several degrees with ambient air, designed to balance your temperature with your sleep cycle, to help keep you asleep longer." Sleepers control the temperature — and other features of the mattress and base — through a remote feature in the company's SleepIQ app. Climate360 retails for $8,999 in queen size for both mattress and adjustable base.
Layer on the protectors and sheets
Now for the all-important layering of sleep accessories we mentioned earlier.
Let's start with the protective layer that goes over the mattress. Phoenix-based sleep accessories source Purecare offers a reversible Cooling & Warming mattress protector with FRiO rapid-chill cooling fibers on one side and Heatstar warming fibers on the other side. Again, the flippable, reversible nature of the product gives consumers comfortable sleep in all seasons. The five-sided protector, which retails for $200 in queen size, also shields the mattress against moisture, allergens, dust mites, mold, mildew and stains.
When it comes to sheets, flannel is the traditional fabric for winter, but newer materials give sleepers more options — and allow them to extend use of their cozy sheets into other seasons.
Malouf Home says its Soft-Knit Microfiber sheet set is a winter favorite — and with headquarters in Logan, Utah, the sleep products source understands chilly weather. The double-brushed microfiber sheets have a super-soft, velvety feel, as well as extra-deep pockets and ultra-thick elastic to stay put over a mattress as tall as 22 inches. The Soft-Knit Microfiber (fitted sheet, top sheet and two pillowcases) retails for $75 in queen size. The sheets are available in Ash, Driftwood and Pacific hues, as well
as white.
For toasty sleep, bedding producer Bedgear offers its Hyper-Wool sheet set. "Featuring all the benefits of traditional wool, our Hyper-Wool sheets are itch-free and uniquely constructed to create a balanced and dry sleep environment that's ideal for all seasons," says the company, which has headquarters in Farmingdale, New York. Available in light gray, white, beige and forest green, a set retails for $299 in queen.
Another option: In its new line of sleep accessories with integrative health and wellness expert Dr. Andrew Weil, Purecare offers its Dr. Weil Relaxed Hemp sheets. Made of hemp fibers, the sheets have "a relaxed, lived-in softness" perfect for chilly nights but are naturally thermoregulating for all-season comfort, according to the company. A queen-size set retails for $450.
Top it off
No cozy bed is complete without warming blankets and comforters.
Blu Sleep, with headquarters in Pompano Beach, Florida, is known for its colorful foam pillows and mattresses, but it also offers a range of other sleep accessories, including linens appropriate for layering in colder months.
The company's Baia bedspread was "inspired by cool evening breezes in Baia dei Turchi" in Italy. Not too heavy, the Baia has "an airy weave and gauzy hand," making it perfect for cozying up a bed in all seasons and climates. Made with 100% organic cotton certified by the Global Organic Textile Standard, it retails for $410 in queen size.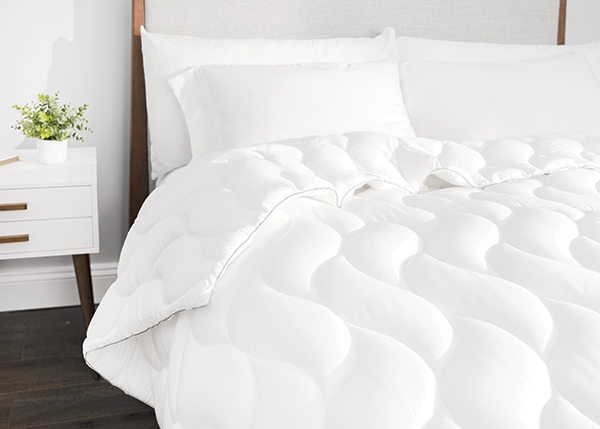 Blu Sleep also offers the Alpina throw, made of 100% Italian cashmere. It is insulating enough to keep sleepers toasty in winter but lightweight enough for use in other seasons, too. "Characterized by its light and warm threads, this cashmere comforts the soul and body," the company says. The throw retails for $449 and comes in gray and beige.
Some sleepers enjoy the feel of snuggling under a fluffy comforter. Bedgear says its washable Performance comforter has airflow-promoting Climacore insulation to provide bedtime warmth without overheating sleepers. Knowing that people have different preferences in terms of how thick or heavy they like the layers they pull over themselves at night, Bedgear makes the comforter in three weights. The lightweight retails for $169 in full/queen size; the ultra weight is $269.
And speaking of weight, the popularity of weighted blankets may have waned some, but there is still a segment of consumers who appreciate the hefty comfort of a blanket that weighs 10 pounds, 15 pounds or even 20 pounds.
Purecare's Zensory weighted blankets are available in 15-pound and 20-pound versions for adults. The 15-pound blanket retails for $200. In addition to providing warmth, the blankets are designed to reduce stress and lessen tossing and turning for a better night's sleep. For all season-comfort, a separate blanket cover ($70 retail) features cool-to-the-touch Lyocell fabric on one side and a plush velveted fleece on the other for extra comfort.
This is just a sample of the warming bedding products available. You can also check with your favorite sleep products manufacturers to see what toasty items they offer. But do give thought to adding cozy sleep products to your lineup. You don't want to leave any of your customers out in the cold.
Julie A. Palm has been covering the mattress and home furnishings industries for more than 25 years, and is a past editor in chief of both BedTimes and Sleep Savvy magazines. As lead wordsmith at Palm Ink LLC, she specializes in writing, editing, publications management and communications consulting for a variety of clients. She can be reached at japalm623@gmail.com.