At the Winter Las Vegas Market, many manufacturers had one thing in common — they were either showcasing a new sustainable product or they had a new sustainable product in development.
Here's a sampling of a half dozen new eco-friendly products on display. And be sure to check out the April issue of BedTimes magazine for even more innovations.
Sustainable and High Tech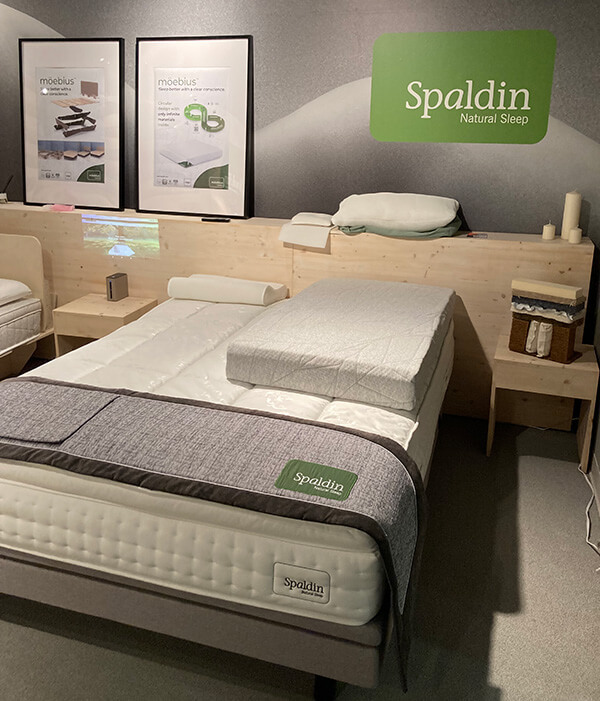 After introducing MöebiusOne, a fully circular mattress-in-a-box, at the ISPA Sustainability Conference, Spaldin debuted a full range of MöebiusOne products — a mattress topper, a baby mattress, a baby pillow and even a bath pillow. The Logroño, Spain-based mattress maker also expanded its NG Matt (Next Generation Mattress), adding a mattress topper and a pillow. "We have all sorts of technologies to customize and track your sleep," said Oscar Valdemoros, president of Spaldin. "With this mattress, we have 16 zones, and, in the topper, we have six. And everything is tracking your sleep. So, the mattress learns from you and adapts to you by changing the support level of each area."
Cool and Sustainable
Not only did NCFI Polyurethanes relaunch its CoolRest line of performance bedding foams, the company also introduced a new EcoLux sustainable cover and an EcoLux mattress (part of its BedInABox division). The memory foam EcoLux mattress is certified under the USDA BioPreferred program, "which means that the overall content of the finished bed is 30% renewable content," said Chris Bradley, executive vice president of the Mount Airy, North Carolina-based company. The sustainable cover is made from 50% recycled polyester and 50% recycled cotton. It's also an inherent FR solution, so no fire sock is needed.
Keeping It Natural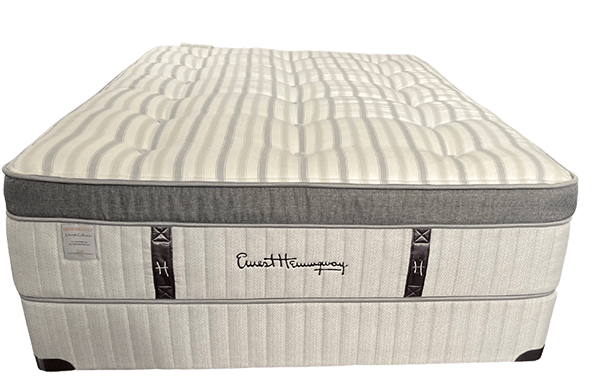 Bedding Industries of America showcased its focus on sustainability by adding two new eco-friendly models to the Ernest Hemingway collection, the Lifestyle and Key West. "We have a variety of products that are all-natural and sustainable," Carlitz said. "We're using natural latex, a lot of wool, a lot of silk." The springs are recycled steel, and the company only uses CertiPUR-US certified foams. "Millbrook is also sustainable," he said. "It's a line that was designed in the UK; two of the beds are manufactured in the UK, and three beds that we produce in the USA lead up to it, and there's no foams at all in those beds. It's coil on coil, cashmere, wool, silk and cotton on top of 2,500 coil units."
Not Just Any Comfort: iComfortEco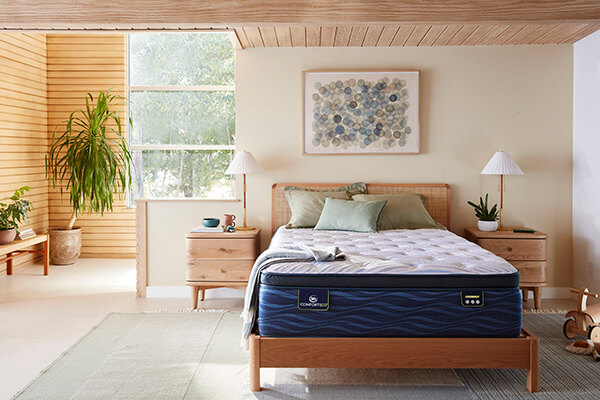 Serta Simmons Bedding made a splash in its return to Las Vegas Market after a two-year hiatus. One of the latest additions to the Serta brand is the Serta iComfortEco, which is scheduled to release in April. The line is in response to consumers asking for "the integration of more sustainable materials" into mattresses, says Shelley Huff, CEO of Atlanta-based Serta Simmons Bedding. Key features include a CoolTemp cover made in part with Repreve performance fiber derived from recycled plastic bottles. Recycled plastics are also part of the bottom support layer. A comfort memory foam layer with 30% plant-based content has USDA BioPreferred certification. At the center of the hybrid models in the line is a five-zone coil unit made from 85% recycled steel and assembled without glue. The iComfortEco models retail from $1,299 to $3,499.
'Consciously Sustainable'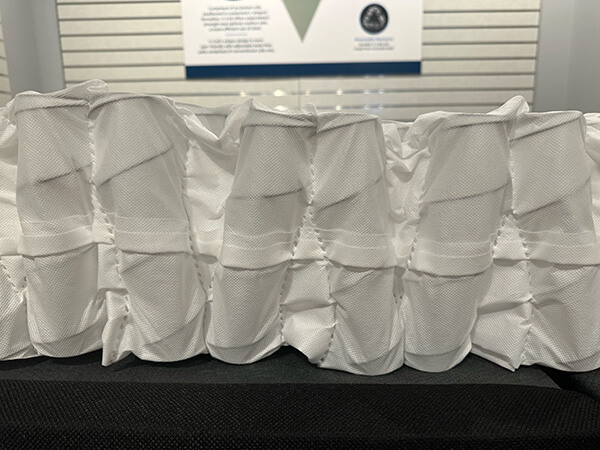 Therapedic International debuted its three-model Sustaina line, which the licensing group bills as a "consciously sustainable mattress collection." According to the Princeton, New Jersey-based company, Sustaina's signature V-Coil unit features pocketed V-shaped coils at an angle, allowing for more efficient use of steel and lower product weight, which reduces fuel use during transportation. Cushioning materials include natural latex and New Zealand wool. Its organic cotton ticking is certified by the Global Organic Textile Standard. "With sustainability being a top-of-mind issue in today's marketplace, we wanted to supply our retailers with a strong offering in that arena," said Gerry Borreggine, Therapedic president and CEO. The beds retail from $1,799 to $2,199.
In a Word: Pure
Phoenix-based Purecare unveiled its exclusive bedding collection with Dr. Andrew Weil, known for establishing the first integrative medicine program at the University of Arizona in 1994. The collection spans mattress protectors, pillows, sheets, quilts, coverlets, and duvet covers and inserts — all in natural materials such as kapok, merino wool, goose down, hemp and Fairtrade cotton. "I think the products are beautiful, and I know how they're made, and I've started to use them," Weil said. "I love the hemp sheets. I think they're terrific. I love the earth colors. And I'm sleeping on the kapok latex pillow."