If you're looking for ways to drive consumers from shopping online to walking through your doors, follow these best practices for shifting your web traffic to store traffic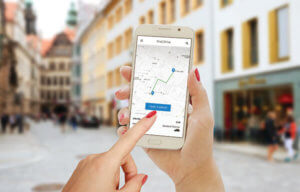 What do you do when your web traffic is hopping but your store doors aren't swinging? Use your website to drive consumers into your stores!
One easy way to do this is to offer in-store-only coupons, discounts and other promotions through your site. Here are other strategies that will keep customers flowing into your brick-and-mortar locations:
Make it easy for shoppers to find your stores.

"According to research, address and location are the first pieces of information that local users want to find on your site. Remember to include contact information, as well," writes Alexandra Sheehan in a November 2017 article for Shopify, an e-commerce platform for retailers based in Ottawa, Canada. Store address and location details should be featured prominently on your homepage and in all webpage headers and footers.

Create a mobile-friendly website.

Here's a stunning fact: "Google has found that 50% of consumers who conduct local searches on their smartphone visit the store within just one day," Sheehan says. You don't need to create a special app, she notes, but a mobile-optimized website is a must so people can search and browse easily wherever they are and then stop by your store when it's convenient for them.

Highlight your brick-and-mortar locations.

Invest in attractive store photography and use the images liberally online to reinforce that you are more than a website. If you have more than one location, use thumbnail photos of each store on the webpage where you list all store addresses and contact information.

Be consistent.

One key to omnichannel success is a consistent brand strategy. "The strongest brands deliver the same customer experience across all channels. And with increasingly multichannel consumer behavior, this is essential," Sheehan says. Your website and physical stores should use consistent colors, typography, photography and language. Target is, of course, a master at this.

Play to the map apps.

When shoppers in your area search Google Maps or other apps for terms like "mattress," you naturally want to appear at the top of results. Abby Herman, director of search for the Snap Agency, a Minneapolis-based digital marketing firm, recommends you create links to location-specific webpages rather than your main homepage. "Whether your business has one location or many, you want each link to land on a page specific to the individual address," she writes in a Snap Agency article. "Doing so helps increase your ability to be found on Google Maps." It also makes it easier for consumers, who don't have to scroll through your site to search for your locations by ZIP code.

Claim your space on other platforms.

Make sure you've created profiles for your business on location-based platforms like Yelp and YellowPages.com, Herman says. Pro tip: "Be sure to use the exact same address and phone number formatting each time. Details matter here," Herman says. "Google Maps will use this information to help confirm your location, so keep your location info 100% consistent across every platform and piece of content."

Come right out and encourage them to visit the store.

Tell online shoppers, as they are browsing your e-commerce site, that while you're happy to have them make a purchase through the website, you'd love to have them come try the product in your store before they buy. Put that message on every mattress product page, add a pop-up box that appears when they hit "Add to Cart" or incorporate your invitation into a chat function.