NEWS RELEASE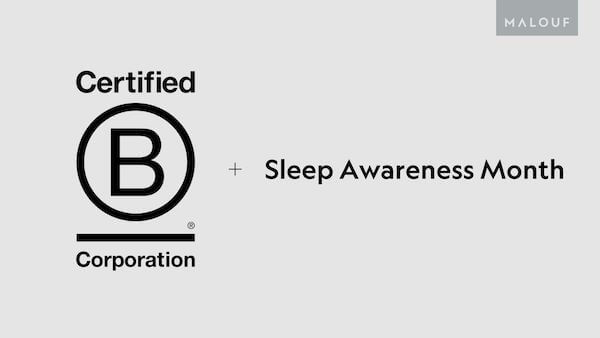 LOGAN, Utah—Malouf Home™ is supporting timely campaigns to educate consumers in the month of March. As B Corp™ Month and National Sleep Awareness Month, March is an ideal time to increase awareness around the importance of sleep and the benefits of purchasing from a Certified B Corporation®.
Malouf Home™ Brand Manager Ashlee Willes spoke to the intent behind the customer-focused campaigns. "Sleep is an integral part of our life, and we know the impact being well rested can have on your overall lifestyle," Willes said. "National Sleep Awareness Month is a great opportunity for us to continue educating end consumers on why sleep is important. It's also an opportunity to show how Malouf™ products stand out and contribute to the greater good."
Highlighting sustainability and products that create a positive impact, like those that have been third-party verified, is a great way to target consumers. Willes added, "Seventy five percent of millennials say they consider sustainability when purchasing. When retailers carry Malouf products in their stores, it's a great opportunity to engage with customers who care about sustainability and are looking for products that do more."
To become a Certified B Corporation®, a company must demonstrate high social and environmental performance in multiple areas: governance, workers, community, environment, and customers. Malouf™ is the largest B Corp™ in Utah and one of only several bedding and furniture companies to receive the certification.
To partner with Malouf™ or learn about its products and capabilities, contact a sales representative at 800-517-7179 or sales@maloufhome.com
About Malouf Home™
Malouf Home™ leads the furniture and bedding industry with a wide selection of innovative products, including furniture, sleep systems, mattresses, adjustable bed bases, pillows, sheets, mattress protectors, bed frames and mattress toppers. Together with sister brands Salt Flat™ and Weekender™, Malouf™ commits to quality, pricing and service through a comprehensive product catalog that satisfies a variety of customers. Malouf™ products are available in over 16,000 retail partner locations in the U.S., and its international team now serves over 56 countries. Malouf™, a Certified B Corporation®, was founded in 2003 by Sam and Kacie Malouf and is headquartered in Logan, Utah. To learn more, visit maloufhome.com.