NEWS RELEASE | SPRING 2023 High Point Market
Visit the brand showcase at High Point Market in the HMi Showroom.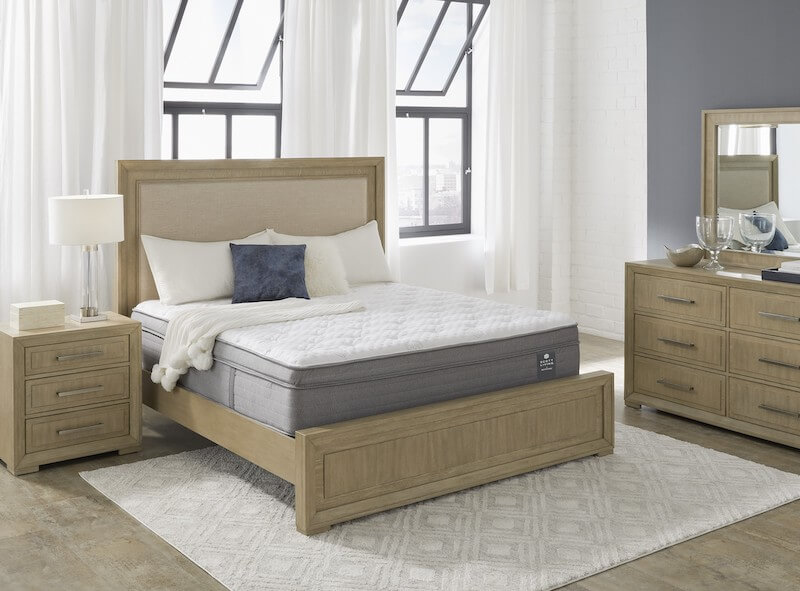 Oak Lawn, IL – March 15, 2023 – Scott Brothers Global and Restonic Mattress Corporation will be continuing their successful partnership, thanks to a newly inked partnership contract. The brands began working together in 2018 with the launch of Scott Living by Restonic mattresses and later Drew & Jonathan Home mattresses.
Scott Living by Drew & Jonathan™, founded by Drew and Jonathan Scott, is a home and lifestyle brand that expresses the brothers' values: family, quality, and trust. With an emphasis on comfort and support, the brothers have worked closely with product experts at Restonic to design better sleep systems through cooling technology, body-conforming support systems and patented components. Since launch, the collaboration has yielded positive results on retail floors, a strong indicator of the buying power of the brothers' loyal fan base.
"As an 85-year-old brand – and winners of multiple consumer-voted awards – we bring a lot of trust to our partnership with SBG," said Laurie Tokarz, president Restonic. "We're grateful Drew and Jonathan see the value of trust equity in the marketplace. Our mutual focus on strategic growth has created a roadmap that shows a strong and profitable horizon as we begin to emerge from these challenging economic times."
"Our partnership with Restonic is extremely collaborative throughout the design process, and it's so rewarding to know our combined expertise allows us to create products focused on improving people's health through better sleep," said Jonathan Scott.
To celebrate five years of partnership, the brands are introducing a Scott Living by Restonic Anniversary Collection. It's designed to position a restful and rejuvenating sleep which is at the heart of a strong and healthy life, while being available at an economical price. Adjustable base friendly, the mattresses are available in multiple comfort choices with a starting price of $799(Q).
"At Scott Brothers Global, we're always working to improve the lives of our customers by creating products driven by our brand's values. We're lucky to share this goal with Restonic, who, like us, value the power of a strong brand story. Throughout our partnership, Restonic has encouraged us to collaborate on everything from mattress design to storytelling to ensure a seamless customer journey," added Drew Scott.
"In our fifth year working with Scott Brothers Global, our winning strategy has been primed through bigger market share and increased average unit selling prices," said Bob Sherman, Visionary Sleep. "The new Anniversary Collection, which debuted at Vegas Market is already performing well on retail floors. By improving conversions, profits, and overall customer satisfaction, we live by the belief that our retailers' success is our success."
With a nod to SBG's successful licensing program, Restonic will be showcasing the Scott Living mattress collection in Hooker Furnishings' HMI Group High Point showroom at 220 Elm. HMI Group is SBG's licensing partner for bedroom and dining room furniture. The collection will be available for viewing during pre-market and market.
About Scott Brothers Global (SBG)
Scott Brothers Global is a lifestyle and entertainment company founded by brothers Drew and Jonathan Scott. With offices in Toronto and Nashville, SBG produces award-winning consumer products and content dedicated to making life at home fun, meaningful, and easy. Drew and Jonathan host multiple top-rated, inspiring, bold, and heart-warming programs on HGTV, including Property Brothers: Forever Home and Celebrity IOU, which are viewed annually in over 160 countries worldwide, with 60+ million people in the U.S. alone. More than 10,000 beautiful, quality Scott Living by Drew & Jonathan™ and Drew & Jonathan Home products are sold across 5,000+ retail locations, including the world's largest e-commerce platforms.
About Restonic®
Restonic is guided by the principle that getting a healthy night's sleep is a right, not a privilege: this means that every Restonic mattress is crafted with better quality materials and more attention to detail than comparably priced mattresses from competitive brands. Restonic Mattress Corporation is a leading international bedding company with manufacturing facilities throughout the world, including North America, the Far East, Europe, India, Brazil, Middle East and South Africa. For more information, visit restonic.com or follow @restonicbeds on your favorite social channels.