BY JULIE A. PALM
PHOTOGRAPHY BY WALT BLAU/GENERIC BRAND HUMAN
At this Fanwood, New Jersey-based factory-direct manufacturer and retailer, Ron and Kara Shovlin use uncommon practices to win the loyalty of their hometown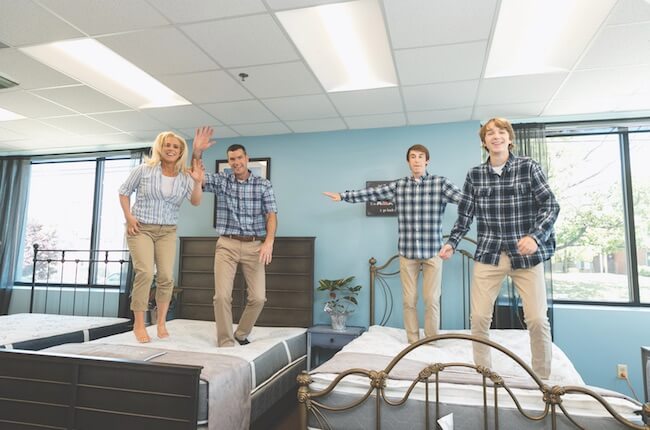 You'd be hard pressed to find a mattress retailer bucking more industry trends than Shovlin Mattress Factory, a factory-direct manufacturer and retailer in Fanwood, New Jersey.
Shovlin doesn't use memory foam, pocketed coils or gel-infused anything in its two-sided mattresses and has no plans to start making boxed beds. There are uncommon practices on the retail side of its operation, too, like offering lots of services for free. For instance, there's the free, in-home flip-and-rotate service that has Shovlin staffers out turning mattresses a half-dozen times a week.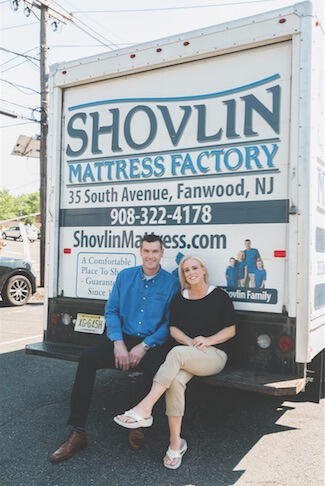 "We'll do it for anyone with a two-sided mattress, even if they didn't buy it from us," says Ron Shovlin, who owns the business and runs it with his wife, Kara. The service began with elderly customers who had trouble turning their mattresses. At one point, the company charged for the service, but in a decision that seems counterintuitive, dropped the fee as more people requested their mattresses be flipped or rotated.
"The ones I'd been charging were shocked when we started doing it for free, so I told them they can tip the drivers if they want," Ron says. About 100 customers take advantage of the option, which requires only a call to the store to set up a convenient time. "It's a way of making people's lives easier and giving back to customers," he says. "It's about protecting their investment, not our profit."
The company's commitment to long-term customer satisfaction over short-term profit and the capabilities that come from making mattresses on-site allow Shovlin to shun the now-standard 30-night or 100-night comfort guarantee, too.
"If a customer says, 'I love the new mattress but it's too firm,' we can pick it up at 10 in the morning, modify it and return it to them the same day with no charge. You're not stuck with anything from me. If I can't make you comfortable, I'm not going to take your money," Ron says. "I had a customer buy a mattress, go to Florida for the winter, come back months later and ask for an adjustment, and we were happy to do it. Kara and I grew up here and have about one degree of separation from most people in the area. I don't want to be out to dinner with her and hear that someone is disappointed in their mattress. It doesn't take much to do the right thing for people."
Becoming an 'S' brand
What is now Shovlin Mattress Factory was once The Mattress Factory, founded by Brian Strell in 1972. Ron's mother, Marlene, ran the office and, in 1987, she and her husband, Richard, who'd recently retired from a career as a police officer, bought the company from Strell.
Ron worked in the business as a teenager, even before his parents purchased it and long before he took ownership. "I pushed brooms, unloaded trucks, went out on deliveries. Oddly, I still do all those things," he says, joking about his career progression over the past three decades.
The factory-direct originally was based in Garwood, New Jersey, but in 2006, when the Shovlins encountered some obstacles purchasing their building, they moved a few miles west to the township of Fanwood in central New Jersey. It is an upper-middle-class area with pockets of even greater affluence. A train line makes it a reasonable commute to and from New York City, and the suburban lifestyle the area offers draws transplants from boroughs like Brooklyn and Manhattan.
Not long after the move, the Shovlins rebranded, choosing the current eponymous moniker. "At the time we had thoughts of putting our mattresses into other retail locations and The Mattress Factory was too generic to be a brand on other showroom floors. The name was also too generic for the internet. My goal wasn't to be another 'S' brand but it just so happens our last name starts with 'S'," Ron says with a laugh.
It was a challenging time for the business. "We were well-known in the area but then we moved and then changed the name," Kara says. "Lots of people thought we went out of business." But long-time customers eventually made the connection and, over time, the factory-direct started attracting customers from a wider area.
"The majority of our sales come from about a 10- to 15-mile radius but now we have customers driving from as far away as Pennsylvania and Delaware, and we've shipped products to Europe and South America," Ron says. "The internet has really expanded our market for people who want a well-built mattress."
Making 'em old school
Shovlin specializes in traditionally constructed beds using traditional materials—the more old school, the better. "I'd love to find a good old jute pad to use again," Ron says.
Most of the company's mattresses are two sided with a 13-gauge, 368 double offset coil unit at the core. Retail sales associates explain in easy-to-understand terms why Shovlin is committed to certain components—their proven quality and durability. "My sales team doesn't tell 'stories' about our mattresses," Ron says.
The factory-direct buys U.S.-made components and, whenever it can, prefers to source materials from family businesses and those based in the tri-state area of Connecticut, New Jersey and New York. Five cross-trained employees, including factory manager Javier Xoletl, handle manufacturing, which runs Monday through Friday in a 6,500-square-foot space. Ron sometimes builds beds, too.
Shovlin makes 14 beds for retail, all displayed in a 2,000-square-foot showroom that's open seven days a week. Mattresses typically are made and delivered within a week or so, although the company has compressed the process into a single day when a customer requested it.
Price points range from $799 to $3,499 in queen size, with an average ticket of $1,400. A longtime best-seller is the Summit, an innerspring model with a quilted cover that's also available in a pillow-top version.
Increasingly popular is the Nirvana, one of Shovlin's few single-sided beds. "It's really taken off and become its own brand," Ron says. "People come in and say, 'My friends just bought a Nirvana and told me to try it.' "
Introduced in 2005 to compete with Tempur-Pedic, the original Nirvana included memory foam because that's what customers wanted, "but then they complained about it sleeping too hot," Ron says. It was a reminder that Shovlin does best when it doesn't chase trends. The company reconfigured the Nirvana to include 6 inches of Talalay latex over 5 inches of high-resilience polyurethane—and offered customers the option to exchange the original version for the latex model at no charge.
In the works is a luxury bed using all-natural components, including horsehair, that Ron expects will retail for as much as $10,000. He's built an initial prototype and hopes to introduce the bed later this year.
Delivery is free, of course
When shoppers enter the store, the retailer wants them to feel "like guests, not customers," Ron says.
"When they come in, we treat them as if they're walking into our home. We ask if we can take their coat, if they'd like something to drink," he says. "We treat them as a potential friend, not a potential sale. There's nothing worse than walking into a showroom and being attacked by a vulture."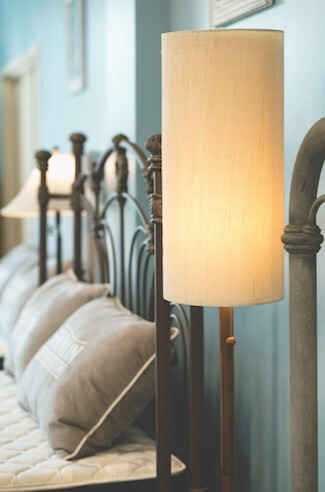 The retail showroom, with soft blue walls, has plenty of homey touches, including floor lamps for more intimate lighting and framed art, rather than promotional posters, on the walls. Beds are paired with wrought-iron and upholstered headboards from Wesley Allen and Leggett & Platt Inc.'s Fashion Bed Group. The latex Nirvana models are displayed on adjustable bases from L&P. The retailer's attachment rate for power bases is about 20%, "but I'd like to get that up," Ron says.
After greeting shoppers, RSAs—there are three, plus Ron—ask a series of qualifying questions about sleep habits and mattress needs. "If they're wearing a college T-shirt, I'll ask them about that or if they have kids, we'll talk about them," Ron says. "I hate shopping and I know other people do, too. If I can have a real conversation with someone I think they appreciate it."
One important initial question is about sleep positions (back, stomach or side?), which helps RSAs match shoppers with one of the six Bedgear pillows the retailer offers. Pillows get tucked into disposable pillow protectors, and shoppers carry them along as they rest-test, typically on no more than three models to avoid being overwhelmed or confused.
Shovlin RSAs are paid a salary with no commissions, which Ron believes reduces sales pressure. Kara says she can tell if people have shopped other retailers before arriving at Shovlin. "They're more guarded," she says. "Then, after they're here for a few minutes, they start to relax."
The Shovlins aren't intimidated by people comparison shopping. "If someone says they're just looking or want to shop around, we encourage them to go see what else is out there," Ron says. "I'll tell them, 'If you see something at another store you don't understand or have a question about, give us a call and I'll help explain it.' About 80% of people who come through the door end up buying from us."
The typical Shovlin customer is a woman between the ages of 35 and 60 buying a bed set for her primary home, but the retailer is seeing more stay-at-home dads and, each spring, the delivery team makes regular trips "down the shore," taking bed sets to beach homes along the Jersey coast.
Delivery of beds of any size and price point is free within the entire state. "I used to charge for delivery, but it makes customers feel nickeled and dimed," Ron says. "People are spending $3,900 for a king-size bed and I'm going to charge them $10 for delivery? Free delivery is about making the customer's life easier and less stressful. Things like delivery fees are part of what's driving more and more people to the internet to buy. It's hard enough to get people to walk through the (store) door. When they do, you need to treat them like they matter to you."
'50 Shades of Shovlin'
As a husband-and-wife team, the Shovlins split management duties: He oversees mattress production and retail sales while she handles marketing and finances. The factory-direct is updating its website and the firm managing that project is taking on some social media responsibilities "to give us a more regular presence online," Kara says. Online, the company relies mainly on internet search and the social sites Facebook, Instagram and YouTube. Into the marketing mix, Kara also throws occasional print advertising in local publications, spots on cable TV and even ads on grocery store carts.
And then there are the parties, sometimes held in the factory. When the first "Fifty Shades of Grey" movie came out, the factory-direct created its own tongue-in-cheek take on the film, "50 Shades of Shovlin," with lots of slow-motion footage of Ron expertly folding a red fitted sheet. (He's very good at it.) As two other "Fifty Shades" movies were released on the big screen, the Shovlins followed with their own "50 Shades Firmer" (Ron building a mattress—quilting and tape-edging have never been so sexy) and "50 Shades Delivered." (Those red sheets make another appearance as Ron delivers a mattress to a high-heeled woman.)
"We had big, fun, sexy-themed parties at the store—maybe 120 people, catered with beer and wine and entertainment—each time a movie came out," Kara says. "We debuted our videos during them. We like to have fun."
The factory-direct, which doesn't hold big promotional sales, uses advertising to build brand awareness. And like almost every retailer today, it relies on online product reviews to help spread good word-of-mouth.
"I'm really proud of our online reviews—there's nothing negative out there," Ron says. "I had a woman travel from Westchester County, New York, and she bought $6,000 worth of product. After the sale, she looked online more and said, 'I can't find one negative review of your company. Something's not right about that.'
Ron was caught off guard: "I said, 'I'm sorry, ma'am, but I'm not sure how to respond. We have satisfied customers. If there's ever a problem, we solve it to keep customers happy."
The woman was unconvinced and canceled the order.
"She called back an hour later and apologized," Ron says. "And then she said, 'Please place the order.' "
Making beds for boaters, ballplayers and everyone in between
The positive online reviews of Shovlin Mattress Factory posted on review sites now are being echoed by hotel guests as the factory-direct builds its hospitality business.
Shovlin-branded beds are found in several independent inns and hotels, as well as some chain properties, says Ron Shovlin, owner of the Fanwood, New Jersey-based company. "It's a part of the business we'd never really looked at before, but hotels like that our product is two sided, that it's locally made and that we're a family business," he says.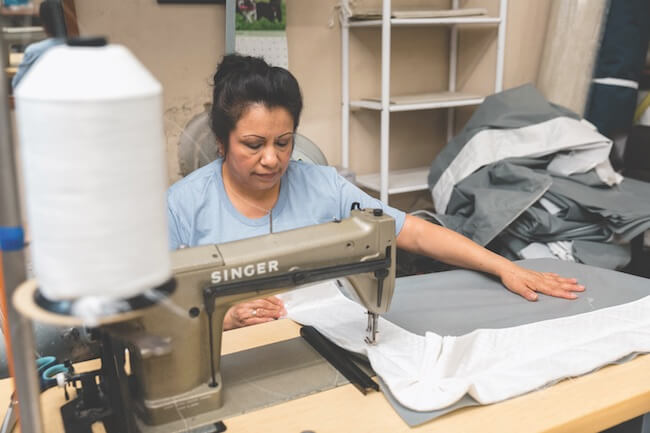 Before supplying one local hotel on the Jersey shore, Ron checked its online reviews. "No one ever mentioned how well they slept or how good the mattresses were," he says. "But right after they put our beds in, there were four reviews that talked about the great mattresses."
The company also has begun supplying mattresses to firehouses, where both firefighters and the bureaucrats who manage budgets appreciate their durability.
While Ron would like to grow the contract side of the business, he expects custom bedding to remain a small yet important part of Shovlin's success. Because of its manufacturing capabilities, the company can offer custom mattress sizes and shapes, including those for antique bedroom furniture and boats.
"I've made every shape and size of mattress—10 foot by 10 foot, round, for dogs. We made 9-foot-long beds for a hotel in New York. I think NBA players must stay there when they're in town," Ron says. "It's only about 5% of our business, but we make things customers can't get anywhere else and they appreciate it."
The Shovlins are committed to community
Being valued members of their community is important to Ron Shovlin, owner of Shovlin Mattress Factory in Fanwood, New Jersey, and his wife, Kara, who helps run the business. Both were raised in central New Jersey and, after college in North Carolina, returned home to build their business and raise their own family.
The Shovlins regularly contribute to charities, such as donating $4,000 to Play for P.I.N.K., an organization that raises money for breast cancer research, last October. The money came from proceeds from the sale of Nirvana mattresses, which the factory-direct offered to make in pink for customers requesting it.
"We just like to find ways to give back when we can," Kara says in a news release announcing the donation. "It makes doing business more fulfilling."
But much of the company's charitable work is done behind the scenes, without much publicity. "We do a lot of charity, but we don't do it for the acknowledgment. We just like giving back when we can," Ron says.
For its contributions to the community and his role as a businessman, Ron was honored as Business Leader of the Year by the 500-member Greater Westfield Area Chamber of Commerce during its 70th anniversary gala in April.
"The chamber represents businesses from five different towns," he says. "It was quite an honor."
Julie A. Palm is chief wordsmith at Palm Ink LLC in Winston-Salem, North Carolina. She has 25 years of experience as a writer and editor for newspapers and magazines and as a publications director. She is a past editor in chief of both Sleep Savvy and BedTimes magazines. She can be reached at japalm623@gmail.com.​