BY GERRY MORRIS
It starts with building rapport and (gasp!) includes asking early about a shopper's budget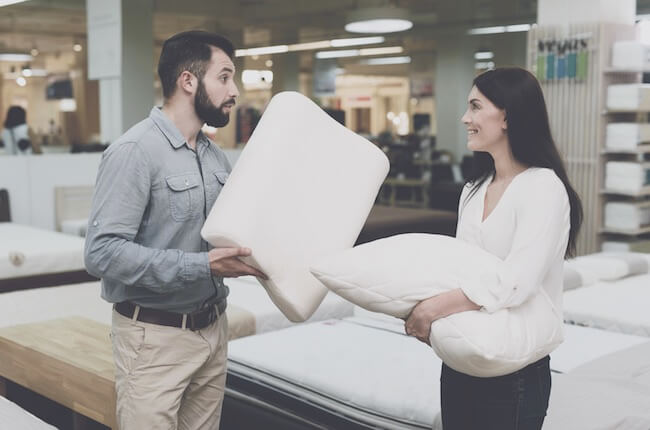 This is the second in a series of my interviews with Devin McNeal, who is general manager of three Ashley HomeStores, two Four States Furniture locations and two America's Mattress stores in northeast Texas (with more stores to come). I used McNeal's mattress selling approach for the two months I worked on the floor at the new America's Mattress in my hometown and found it to be tremendously effective.
There are lots of selling systems out there—"Meet, greet, qualify" and others—and there is nothing inherently wrong with them, but McNeal has boiled the approach he teaches retail sales associates down to only four steps. The real difference is that these steps encourage interaction, build rapport and allow real discovery of a shopper's situation and needs. Because of the open-ended, conversational style, RSAs are given more latitude, yet the approach also places a burden of responsibility on them to be well-equipped with product knowledge and communication skills, feel a genuine concern for shoppers' well-being and, most importantly, believe in the products they offer. Otherwise, as McNeal says, an RSA would be a "con artist." Harsh, but true.
McNeal envisions the four steps as being like a funnel, with the top of the funnel as the vital starting point. Once step one is completed, the successive steps fall into place, resulting in the closing step being a mere formality: No manipulation or pressure needed.
Four steps to mattress sales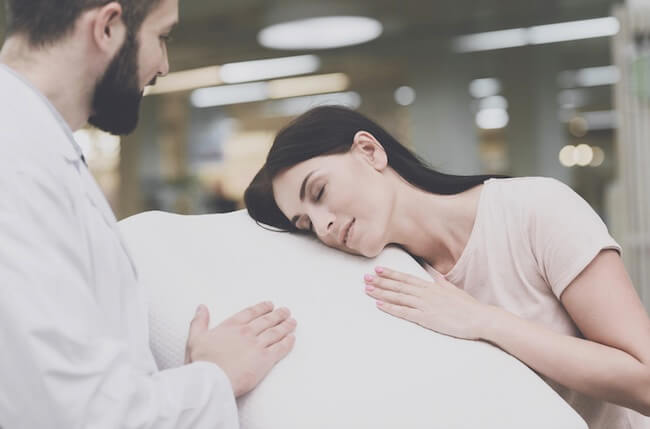 Step 1: Start a conversation.

The first step is as simple as that. "If we can't establish a rapport, the likelihood of closing the sale is greatly reduced," McNeal says. In fact, he adds, "it will likely not happen."
"It's important to realize that a mattress is a very personal thing," McNeal continues. "You are talking with people about their sleep habits, their sleeping partners, health issues, their needs and wants, finances, and their quality of life. For that and other reasons, people are naturally going to be standoffish and guarded."
A good attitude is essential to engaging shoppers and developing rapport. As McNeal asks, who would make people more comfortable? Friendly, exuberant Tigger or sad, morose Eeyore? (Yes, he is a funny guy.)
McNeal says to be effective, RSAs must go below the surface, beyond questions such as do you like firm or soft? Foam or innerspring? And that won't happen unless the shopper engages in conversation and develops the requisite rapport with the RSA.
That rapport has a very practical benefit of helping RSAs narrow mattress choices for shoppers.
"If we can't get to the reasons of why they need a new mattress and what their needs and wants are, the result is a salesperson just doing a dog-and-pony show demo," McNeal says. "In most cases, people will most often lie on too many beds to make a decision and most likely won't buy, even if the store has great values on good, quality products."
In the stores without a Sleep Discover System (see story below), McNeal uses a triple-choice comfort comparison to winnow shoppers' choices. If qualifying is done right, either by device or comfort choice, an RSA can eliminate two-thirds of the beds on the floor as options for a particular shopper, reducing the confusion of showing too many models.
Step 2: Assess a shopper's situation.
After an RSA has engaged a shopper in a more meaningful conversation, McNeal says it's time to have the "money talk." Uh-oh! I was skeptical at first because I always have advocated not asking how much a shopper wants to spend, but when I tried this under McNeal's guidance, I found it to be supremely effective.
Instead of worrying that shoppers will tell you a low number, McNeal insists it's better to find out what's in their heads. Having them think they want to spend $700 while you show them a $3,000 mattress creates a really negative dynamic. When someone gives you a dollar figure, you don't necessarily have to accept it because there are ways to work around it (read on)—but you do have to acknowledge it, McNeal says. It's important to understand that most consumers turned off by price would like to keep shopping but are embarrassed to tell you they don't think they can afford the "nicer models." They leave your store thinking the less expensive beds are no good.
McNeal has taught his staff to be respectful of shoppers' budgets. RSAs must believe and communicate to shoppers that the store strives to offer the best mattresses possible at every price point, but he also encourages RSAs to make an unapologetic case to shoppers for investing in a quality product that will be of most benefit to them. McNeal describes this as RSAs being "advocates" for shoppers. I love that!
McNeal has found that if they can get customers to divulge their spending expectation or mattress budget, his RSAs can close 75% of sales. But if you don't discuss money, shoppers will be just looking, gathering information and weighing options. And that means RSAs will be having conversations with shoppers who are kicking the tires, so to speak. As an RSA, you won't be able to direct the conversation toward a sale, and shoppers, holding onto their position as a shield, will go shop a competitor. Because most people can't describe or even remember the feel of a mattress after they leave your store, shoppers on a value mission, ultimately, will find a comfortable mattress at a price they can afford—and will think you were trying to take advantage of them.
McNeal is a big believer in having his staff promote available financing options because they allow most shoppers to get the mattresses they want, along with adjustable bases in many cases.
Customers are delighted to be able to keep their money in their pocket for a while longer and stretch out their payments on a product they will enjoy for years to come.
Step 3: Discover a shopper's needs.
Using information gathered in the two previous steps, RSAs can narrow down the mattress sales floor dramatically. In fact, most of the sales McNeal's RSAs make come down to a shopper deciding among three models. First, as mentioned above, the triple-choice comfort comparison determines if a shopper prefers firm, medium plush or soft pillow-top comfort levels. Then, using information gleaned during the "money talk," RSAs can eliminate models at both ends—ones too expensive and ones too inexpensive. From there, shoppers can more easily decide which mattress they like best. After that, RSAs can and should reinforce their choice by telling them "why they like it," pointing out the features and benefits that make their choice a good investment.
Step 4: Closing
Stay tuned! In the final column in this series in the September issue of Sleep Savvy, we'll get McNeal's advice on overcoming objections and closing the sale.
Sleep well and help others do the same.
Discovery devices help winnow mattress options
America's Mattress' Sleep Discover System has proven to be a great tool, but Devin McNeal, a general manager of several mattress and furniture stores in Texas, says it's not just because it helps narrow down mattress choices for shoppers. The system also takes the focus and pressure off retail sales associates for a bit, giving them more opportunity to develop a rapport. Plus, most shoppers are used to electronic devices and seem to like the feeling of getting an objective, third-party recommendation. These are some of the real benefits of the variety of discovery systems more and more retailers are using.
Gerry Morris is an author, consultant and training coach with more than 20 years of experience in the mattress industry. To learn more about him and to buy his books, including the latest "Mattress Matters," visit SellMoreBeds.com. Morris' Inner Spring training company has a strategic partnership with The Furniture Training Co. to offer a premium online training course, "Sell More Mattresses with Gerry Morris." For more information, check FurnitureTrainingCompany.com.