NEWS RELEASE | VEGAS 2023
Five Competitively Priced Beds Complement Popular Signature Innerspring Line.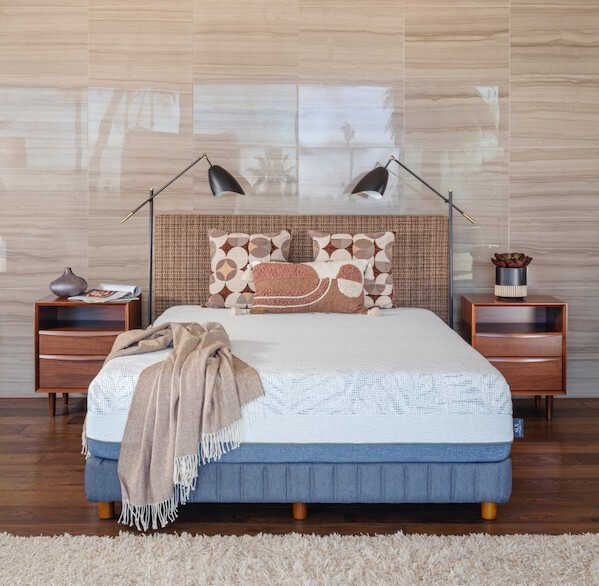 AVONDALE, Ariz. – Leading mattress manufacturer, King Koil, is introducing a five-bed, all-foam collection to complement its popular Signature innerspring collection in space B1200 at the Winter Market in Las Vegas.
Blending higher density memory and gel foams for breathable, cooling, pressure-relieving comfort and durable support that conforms to a body's curves, King Koil's new competitively priced Signature Luxe collection is aimed at younger consumers aspiring for a better night's sleep. With mattresses in various heights and comfort levels from firm to plush, the five-bed collection is set to retail from $1,000 to $1,799 in queen.
Featuring Perfect Foam Cores to reduce motion disturbance and provide years of consistent and durable support, all foams utilized in the Signature Luxe collection are CertiPUR® Certified.
"Using a variety of locally sourced foams, we're able to create feels in this collection that previously couldn't be achieved in our Signature innerspring line, at what for us are very aggressive price points," said David Binke, CEO of King Koil Mattress Co. "We believe this line provides an opportunity for us to introduce a new breed of consumer to King Koil quality and luxury, while helping dealers add some additional bandwidth our products on their floors."
"There is more of a dichotomy in foam beds today in our industry than ever before in terms of quality, with business in product below $1,000 having been decimated," noted David Long, executive vice president of innovation and marketing at King Koil. "In Signature Luxe, we're able to offer much higher quality for the price point, with a demonstrably better look and feel."
A leading global mattress manufacturer, King Koil supports more than 25 licensees in more than 80 countries where King Koil mattresses are manufactured and sold. Headquartered in Avondale, Arizona, the company has a long, rich history that reaches back to 1898 when Samuel Bronstein founded United States Bedding in St. Paul, Minnesota. What started out as six employees in a small factory has continued to grow. During the 1930s, U.S. Bedding improved the bedspring and was looking for a new name for its product. From there, the King Koil name was born. For more information, visit www.KingKoil.com.