NEWS RELEASE | VEGAS 2023
MEBANE, N.C. – With head-turning fabric patterns and colors designed to stop shoppers in their tracks, Mike James, chairman of Kingsdown, Inc., is injecting the bedding category at the Winter Market in Las Vegas with the kind of visual appeal, high-fashion design aesthetic and excitement more typically associated with apparel runways.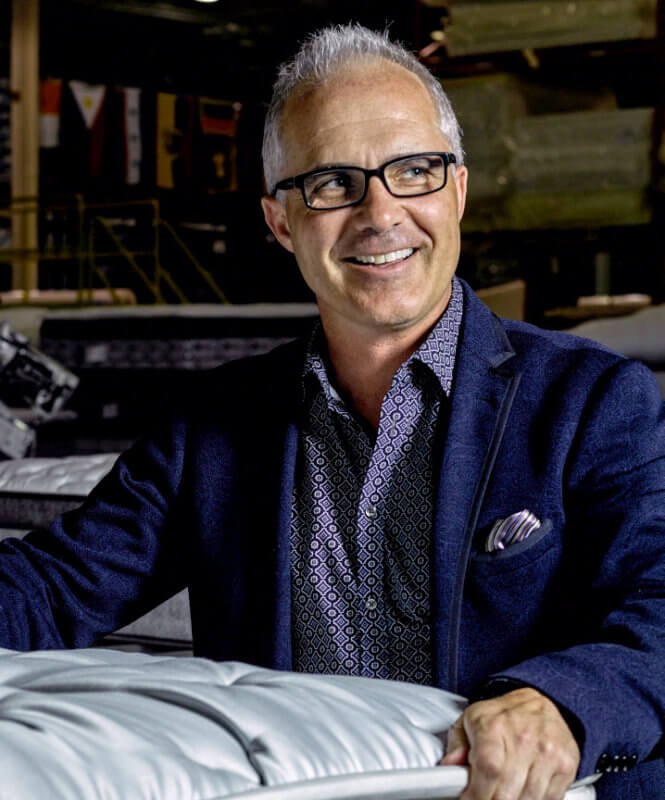 "Our goal this Market is to help retailers add fashion to their retail floors to capture the attention and imagination of shoppers," James said. "To accomplish that, we're employing some pretty edgy fabrics in all of our refreshed product offerings. Along with the unique specs and tremendous values that dealers expect from us, our aim is to distinguish our brands in the marketplace with fashion-forward designs that simply cannot be found anywhere else."
With a passion for fabric and color choices that will catch the eye of more "aspirational shoppers," James has long been influenced by leading designers in apparel, furniture, floor, wall and window coverings. Working together with David Ballantine, vice president of sales & product design, CA, and John Farnham, senior vice president of product development, "A focus on aesthetics has always been a key to our DNA as a brand," he said. "We're always on the hunt for the innovative and unusual, the kind of looks that will evoke a visceral reaction in our retail partners."
"We don't accept the standard tickings offered to everyone by the fabric makers," James said. "Rather, we submit our own designs and inspirations to them, not only for covers, but our borders as well, which few manufacturers pay any attention to."
In fact, 80 percent of Kingsdown's borders are designed by, and exclusively for, the company. "That way, when a customer walks into our showroom in Las Vegas, the likelihood of them having ever seen one of our patterns elsewhere is very, very low."
Among the changes to watch for this season, along with elegant new fabric selections and colors, the luxurious Vintage Collection which extends to retail price points of $10,000, has been expanded to five levels of product, including an entry level model ($1,499 in queen), "bringing affordability to an elegant, tufted line known for luxurious natural materials like Alpaca, cotton, horsehair and latex," James said. "Most mattresses in the marketplace starting at that price point are fairly conventional, untufted, with neutral upholstery and conventional labeling I strongly believe there is an opportunity to grow our $1,499 to $5,000 business via improved style and presentation. In expanding Vintage, we are offering truly aspirational looks and feels at a price point that is not out of reach for the average consumer."
In Passions, all three cover and quilt packages have been changed to incorporate specialty foams "for a very distinctive look and more luxurious feel with the right heights and support levels," he continued. "Now, where we have a more natural, tufted story within Vintage, we're moving to a more technical memory foam/quilt story in Passions with cooling in the covers and the ticks and more fashion-forward designs throughout. All while keeping price points in the $1,299 to $3,999 range," he added.
Additionally, the Insignia Hybrid has been updated with fresh new designs and more fashionable top ticks, while the Prime Collections' the borders now reveal a unique fashion centric color scheme. "It's all about upping the 'wow' factor," James said, " in our showroom and in the stores, and a lot of thought has gone into differentiation and how to make it easy to move customers logically from collection to collection. With the support of the Kingsdown marketing team of Jacqueline Morton and Gary Towning, we illuminate these cross-collection options with our unique top-of-bed and point-of-purchase materials."
Kingsdown, Inc., founded in 1904, is a manufacturer of premium mattress systems that serves leading retailers across the United States, Canada, and in more than 20 countries. Each Kingsdown product is manufactured using handcrafted techniques, combined with state-of-the-art research, materials, and equipment.
Research and product development, manufacturing and distribution facilities are headquartered in Mebane, North Carolina and Ontario, Canada, with additional international offices located in England, Hong Kong, Japan, and Mexico. Canadian manufacturing and distribution are based in Woodbridge, Ontario; Calgary, Alberta; and Shawinigan, Quebec. Additional manufacturing facilities are located in California, Florida, Texas, Virginia, Australia, Brazil, China, Malaysia, Mexico, Taiwan and Vietnam. In 2018, The Kingsdown Group was formed through the acquisition of Zedbed International, a leading foam mattress manufacturer, and the merger of Owen & Company with Kingsdown, Inc. to form one of the fastest-growing sleep technology groups in North America.