BY MARY BEST
Sleep Savvy explores how you can get protectors and sheets off the shelves and into shoppers' homes
"The most luxurious item is a beautiful bed and beautiful, simple sheets."
— Andre Leon Talley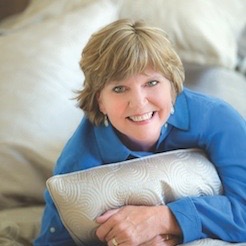 This month's cover story, "Finishing Touches" by Julie A. Palm, addresses the issue of the well-dressed bed, which besides a comfortable mattress, includes a fresh protector and crisp, cool linens. In addition to examining accessories trends, the article details how retailers can display these sleep products and introduce them into conversations with shoppers.
To give you a taste of the topics Palm discusses, here's a sampling of the trends and ideas she identifies:
Shoppers are purchasing more functional protectors and encasements than mattress pads. A good merchandising strategy is to stock a good-better-best lineup, including one-sided protectors, five-sided protectors and six-sided encasements. "It's a very easy way for retail sales associates to explain options," says Sean Bergman, chief marketing officer of Phoenix-based PureCare.
While white and ivory sheet sets remain perennial favorites, popular hues include earthy shades of blue, gray and green. Consumers also are experimenting with new fibers, such as microfibers, linens and blends of new technological fabrics. "For years, 100% cotton kind of ruled the roost and is going strong, but higher-end sheets are blending advanced synthetic and natural fibers for durability and improved feels," says Gabriel Dugan, chief executive officer of ViscoSoft, headquartered in Charlotte, North Carolina.
When it comes to showcasing protectors and sheets, vendors suggest making them more visible on the sales floor by creating an attention-getting display or even a store-within-a-store. According to John Rachid, president of Protect-A-Bed in Chicago, "Retailers are realizing they need to generate excitement and they need to grow overall tickets. … We've done a big investment in displays so there's excitement around pillows, sheets and protectors. You can't have them in cubby holes or hidden behind the counter."
If you aren't stocking and promoting the right mix of these items in-store or online, you're missing lucrative sales opportunities — and doing a disservice to your customers. After all, would you buy new running shoes but then taint them with the dirty, frayed laces from your old pair?