The company focuses on better components and brick-and-mortar retailers to serve
ultra-high-end shoppers. No e-commerce or DTC for this brand.
Nearly a decade ago, Kurt Ling and Steve Baumberger believed they could build a better luxury bed. But before taking the plunge into the high-end mattress business, the future co-founders of Posh + Lavish did their homework.
Posh + Lavish's 'Better' Approach to Luxury Mattresses
As part of their research, Posh + Lavish's team reached out to high-end consumers to learn more about what they want and how they shop. They learned that many of those consumers don't see much of a difference between a $2,000, $6,000 or $10,000 mattress. Those shoppers aren't as interested in purchasing a bed online and, while they appreciate natural materials, an organic label doesn't necessarily drive them to buy a mattress.
Armed with this knowledge, Ling and Baumberger set out to build a better high-end bed.
Crafting Comfort: The Art of Using High-Quality Materials
Ling says the American model for a luxury bed has been one of "more" — more coils, more foam, more fiber, more height. To differentiate themselves, Posh + Lavish follows a "better" approach, using higher-quality materials to achieve greater comfort and performance in its beds.
Mattresses are made with natural latex, which Ling says is more stretchable and resilient than polyurethane foam. Rather than using polyester fibers, Posh + Lavish incorporates wool and knitted cotton in its beds.
The producer covers its beds in four-way stretch, 100% Tencel-faced fabric, which uses nanotechnology to make it moisture-absorbent, supple and durable. From the inside out, the company's mattresses reflect the company's adherence to only using the best materials available, Ling says.
Made in the USA: Posh + Lavish's Commitment to Domestic Production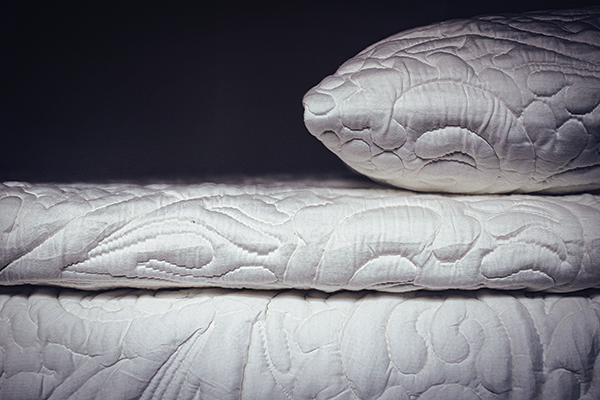 Another important part of Posh + Lavish's "better" strategy is domestic production. The company, with headquarters in Atlanta, has facilities in California and North Carolina where its beds are assembled by hand.
"Domestic manufacturing is so important," Ling says. "You can't get that wrong in our price point." (Suggested retail prices for queen sizes range from $3,879 for its Relax latex model to $6,979 for its Fusion latex and memory foam mattress.)
Ling says another driver of its "better vs. more" ethos came from consumer research that found buyers of luxury mattresses often discovered their bed didn't last as long as they'd like. Part of that came from how the mattresses were constructed: Over time, layers of fiber to create a luxurious feel often collapsed under their own weight and the compression from the sleepers.
Posh + Lavish's line includes three constructions: All latex, latex and memory foam, and pocket sprung mattresses. The company makes six all-latex styles, three latex-and-memory foam beds, and five pocket sprung mattresses, available in sizes from twin XL to split-head king. Posh + Lavish also offers latex mattress toppers, foundations and pillows. Pillows are available in all-latex and down alternative-and-latex versions.
Why Posh + Lavish Swears by In-Store Retail for High-End Mattresses
And while online sales and shippable boxed beds have been the trend over the past decade, Posh + Lavish eschews that model by focusing its retail efforts solely on brick-and-mortar stores. Ling says its extensive consumer research taught the company that luxury customers don't want to shop for a bed online, and they expect a high level of service at the point of sale.
Carrying high-end brands like Posh + Lavish can give retailers an edge over counterparts selling in a different price point range, opening their business to a customer that is more recession-proof than most and willing to invest in the best, Ling says.
The Luxury Strategy: A Recession-Proof Approach for Retailers
"A premium strategy is so important to brick-and-mortar retailers," he says. "Especially in more challenging economic times when the tiers of the industry are so different. It is probably fair to say right now the high-end producers are up double digits. The middle guys are down 10% or 20%, and the price point-driven guys are down more than that. Having a luxury strategy is everything at retail."
The Rise of Split-Head Mattresses: Catering to Modern Couples
Looking forward, Ling sees opportunities for Posh + Lavish to grow in the split-head category. That's the next logical step for the high-end consumer who was an early adopter of adjustable bases but now wants something that better suits the needs of couples, he says.
"The best part about split-head mattresses is that all a retailer has to do is floor them. They sell themselves. Every consumer can figure out what the benefit is."
Posh + Lavish began producing split-head mattresses five years ago, and Ling says they've only grown in popularity. As the company looks to the future, not only at its business but the industry in general, Ling says Posh + Lavish will continue to follow the model that has allowed the company to create products that resonate with the consumers that he and Baumberger set out to reach a decade ago.
Posh + Lavish's Ongoing Commitment to Meeting Ultra-High-End Consumer Needs
"What we have done in the past five years with split-head mattresses is the best indicator of how we see Posh + Lavish filling needs of retailers and consumers in the future," he says. "What we do next will be no different than how we began. We will study the ultra-high-end consumer and provide solutions for them that they are delighted to pay retailers extra to get."
Jennifer Bringle has covered the home furnishings industry for several years, previously serving as editor in chief of Casual Living and Kids Today magazines. Her writing also has appeared in Glamour, Good Housekeeping, Parents and The Washington Post. Follow her on Twitter at @jcbringle.