BILTRITE Furniture‐Leather‐Mattress has been named the 2023 Retailer of the Year (under 50 employees) by the Home Furnishings Association.
The retailer, based in Greenfield, Wisconsin, was judged by a panel of industry professionals in eight categories: customer experience, company culture, social responsibility, innovation, adaptability, industry contribution, marketing and achievements.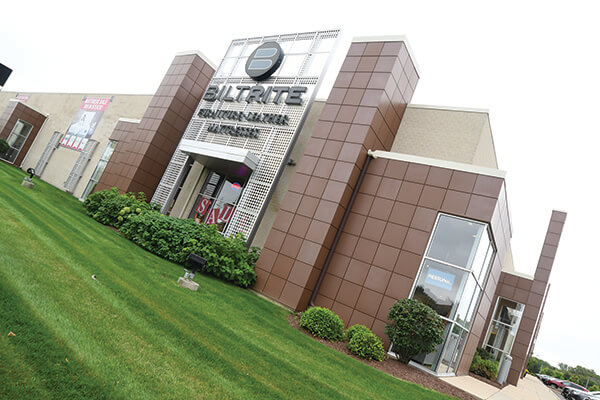 In 2022, BILTRITE, a family-owned and -operated retailer, celebrated 94 years in business. Randi Komisar, a fourth-generation family member who helps lead the company, called the honor the "the team's award," crediting the entire BILTRITE team for the retailer's success.
"We are very honored and humbled by being named HFA'S Retailer of the Year for 2023. It is very touching as we embark upon our 95th year in business, and we would like to thank our family, past and present employees, our loyal customers, HFA, Furniture First Buying Group, and the many vendors and Amish builders that we have nurtured relationships with over the years," she said. "We have come a long way since 1928 and look forward to continuing to be a locally and family‐owned metro Milwaukee‐area institution. We do what we do because we love and have passion for what we do."
The award was presented March 1. In appreciation of the honor, BILTRITE is donating $5,000 to the Milwaukee Homeless Veterans Initiative and $5,000 to the Grand Avenue Club of Milwaukee.
Debbie Buchanan, executive director of the Milwaukee Homeless Veterans Initiative, said: "The Milwaukee Homeless Veterans Initiative is very excited to be the recipient of a $5,000 gift from BILTRITE that will be restricted to one of our largest programs, Home Support, which assists veterans in helping to secure safe, stable and affordable housing. Once new housing is found, oftentimes the veteran has nothing to furnish it with. Home Support provides these items free of charge to veterans. We have been very appreciative of the many in‐kind furniture items BILTRITE has donated in the past. With this $5,000 donation, we will ensure veterans have the items they need to start off on the right foot and maintain their highest levels of independence, which is part of our mission."
"BILTRITE furniture has been a steadfast supporter of the Grand Avenue Club since 2007. BILTRITE has been instrumental in providing employment opportunities to our members and has allowed our members to find purpose and meaning in their lives," added Philip Connelly, executive director of the Grand Avenue Club. "The continued generosity of BILTRITE has enabled the Grand Avenue Club to create an array of attractive opportunities for hundreds of Milwaukee residents who face the challenge of mental illness. The Grand Avenue Club is transforming lives and building brighter futures, but none of this would be possible without the support of BILTRITE."