Diamond Mattress has refreshed its Technogel mattress collection with a new merchandising and marketing approach designed to boosts retailers' ability to sell the bedding line.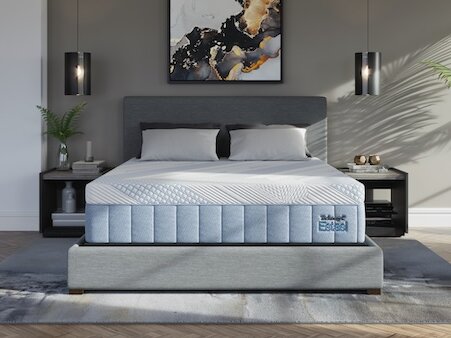 Diamond's new merchandising strategy for Technogel positions the six-bed collection as a top-notch cool sleep solution with retail price points and margins that allow retailers to drive sales with a "powerful triple threat of value, innovation and quality story," according to Diamond CEO Shaun Pennington.
Marketing support includes impactful point-of-purchase materials with easy-to-understand benefits to help retail sales associates engage customers, according to a news release.
Every mattress in the new Technogel lineup offers a distinct comfort feel and integrates the patented gel cooling material that adapts to the body while dissipating and absorbing heat, resulting in optimal contouring comfort and temperature regulation throughout the night, company officials said.
Clinical studies have shown the material lowers body temperature during sleep and provides significantly longer periods of uninterrupted sleep by as much as 45% compared with standard foam beds. In heat absorption tests, Technogel performs 10 times better than a foam equivalent, according to the company.
Each mattress is layered with high-quality cooling and comfort materials not commonly found in beds at these competitive price points, company officials said. These materials include two foundational layers of high-density CertiPUR-US certified foam for orthopedic support and comfort, topped with either uniform or triple-zoned Technogel cooling layers, and finished with a Coolstream fabric cover. The line also offers a model with a natural latex layer.
Technogel is a non-toxic, odorless and hypoallergenic gel material that is Standard 100 by Oeko-Tex-certified and approved for use in hospitals and medical products.
Diamond Mattress and Technogel minted their manufacturing partnership last year. Since then, Diamond has found success with Sit 'N Sleep's Cloudtech with Technogel collection, company officials said. Another major retail launch with Technogel is expected in the coming months.