NEWS RELEASE | HIGH POINT 2023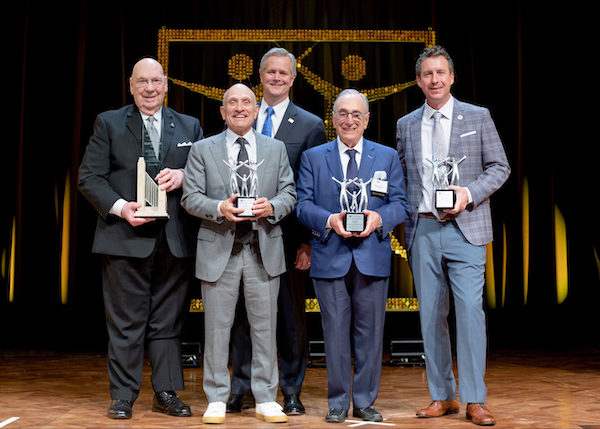 GREENSBORO, N.C. (April 25, 2023) — The International Home Furnishings Industry group and City of Hope honored four industry leaders at the annual Spirit of Life® celebration event last Sunday evening at the Four Seasons Sheraton. This year's campaign raised $1.7 million to advance research and treatment of cancer, diabetes and other life-threatening diseases.
The industry showed up almost 1,000 strong for the gala held at the Sheraton and gave standing ovations to Steven and Marty Darvin, Darvin Furniture & Mattress; Jason Brian and the Brian Family, Liberty Furniture; and Martin Ploy, former president of AICO/Amini, who received the Lifetime Achievement Award.
City of Hope CEO Robert Stone kicked off the evening with a poignant reminder that cancer is an individual disease that's fought and will be defeated collectively. Thanking the furniture industry group for 58 years of philanthropic partnership, Stone listed the positive impact, such as serving over 135,000 patients last year and receiving the highest rating of "exceptional" by the National Cancer Institute as a comprehensive cancer center.
Through the story of his personal journey with City of Hope, Kevin O'Connor, chairman of the Spirit of Life® celebration, emphasized the importance of access to a comprehensive cancer center for patients in need and City of Hope's national presence. His understanding of City of Hope was deepened recently as a patient there to remove a tumor on his kidney. O'Connor's involvement began as an honoree in 2007 and his vow to fight cancer in honor of his daughter who lost an eight-year battle with cancer.
"Fifty-eight years ago, our founding members of the industry chapter committed to make a difference, not just a donation," he said, also quoting City of Hope's credo "There is no profit in curing the body if in the process you destroy the soul."
Marty Darvin whose family has also been touched by cancer said, "Thank you to City of Hope for letting Steven and I feel like we've made a difference. I will make it my life's work to be a vessel of change."
Formed in 1965 by a group of dedicated industry and community leaders, International Home Furnishings Industry group is one of City of Hope's oldest and most successful industry-based chapters, raising over $100 million to advance leading-edge research and treatment innovation for the benefit of patients and families everywhere.
To learn more about the partnership between the furniture industry and City of Hope, and to support the future fundraising events, visit CityofHope.org/IHFI. For more information, contact Loren Boyko at 626-222-9764 or send an email to furniture@coh.org.