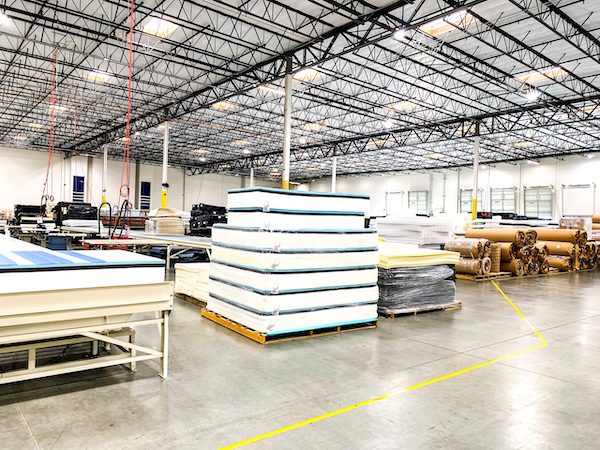 Mattress manufacturer Bedding Industries of America has upgraded seven of its factories with new equipment to facilitate its vertically integrated manufacturing and distribution operation.
The North Brunswick, New Jersey-based company invested in new foam fabricating equipment and expanded its existing lineup of C3 roll-pack machines. The upgrades to BIA's U.S. facilities will further support its bed-in-a-box business. With multiple shipping points and a single billing point of contact, BIA now specializes in assisting large private label e-commerce accounts.
"As we have expanded our national manufacturing footprint, we are strategically investing in operations to deliver the broadest assortment of boxed bed mattresses, achieve aggressive price points and shorten delivery windows for our dealers and their customers," said Stuart Carlitz, CEO of BIA.
The company operates facilities in New Jersey, Illinois and California, with select licensees and manufacturing facilities in Massachusetts, Georgia, Texas and Washington. Through those partnerships and with their own facilities, the company built a strategic production network that allows them to offer delivery in one-to-two days via UPS.
"We recently launched this program with two major customers where our team was able to produce and ship thousands of mattresses in 24 hours with a very quick turnaround," Carlitz said. "The teamwork in our network was critical in getting these large orders completed effectively and efficiently for our customers."
With these equipment upgrades, BIA will be able to further expand its quick-ship program and offer faster service both to its dealers and the end consumer.