ONLINE EXCLUSIVE
Unlike the July Las Vegas Market in 2022, this year's market surprised us with new product introductions and updates — too many to squeeze into our September issue. We didn't want you to miss out on any of the cool new debuts and developments, so please scroll down to check out the innovations that heated up the showroom floors at the summer Las Vegas Market.
Doubling Down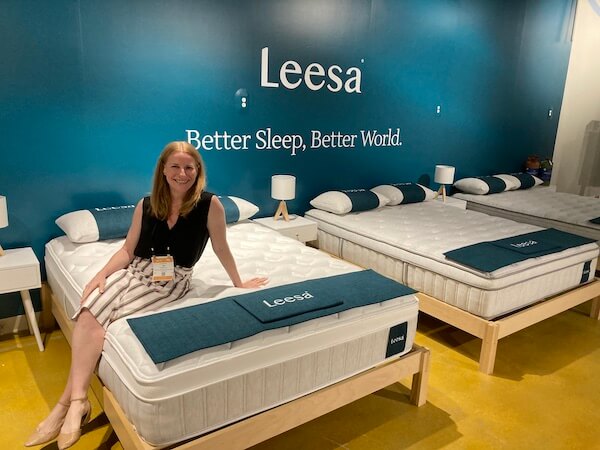 3Z Brands celebrated two new products: the Helix Elite collection and the new Leesa Chill line. At 16″ tall, the Elite collection is one of the tallest mattresses sold online. Due to its height and the amount of specialty foams and coils in the layers, each Elite mattress ships in two separate boxes. Upon arrival, the two pieces zip together to create the final product. "It's very challenging historically for the internet-based brands to provide products that can compete in the $2,000 to $5,000 range," said Adam Tishman, co-president, DTC of Helix Sleep, based in New York City. "Our customers are comparing this to beds that are $3,000 to $5,000." A queen Helix Elite mattress retails for $2,999. Meanwhile, the Leesa Chill collection adds cooling quilt foams and quilt tops to its original hybrid lineup. "This is specifically created for the retail floor and the retail customer," said Jen Pressley, head of Leesa brand, headquartered in New York City. "It's a departure from what Leesa has done in the past … It's a really nice story for retail." The beds are positioned as good, better, best and premium, and they range from $999 to $1,999 for a queen.
Down Alternative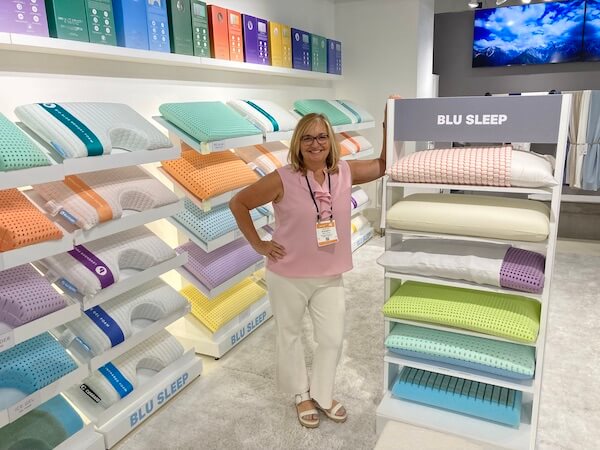 Blu Sleep soft launched a new foam pillow that behaves like down feathers. "It's just so amazing; this has been in the works for a few years," says Elizabeth Dell'Accio, president of Blu Sleep. "We created this pillow for those who like the feel of down pillows without the negatives of feathers." The advantage is that you can hug it, twist it or squeeze it, and it instantly returns to the original shape, she said. Plus, it's more hypoallergenic than down. "With feather pillows, you have to make sure they're washed well and disinfected, and you don't have that issue with this foam," Dell'Accio said. Blu Sleep is based in Laval, Quebec, with U.S. operations in Pompano Beach, Florida.
Polishing a Diamond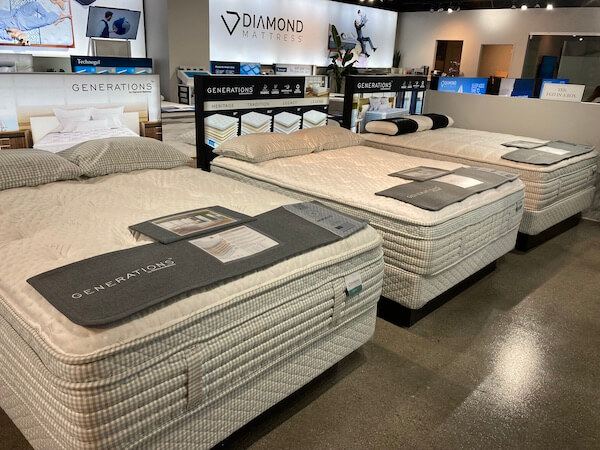 Diamond Mattress added two new boxed mattresses to its high-end Generations collection. The Monaco and Versailles models have the same features of the Generations line — only at more aggressive price points ranging from $1,599 to $1,999. "We've refashioned our Generations line from our previous version by adding Tencel fabric, and we've done our hand-tufting," said Patrick Wolf, vice president of sales and education for the Rancho Dominguez, California-based company. He noted that "the higher end consumer, that discerning consumer, is not slowing down on their spending," despite the softer economy. The company has also developed a Generations private label program and completed the lineup with a matching foundation.
A Lens on Luxury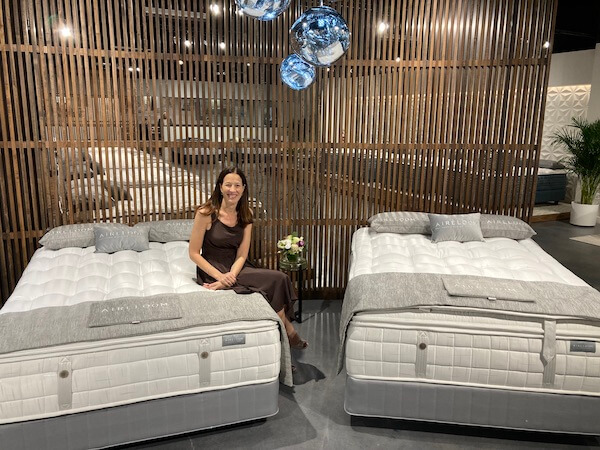 In January, E.S. Kluft & Co. released several new concepts: Aireloom Karpen Luxury, Kluft Divine Luxe, Kluft Low-Profile, and the Aireloom and Kluft pillow programs. Now these launches are rolling out to retailers, who are pleased with the new products, according to Magali Castillo, vice president of marketing for the Rancho Cucamonga, California-based company. "The new pillow program with memory foam visco pillows are available in two sizes and two profiles, and our retailers just love them," she said. "Most of our retailers are selling our pillows now." The Aireloom Karpen Luxury mattress — at $8,999 to $10,999 in queen — targets a select consumer, as does the Kluft Low-Profile collection. "The low-profile mattresses are very niche; they're for customers who are looking for more contemporary Scandinavian-look beds," Castillo said. "The new products complement the core collections we launched in 2021, and these core collections, whether they are Aireloom or Kluft, are performing extremely well."
Fresh Start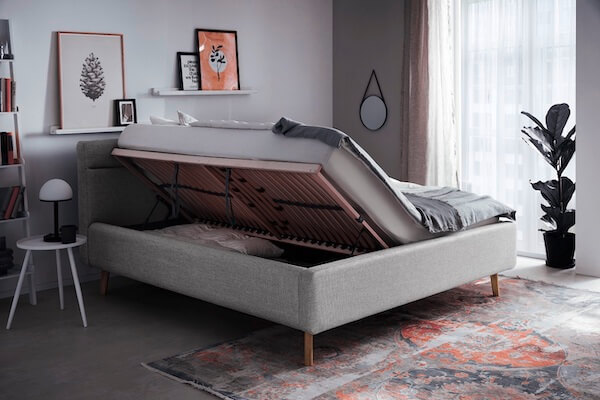 Founded last year in St. Peters, Missouri, Innovative Sleep Technologies unveiled five upholstered, adjustable bases from its Essential and Premiere collections. "We found that retailers were very interested in carrying this because the design and attention to detail make their stores look high-end, even though this product gives them a buying opportunity (cost) which is lower than what their current product mix would allow," said John Schulte, president of IST. Complete with built-in storage, the bases combine style, comfort and convenience, he said. They are compatible with split queen and split king mattresses.
A Sleeker Base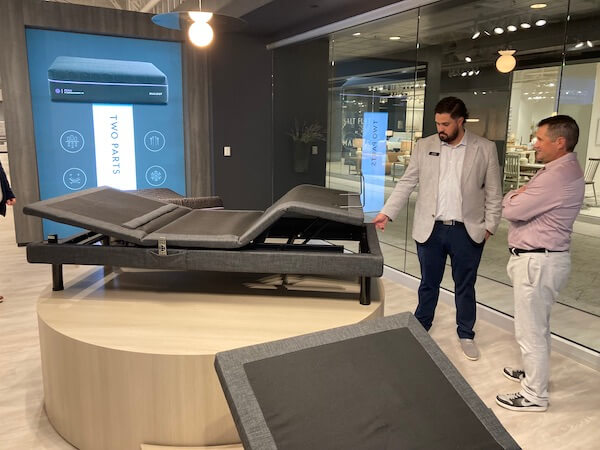 Logan, Utah-based Malouf upgraded its popular S755 adjustable base by darkening the color and making it thinner, lighter and more portable, as well as updating the USB and USB-C ports. Now you can plug your iPhone directly into the base. "One of the reasons we changed the color from a stone to a charcoal was to have more continuity with the Malouf mattress line," said Ashlee Willes of Malouf. "So the combination looks really nice and sleek when it's in a retail space." The base also has ReachAssist, enabling sleepers to reach the nightstand when they recline. Willes said Malouf has new products and mattresses in the works, and to expect a big launch in January.
Keeping it Luxe
"The luxury category is the category that continues to thrive in the current down market," says Angela Owen, national sales director at McRoskey Mattress Works. The San Francisco-based company showed off its most recent release, the St. Francis line, which debuted earlier this year. The 100% natural mattress features Supima cotton, horsehair, cashmere and Talalay latex, hand-layered and hand-tufted together and encased in the brand's signature plaid fabric. A bonus: The mattress is free of foams, adhesives and all toxic materials, she said. The collection is available in gentle, relaxed or firm.
Redesigned and Durable
Alburtis, Pennsylvania-based Protect-A-Bed (owned by SureFit Home Decor) returned to the World Market Center after a several-year hiatus to showcase pillows, sheets and its newly streamlined lineup of mattress protectors. The company showcased six products wrapped in three different types of packaging. There's Ice Touch, Dreamscape, Tencel Breeze, Premium Comfort Terry, Essential and Allerzip. Although each of them now comes encased in redesigned, eye-catching packaging, the changes aren't just aesthetic. Enhanced elastic provides a better fit on the mattress, and durability enhancements bring its lifespan to 400 washes, up from 300, according to company officials.
Going for Three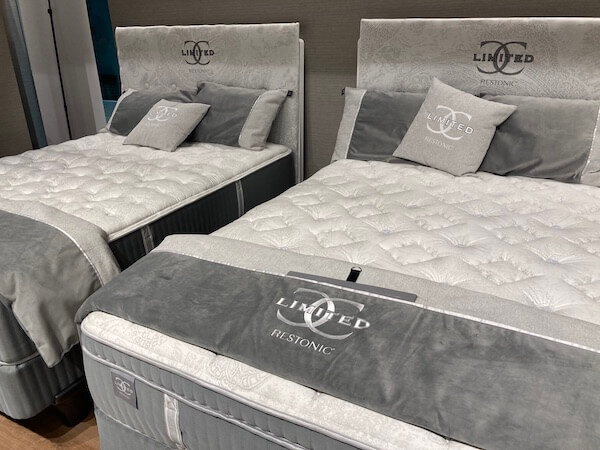 Restonic Mattress Corp. soft launched three new products: a smooth top line for Scott Living, an entry-level HealthRest (specialty hybrid) line and a ComfortCare Limited collection (shown). The Scott Living smooth top line comprises hybrid mattresses containing springs and foam. It also features a cool-to-the-touch cover that provides 25% more airflow. "The entry-level HealthRest line targets a demographic eager for a cooling story at a lower price point," said Julia Rosien, vice president of brand and digital marketing for the Oak Lawn, Illinois-based company. The ComfortCare Limited collection offers PCM cooling, high density foams, heavy duty innersprings and tufting. "They're overbuilt and some models are two-sided," she said. "It's a very stable, supportive mattress line, but with a luxury, upscale feel."
Hot and Cold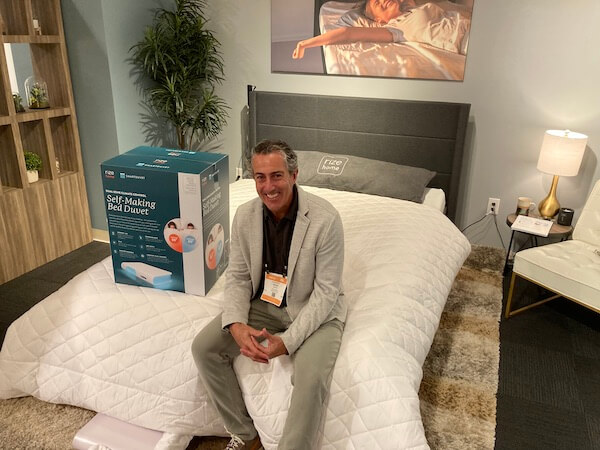 After debuting the Self-Making Smart Duvet in January, Rize Home improved it by including a plush duvet. "Our initial prototype was a layer that you used with your own duvet and duvet cover. This final version includes a high-end duvet," said David Jaffe, CEO of the Cleveland-based company. "It can be used as is or with your own duvet cover. The benefit is that the duvet cover is included so it is a much better value than similar products on the market." The temperature on both sides can be independently adjusted and range on average from 65 degrees to 85 degrees — all of which is controlled by an app. So you can not only program what time the bed makes itself up, you can program the temperature, too. The smart duvet retails for $1,099 in queen and will be available in December.
Side Sleeper Innovation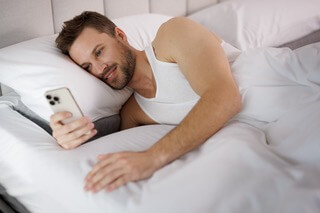 Los Angeles-based SONU launched a firm version of its SONU Sleep System, previously only available in a plush model. Specially designed to accommodate side sleepers, the mattress features a patented comfort channel so that sleepers can sink their arms comfortably down into the mattress. However, if a partner isn't a side sleeper, special pillow inserts are available to create a level surface to emulate a traditional mattress. "With retailers always on the hunt for innovative products, we knew that debuting the SONU Sleep System at the summer market was a perfect fit," says Bradley Hall, CEO and co-founder. "SONU looks forward to returning to the winter market with an expanded line."