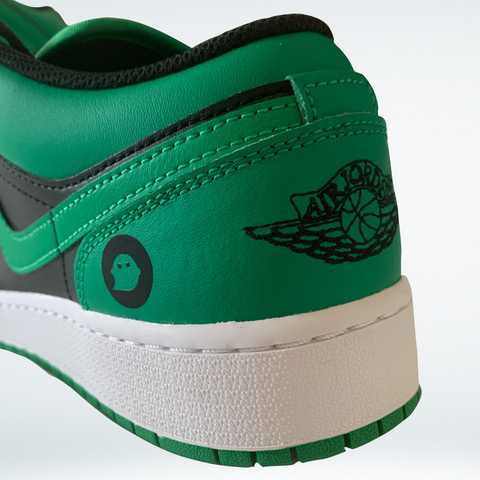 Drumroll, please…GhostBed has announced the winners of the Air Jordan 1 raffle it ran during Las Vegas Market. The contest coincided with the launch of its newly updated Ghost Massage Bed powered by Cozzia.
The mattress company partnered with Nike to create six exclusive pairs of sneakers, rendered in a black and green colorway and featuring the ghost from the company's logo. According to Alan Hirschhorn, executive vice president of Ghostbed, "Excitement in the showroom was palpable throughout the Market. We used Air Jordans, a stylish and comfortable shoe, to highlight the unique air-cell technology in our newly updated massage bed and it was a slam dunk."
The lucky winners of the one-of-a-kind shoes are: Dan Murphy from HOM; Kristina Hicks from Slumberland; Rylan Sher from Sleep Country; Alex Figueroa from The Mattress Room; Stacia Beckinger from Becks Furniture and Sleep; and Olivia Jackson from Ashley Furniture. Each will receive a pair of Air Jordans in their specified size.
"We want to thank everyone who visited the showroom to experience why our new air cell technology is a winner. Whether you're sleeping on our mattress or jumping in a pair of Air Jordans featuring our logo, GhostBed products provide unparalleled comfort and support," Hirschhorn added.