Autumn campaign encourages consumers in California to ask retailers to take back used mattresses
The Mattress Recycling Council has launched the 2018 "Retailer Take-Back" campaign, designed to encourage consumers to ask their local retailer to take back used mattresses when purchasing a new one. The eight-week campaign debuted Oct. 1 in targeted markets throughout California.
Themed "Make It Easy," the cornerstone of the campaign educates consumers and retailers on how simple it is to recycle used mattresses and box springs for free through the Bye Bye Mattress program, a public-private partnership operated by MRC.
"We want Californians to know they can ask their retailers to take their old mattress when a new one is delivered," says Mike O'Donnell, MRC's managing director. "It's part of our Bye Bye Mattress program, which removes millions of pounds of waste from California's landfills every year and reduces the state's environmental footprint."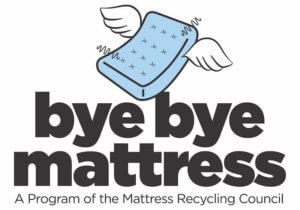 A lighthearted 30-second, digitally animated TV ad features "Mr. Sandman," who poses the question "What are old mattresses good for?" followed by a series of incorrect answers that range from surfing to use in modern art to holding off a zombie apocalypse before cleverly weaving in the correct answer — "Recycling? Totally — It's easy!" The TV spot is available at ByeByeMattress.com.
Colorful print ads depict workers loading used mattresses into a delivery truck, with the key message, "Ask your retailer to take back your old mattress when they deliver your new one" in white letters, punctuated by "And it's FREE!" in teal green print.
"This campaign is part of our commitment to increasing awareness of the importance of mattress recycling in California," O'Donnell says.