Mattress Recycling Council News Release
Campaign encourages consumers to ask retailers to take back used mattresses when purchasing new mattresses or box springs
SACRAMENTO, Calif. – The Mattress Recycling Council today announced the launch of the 2018 "Retailer Take-Back" campaign, designed to encourage consumers to ask their local retailer to take back used mattresses when purchasing a new one. The eight-week campaign debuted Oct. 1 in targeted markets throughout California.
Themed "Make it Easy," the cornerstone of the campaign educates consumers and retailers on how simple it is to recycle used mattresses and box springs for free through the Bye Bye Mattress Program, a public-private partnership operated by the Mattress Recycling Council.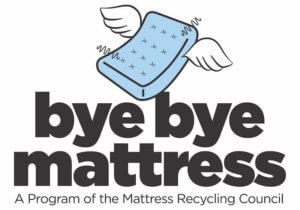 "We want Californians to know they can ask their retailers to take their old mattress when a new one is delivered" said Mattress Recycling Council's Managing Director Mike O'Donnell. "It's part of our Bye Bye Mattress Program, which removes millions of pounds of waste from California's landfills every year and reduces the state's environmental footprint."
The light hearted :30-second digitally animated TV ad features "Mr. Sandman," who poses the question "What are old mattress good for?" followed by a series of incorrect answers that range from surfing to use in modern art to holding off the "Zombie Apocalypse" before cleverly weaving in the correct answer – "Recycling? Totally – It's easy!" The TV spot is available online here.
Colorful print ads depict workers loading used mattresses into an "ACME" delivery truck, with the key message "Ask your retailer to take back your old mattress when they deliver your new one" in white letters, punctuated by "And it's FREE!" in teal green print.
"This campaign is part of our commitment to increasing awareness of the importance of mattress recycling in California," said O'Donnell.
Since its inception in 2016, Bye Bye Mattress has recycled more than 2.5 million mattresses in California, resulting in more than 70 million pounds of steel, fiber, wood and foam diverted from California landfills. Instead, these materials are repurposed into a wide range of new products, including carpet padding, appliances, steel components, biomass fuel and mulch. Through the Program, Mattress Recycling Council works with local collection locations and municipalities, civic groups and other community leaders to provide community collection events throughout California.
About Mattress Recycling Council and Bye Bye Mattress
The Mattress Recycling Council was formed by the mattress industry to operate recycling programs (known as Bye Bye Mattress) in states which have enacted mattress recycling laws – California, Connecticut and Rhode Island. Since its inception in 2016, the program has recycled more than 2.5 million mattresses in California through a network of partnerships with local governments, solid waste facilities, nonprofit organizations and small and minority-owned businesses throughout the state. For more information, go to ByeByeMattress.com
###