NEWS RELEASE | VEGAS 2023
NORTH BRUNSWICK, N.J. – Leading mattress manufacturer, Bedding Industries of America (BIA), will unveil its latest innovation: the industry's first traditional split-head mattress with a foam-encased pocket-coil support system and a quilted, taped cover. The Eclipse Glacier Black Ice was designed to provide consumers with unparalleled comfort in a traditional mattress that is featured in a split-head configuration.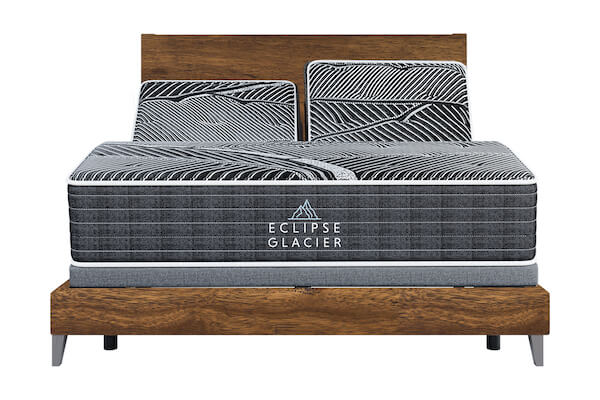 While most split-head mattresses in the industry feature a zipper cover, BIA has created the first quilted split-head mattress that has a tape edge, ultimately giving the mattress a more traditional feel. These hybrids also use an ultra-HD LifeEdge® foam encasement system meaning the mattress is roll-packable and shippable via UPS or FedEx throughout the country to a dealer or even the end consumer.
"We wanted to create something revolutionary and unlike anything else in the bedding industry," said Stuart Carlitz, CEO of Bedding Industries of America. "We wanted to maximize the traditional feel and unparalleled comfort in the mattress by providing a quilted cover, as well as foam-encased pocket coils in the Eclipse Glacier Black Ice, which is the first time a mattress like this has been introduced."
Like all other beds in the Glacier collection, the Black Ice Hybrid series features cooling fibers in the fabric that keep out heat and moisture, as well as cooling components within the mattress (copper visco, nano coils, and natural latex), that provide a cooling sleep all year long.
"We are introducing this product, in part, to give our dealers a tool that raises their average ticket. In a market where transactions are down, the key to success is raising your selling price," said Phil Carlitz, co-owner, and chief revenue officer of BIA. "One way to do this is to increase the accessory attachment rate. The Eclipse Glacier Black Ice is perfect for this because it introduces customers to the concept of adjustable bases and specialty sheet sets better than any other products."
The Eclipse Glacier Black Ice mattress, which is available in both split-head king and split-head queen, is set to debut at BIA's Las Vegas showroom in B-1118 at the World Market Center. It will retail between $999 and $1,999 in queen size with split-king sizes starting at $1,999 in retail.
Bedding Industries of America has been making mattresses since 1866 and owns three factories in New Jersey, Chicago, and Southern California. These factories, along with its licensee plants, allow BIA to service the entire United States and more than 100 other countries. Known for its design innovation in creating advanced sleep products, the company has an extensive global licensing network that distributes mattresses under 11 brands – Chittenden & Eastman, Eclipse, Eastman House, Fieldcrest, Ernest Hemingway, Harvest, Lifetime, Millbrook Beds, Natural Dreams, Velika and Van Vorst. A well-established leader in the bedding industry, Bedding Industries of America designs products crafted with high-quality components, including latex, memory foam, gel, and eco-friendly materials such as cotton and wool. The company holds several patents that deliver superb support throughout the product line. Today, the company has over 80 licensees worldwide. For additional information, visit beddingindustriesofamerica.com.