NEWS RELEASE | VEGAS 2023
Introduction Of Innovative Split Head Hybrid Set For Vegas Market.
AVONDALE, Ariz. – Leading mattress manufacturer, King Koil, is building on the popularity of its split-head king options in SmartLife and PureBliss collections with the introduction of the innovative split-head iBed Hybrid. The company will unveil the first-of-its-kind hybrid mattress in showroom B1200 at the Winter Market in Las Vegas later this month.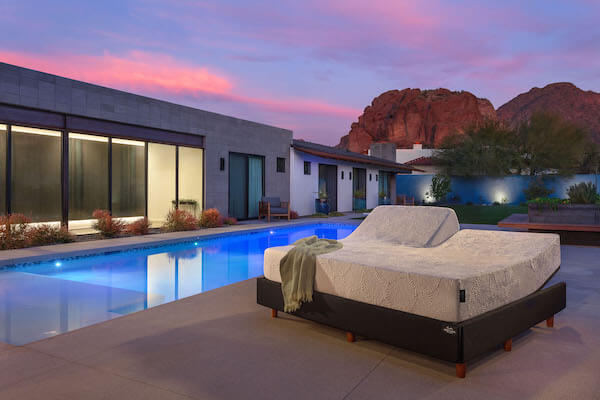 "It's no secret that we've been extremely successful with split-head kings in the SmartLife program. In fact, since more than 50 percent of our SmartLife sales have been in split-head kings," said David Binke, CEO of King Koil Mattress Co, "we moved quickly to add the split-head option to our PureBliss Talalay Latex collection. Now, it only makes sense to innovate in the hybrid arena as well."
For retailers, split-head king options—which add an average of $800 or more to a SmartLife bed's retail price—are an easy upsell that delivers healthy profit margins. "Shoppers clearly see the value in the ability to move independently of their partners," reports David Long, executive vice president of innovation and marketing at King Koil, who himself sleeps on a split-head king at home.
"If one partner wants to sit up in bed to read their iPad or watch TV, the other can remain flat to sleep in comfort undisturbed," Long said. "If either has a cold, or snores, or has some other health issue that is alleviated by an elevated sleeping position, nobody has to move to the sofa or a secondary bedroom so that both can rest."
Even so, until now, split-head kings were not an option in hybrid beds with coils in the mattress. "In the past, the split-head innovation simply wasn't possible because of the difficulty inherent in their construction," Binke said. "David Long and his team have worked incredibly hard to figure out how to make this work. We are very excited to bring this first-of-its-kind iBed Hybrid to the Market and to be able to address the split-head category not only from the technology standpoint in SmartLife, and foam in Pure Bliss, but hybrids as well. We're looking forward to helping our dealers increase sales and dominate one of the fastest growing mattress categories in the industry."
At the Market, King Koil will also show a split-head king option in another new collection, Signature Luxe, a sister collection to its popular Signature foam line designed to fill voids in the marketplace at competitive price points.
A leading global mattress manufacturer, King Koil supports more than 25 licensees in more than 80 countries where King Koil mattresses are manufactured and sold. Headquartered in Avondale, Arizona, the company has a long, rich history that reaches back to 1898 when Samuel Bronstein founded United States Bedding in St. Paul, Minnesota. What started out as six employees in a small factory has continued to grow. During the 1930s, U.S. Bedding improved the bedspring and was looking for a new name for its product. From there, the King Koil name was born. For more information, visit www.KingKoil.com.