A U.S. News & World Report study finds resident of Philadelphia have worst sleep health.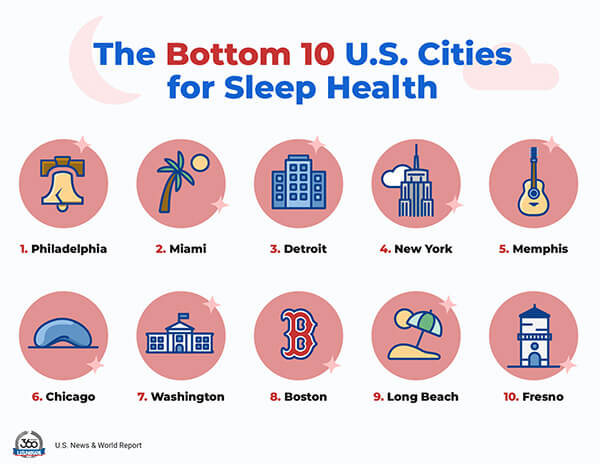 A new study from U.S. News & World Report's 360 Reviews finds Austin, Texas, to be the top city in the United States for sleep health, followed by Raleigh, North Carolina, and Fort Worth, Texas.
But it's the cities in the bottom half of the ranking that caught Sleep Savvy's attention, as they could really use the help of mattress retailers to get a better night's rest. Philadelphia captured the top (or should we say bottom spot) as the U.S. city with the worst sleep health, followed by Miami and Detroit.
Cities were evaluated and scored using a variety of factors, including road noise, air quality, prevalence of physical activity, prevalence of short sleep duration among adults and more.
"While all factors in our sleep health study are important, short sleep duration was the most telling, and also reflects the consequences of other study factors such as road noise, air quality and prevalence of physical activity," said Haniya Rae, sleep feature editor for 360 Reviews.
More findings:
Colorado Springs, Colorado, ranks among the top 10 U.S. cities for the least amount of noise, light and air pollution but ranks worst in terms of residents' physical activity.
Boston, Chicago, Miami and New York, among the worst cities for sleep, also land in the bottom four for noise pollution.
Jacksonville, Florida; Virginia Beach, Virginia; and Bakersfield, California; have the lowest levels of light pollution at night.
To access the full study findings, visit USNews.com/360-Reviews/Sleep/Sleep-Health-Study.