Consumers like the convenience and safety of using mobile wallets — and they have benefits for retailers, too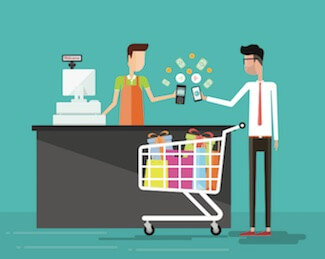 After you've sold a customer on a new mattress set, you want to make the payment process easy. Accepting shoppers' mobile wallets can help with that — and may be a requirement among consumers in the future.
Mobile pay or digital wallets are apps that allow customers to pay using smartphones, tablets or even smart watches by scanning a barcode or tapping or waving their device at the payment terminal of your point-of-sale system. Mobile wallets also can be used online. Shoppers verify their purchase by entering a code (PIN, password or pattern) or using their fingerprint.
Companies like Apple, Google and Samsung offer their own apps that can be linked to users' credit or debit cards, and major banks, credit card issuers and major retailers like Walmart offer their own mobile pay wallets (Visa Checkout, Masterpass, Chase Pay, Walmart Pay, etc.)
Consumers like the convenience of not having to carry a wallet full of cards and feel a sense of security: They don't have to worry as much about a lost or stolen card, and digital payment systems feature encryption and other safety features. Consumers also like that many apps integrate loyalty and rewards programs.
Younger consumers are adopting digital wallets the fastest. A 2017 survey from TSYS, a provider of payment tools based in Columbus, Georgia, shows that one in 10 consumers under age 45 has loaded a debit or credit card into their mobile wallet. Overall, adoption rates have been slow, in part because U.S. consumers aren't attuned to using contactless payment systems, but that's expected to change as their familiarity grows, writes Adam C. Uzialko in a June 21 article for Business, a website offering advice, services and tools for small businesses.
The TSYS survey has evidence supporting that theory: Of all consumers using mobile wallets, 68% plan to make 50% or more of their purchases using the digital payment method in the next two years. And Business Insider magazine projects mobile payments will reach $503 billion by 2020.
Mobile wallets work using near-field communication chips, so if your point-of-sale system supports NFC transactions and you have the right software, you can accept them. "The good news is most POS systems shipping in North America are integrated with NFC technology," Uzialko says. Other than that, you may need to add a module to your online shopping cart software and brick-and-mortar retailers need a reliable internet connection and scanner, meaning the cost of accepting such payments isn't astronomical, writes Pamela Oldham in a March 5 article for Business News Daily.
Finally, here are some ways mobile wallets can help retailers:
Mobile wallets keep transaction times short, speeding up the payment process and shortening lines of customers at checkout.
The safety features inherent in mobile payment systems reduce the risk of data theft, building "stronger trust between merchant and customer," Oldham says.
"With digital wallets and mobile payments, businesses have access to a wealth of real-time customer information, such as shopping preferences and history," Oldham says. "So, accepting mobile payments can quickly and affordably inform marketing and loyalty decisions."