Originally an appliance chain, this Denver-based retailer expanded its offerings to include mattresses and has crafted a top-of-the-line department
BY GARY JAMES
PHOTOGRAPHY BY KELLICIA MORSE
The move into mattresses started with a small step in 2010. That's when Appliance Factory, a Denver-based appliance chain, first installed a bedding department in its stores, adding a small selection of models to its core lineup of refrigerators, washing machines and ovens.
The largest independently owned appliance retailer in Colorado and the 28th largest appliance dealer in the nation, Appliance Factory had some unused space on its floors at the time, so Chuck Ewing was eager to expand his mix with a new category.
"We were looking for a way to grow both our revenues and our profits," says Ewing, founder, owner and chief executive officer. "We knew other dealers in our buying group (Brand Source) that had done well with mattresses, and it seemed like a good fit with our business. Logistics also were a factor, since we had the systems and people in place to deliver large products safely into the home."
And e-commerce competition was less intense than in many other home-related categories, Ewing adds, because most consumers still prefer to try their beds before purchasing.
The first bedding line Appliance Factory introduced to its customers was Serta. Then, after a few years of growing sales, the retailer was offered the chance to bring in Sealy, Tempur-Pedic and Stearns & Foster, brands that initially hadn't been available to the bedding newcomer. Making the change, however, meant dropping Serta from its floors. It was a tough choice, but Appliance Factory opted to make the switch.
"We don't have enough space on our floors to offer a large selection of multiple brands," Ewing says. "We have high respect for Serta but felt like the Sealy and Tempur-Pedic assortment was the right fit for our customers and our space."
While it took some time to make shoppers aware of the new category in its stores, mattresses did "pretty well right from the start," Ewing says. "A lot of our shoppers come into our stores to buy an appliance because they are making a transition—they're getting married or they've just moved to the area or they've bought a new house. Whether they realize it or not, they often need a mattress, as well. Their current one may be old and worn out, or they have an empty room that needs a bed," he says.
A new identity
As Appliance Factory's mattress business steadily grew, Ewing and his team determined the company needed a new name to express its expanded identity. The moniker they adopted in 2014 was Appliance Factory and Mattress Kingdom—a name that conveys the key role mattresses now play in all 17 of its stores.
"Mattresses represent about 8% of our total sales, and our goal is to get that figure up to 10% or 12%," Ewing says. "Appliances will always be where the vast majority of our sales come because that's the core of our business, but the expansion into mattresses has been a big plus for our profits because the margins are better."
Today, Appliance Factory and Mattress Kingdom features 30 mattress sets in each of its 10,000- to 20,000-square-foot stores. The assortment starts with the Sealy Essentials model, priced at $229 for a queen size, and tops out with the Tempur GrandBed model, at $7,499. The average bedding sales ticket is $1,178, but the store also does well with higher end merchandise, particularly the Tempur Flex collection, which runs from $1,999 (for the Prima model) to $3,499 (for the Elite model) and various models from Stearns & Foster.
The stores also carry adjustable bases from Sealy and Tempur-Pedic, as well as a large offering of pillows and other sleep accessories from Bedgear.
The bedding department is located at the front of each store, near the checkout lines, so every appliance shopper has a chance to see the displays before leaving. In the early years, the department was located in the back, but that wasn't nearly as successful, Ewing says.
"We had them in the back because we thought that consumers would prefer the privacy when they were testing the beds," he says. But having the department in such a secluded area proved to be more of a handicap.
"Placing the beds near our registers has worked out better," Ewing says. The beds are much more visible and, if consumers are waiting for their transaction to be completed, they can sit on a bed while an associate is writing up the sale. "It also provides a natural opportunity for our salespeople to initiate a discussion about whether they might need a new bed," he says.
And, even if they don't buy a bed right then, seeing the beds makes shoppers aware of what the store has to offer.
Cross-selling opportunities
Appliance Factory and Mattress Kingdom requires its retail sales associates to ask about potential bedding needs during every customer interaction. They encourage shoppers to take a quick rest-test while in the store and, when they do, they're given a $31 gift card toward a mattress or appliance purchase. If they add a mattress to their appliance purchase, they often receive a $300 in-store rebate off the price of the appliance.
"Appliances will always be our bread and butter," Ewing says, pointing out that his stores carry a long list of leading brands, including Bosch, Electrolux, Frigidaire, GE, LG, Maytag, Samsung and Whirlpool, as well as specialty products for custom kitchens, such as AGA, Fisher & Paykel, Jenn-Air and Viking.
"Our uncrated and out-of-box merchandise is the core of what makes us unique," Ewing says about the company's strength in appliances. "It's how our customers can get 30% to 60% off while still enjoying the manufacturer's warranty." He adds that the chain separates itself from big-box competition by offering "better availability, faster fulfillment and better customer service, particularly on special order/nonstock items."
In bedding, Ewing sees his competition mostly coming from specialty mattress chains and local furniture stores. While American Furniture Warehouse is one of the state's leading bedding merchants, the top 100 furniture retailer focuses mostly on promotional goods.  Online merchants also haven't posed much of challenge, Ewing adds, because their limited product lines tend to target entry-level consumers, such as millennials who are happy with a one-size-fits-all-type mattress.
"Our customers would rather come into the store to buy their appliances and bedding than buy online so that they can see the products and talk to our salespeople," Ewing says, adding that 10% of shoppers now visit his stores specifically to make a mattress purchase.
To build awareness of its mattress offerings, Appliance Factory and Mattress Kingdom regularly runs circular ads in The Denver Post. The company also does a limited amount of radio and TV advertising and online marketing, although that budget has been shrinking as ad costs rise due to the influx of boxed-bed specialists.
One avenue that has proved very successful for the retailer is its occasional appearances on "Colorado and Company," a local show produced by NBC affiliate KUSA featuring local businesses. "That's given us a good chance to tell viewers about who we are and what we do," Ewing says.
Training for success
Sales associates at Appliance Factory and Mattress Kingdom work the entire store, including mattresses, rather than specializing in one category or the other. Training longtime appliance RSAs in the finer points of selling mattresses wasn't an easy process but, with the help of Serta and later Sealy and Tempur-Pedic, the team soon was armed with the information it needed to guide shoppers in their purchases.
"Our manufacturer partners have been instrumental in getting us up and running," Ewing says. "They worked closely with our team to make sure they understood the ins and outs of the mattress category and the strengths and features of various models."
Not all of the retailer's salespeople made the transition, however. "If you don't want to sell mattresses, you don't want to work at Appliance Factory and Mattress Kingdom," Ewing says. "We want salespeople who can sell both types of products."
To make sure RSAs provide customers with a quality experience at every store, the company "secret shops" its locations on a weekly basis. "Our expectation is that our associates be professional and provide a high level of customer service," Ewing says. "We want them to be approachable and knowledgeable but not pushy. We believe that if you try to sell a consumer something they don't want, they're not going to buy—and we risk losing them to another store that they can easily find by Googling on their phones."
"We have to bring our A game every day if we're going to be successful," he says, adding that to keep RSAs motivated, the retailer conducts monthly sales contests that reward exceptional performance.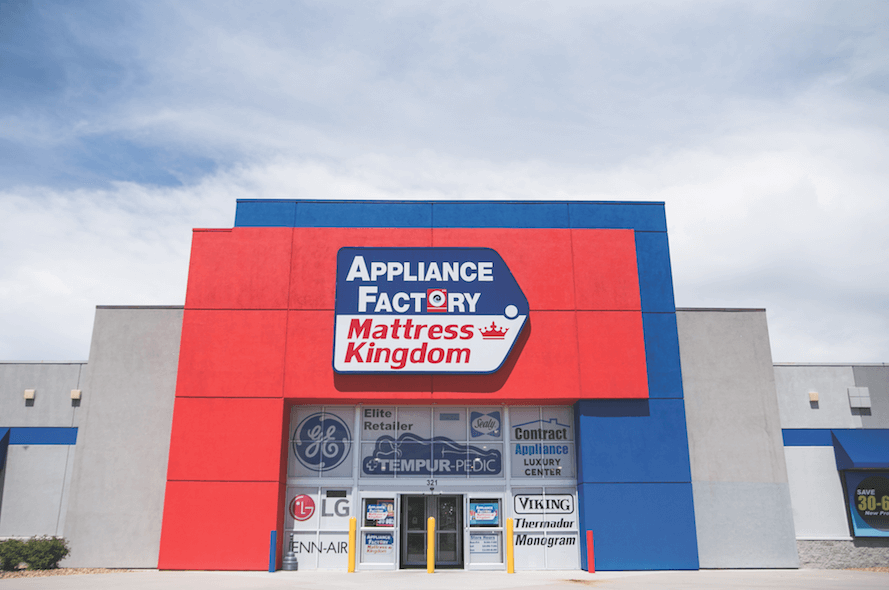 Finding the right bed
When customers agree to an in-store mattress test, the process starts with them lying down on four different beds with different technologies—two types of memory foam beds, an innerspring model and a hybrid.
"Our salespeople ask them some basic questions about how they like to sleep—on their back, side or stomach—whether they like their bed cool or hot, and what their preferences are in terms of comfort and support," says Eric Bowe, director of merchandising. "Once we get some input on those preferences and which type of bed feels best in the test, we take them to the area of the department where they can try more of those models."
Merchandise on store floors is organized by technology type, making it easy for shoppers to see the full range of choices available.
To provide customers with peace of mind about their purchase decisions, Appliance Factory and Mattress Kingdom offers a 120-day comfort guarantee on Tempur-Pedic and Stearns & Foster models and 60 days on Sealy bedding. Delivery is free, and the company will take away the buyer's old mattress at no charge. The company has a 30-day price guarantee on all its products, both bedding and appliances, that promises to refund the difference on a purchase price if the shopper finds the same model available at a competitor for less.
Humble roots, big ambitions
Appliance Factory and Mattress Kingdom has come a long way from its humble beginnings in 1986, when Ewing founded the business in his garage. Ewing started his career buying and selling music equipment. But seeing more long-term business potential in appliances than music, Ewing opened his first store in 1988, then moved that store to East Evans Avenue in Denver. For many years, Ewing operated just that single flagship store but then, starting in 2000, began adding about one store a year. The retailer now has 16 locations in Colorado, ranging from Colorado Springs and Greeley in the eastern part of the state to Grand Junction in the west. In addition, the company has one store in Columbus, Ohio.
For 2018, Appliance Factory and Mattress Kingdom's top priority will be remodeling and upgrading its current stores rather than adding new locations. But the retailer always is open to adding stores when there's a growth opportunity, with Cheyenne, Wyoming, and Pueblo, Colorado, currently on its radar screen. The retailer also is looking at creating stand-alone bedding stores, seeing a void in the market because of some of the changes that have taken place with Mattress Firm.
"We're always looking for new ways to grow and serve consumers better," Ewing says. 
Gary James is a freelance writer who spent more than 20 years with Furniture Today, serving as case goods editor and special projects editor, directing the editorial content of numerous supplements, sections and features. He also has served as managing editor for a variety of other business publications. He can be reached at gejames1010@gmail.com.