Adjustable, sensor-laden mattresses and bases can help improve the sleep and health of consumers.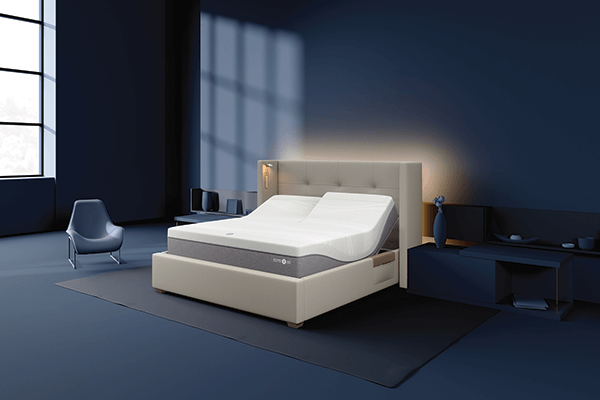 Smartphones. Smartwatches. Smart refrigerators. Smart doorbells. Smart lightbulbs. Even smart toilets. The number of internet-connected devices that offer monitoring, customization and other advanced features continues to grow, with consumers appreciating the personalization and control that such products offer. (Though Sleep Savvy editors cringe over the idea of smart toilets, no matter how useful their features might be.)
Makers of adjustable bed bases have been adding more and more smart features to their products — and mattress producers are smartening up mattresses, too, typically by adding sensors that adjust the sleeping environment and monitor sleepers' biometrics.
At retail, there are several key markets for these beds, including millennials and Gen Zers, who are most at home with technology and who have come to expect multitasking products that anticipate and adjust to their needs. Performance enthusiasts, whether athletes or people who are just interested in optimizing their health, are another natural fit for smartbeds. Older consumers with mobility or health issues could be among the biggest beneficiaries of such mattresses — and may have more disposable income to put toward the bedding products, which carry premium price tags.
Wise introduction
Sleep Number, maker of the nation's most popular airbed, has been a leader in adding smart features to its products, like the sensor that detects snoring and then gently raises the head of the snorer, and it has offered Sleep Number 360 smartbeds for several years. This spring, the Minneapolis-based manufacturer and retailer rolled out its next generation of smartbeds, with advancements based on 19 million hours of sleep data it has accumulated from its first-generation 360 smartbeds.
The new mattresses, with prices starting at $3,499, use embedded sensors and artificial intelligence to learn the biometrics and rest patterns of sleepers and then adapt to changes in their bodies and sleep habits. Specifically, the mattresses monitor health data, including average heart rate, breathing rate and motion. The data is sent to sleepers' smartphones each morning and includes actionable insights so they can adjust their own habits, including setting a consistent bedtime and wake time.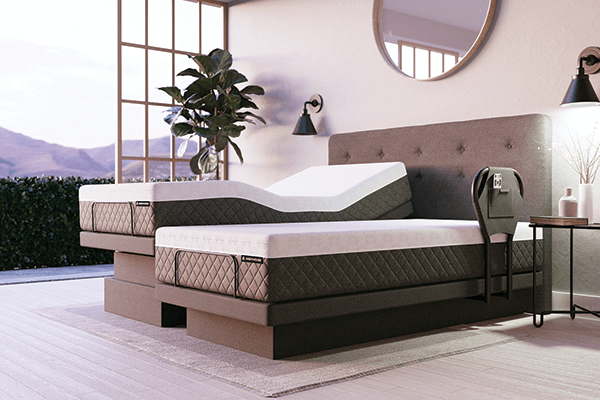 Like all Sleep Number mattresses, the new smartbeds have air chambers at the core that adjust the firmness of the mattress. They also include temperature-balancing features.
"The next-gen Sleep Number smartbed is the only science-backed, fully adjustable and effortless smartbed that uses physical and digital experiences designed to improve sleep quality for each sleeper," said Annie Bloomquist, Sleep Number's executive vice president and chief innovation officer. "Our advanced sensing capabilities, which deliver highly accurate data nightly, help provide a more holistic picture of sleep and health."
Sleep Number is positioning the beds as ideal for consumers as they progress through different stages of life. As Shelly Ibach, chair, president and CEO, says, "We are setting the precedent that what you sleep on is vitally important, and beds should evolve with a sleeper's changing life and sleep needs.
A longtime goal of Sleep Number has been to continue to enhance its smartbeds to be a health aid as much as a sleep aid. "Over time," the company says, "the smartbeds may be able to identify out-of-norm events and alert sleepers to pattern changes. In the future, the beds may also detect illness and alert sleepers to potential health conditions, including insomnia, sleep apnea or cardiac events."
As it has in the past, Sleep Number announced the next-generation smartbeds not at a furniture and bedding market but at CES, the electronics and technology show. It's an indication of how the company seeks to position its smartbeds — not simply as mattresses but as a piece of technology like the smart appliances we mentioned earlier.
Recognizing that smartbeds could be especially useful for injured or aging sleepers, Sleep Number has also introduced accessories for the beds that it is calling lifestyle furniture. (See story on page 33.)
Atlanta-based bedding brand ReST offers a series of mattresses that sense and adjust to a sleeper's movements, and the upper models in the line also feature the company's NightVision, a sleep monitoring system that provides information about respiration and body movements. But this spring, a notice on the company's website has said it is not currently accepting orders.
Even more features
New York-based bedding brand Eight Sleep takes a slightly different tack on smartbeds, touting the cooling and warming benefits of its Pod mattresses, promising that "The Pod can cool or warm each side of the bed as low as 55° and as high as 110°, so you and your partner can both sleep perfectly." The sleep system uses sensors within the mattress to monitor temperature, and a small external unit, "The Pod," actually controls the temperature. The sensors also monitor sleep stages, heart rate, heart rate variability and respiratory rate, sending that information to a sleeper's smartphone via an app.
The Pod mattress is available in three versions, with the six-layer, top-of-the-line bed selling for $3,995. The Pod unit and the sensor-laden cover are sold separately, allowing consumers to add it to their existing bed. Alone, The Pod retails for $2,295 in queen size.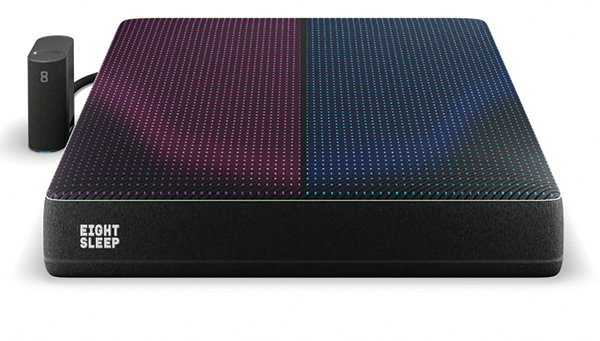 Smart mattresses often work best in tandem with adjustable bases, which provide additional features, like zero-gravity positioning, USB ports and underbed lighting. Notably, the Tempur-Pedic brand, part of Lexington, Kentucky-based Tempur Sealy International, offers two smart bases, the Tempur-Ergo smart base and the Tempur-Ergo ProSmart base, both powered by Sleeptracker AI. The smart bases include typical adjustable base features like massage but also features sleep monitoring with personalized coaching and tailored sleep tips. The Tempur-Ergo ProSmart base retails for $2,499 in queen size.
In targeting older people and others with chronic health or mobility issues, Ergomotion's Dawn House bedding brand combines a smart mattress and adjustable base into its eponymous bed, which it describes as an integrated health monitoring system. The Dawn House bed offers health monitoring, high/low adjustable height, optional support rail and underbed lighting. In addition, it has an anti-snore feature that raises the head of the snorer and a setting that will again raise the head in the morning as an alternative to an alarm clock. To make it easier for users, the bed operates via voice command, remote control or an app for Android and iPhones.
The bed includes other features designed especially for older consumers, including a recessed, padded base to avoid late-night stubbed toes or bruised shins, and a remote with recessed buttons that won't get punched if a sleeper rolls over on it during the night, says Jason Gavilanes, a Dawn House sales trainer.
The Santa Barbara, California-based brand earned a CES 2023 Innovation Award and a Best Bedding Award 2023 from Good Housekeeping. A queen-size model with mattress, base and headboard retails for $5,995.
Although not as nearly as ubiquitous as hybrid mattresses, Sleep Savvy expects more bedding and base producers to add smart features to their products. After all, as technologies improve, costs come down and consumer interest increases, it's the smart move.
---
Moving Toward a Smarter, More Useful Bedroom
One driving force behind smartbeds — aside from competitive advantage and helping consumers get a better night's sleep — is the desire to have beds do more than, well, just lie there. Sensors and other bed-adjusting technologies give the beds their "smart" moniker, but bedding manufacturers know there are other ways — some high-tech and some low-tech — to add myriad useful features to their sleep systems.
For instance, when Minneapolis-based Sleep Number rolled out its next-generation smartbeds this spring, it also introduced accessories, or what it's calling lifestyle furniture. The pieces include a headboard that the company describes as supporting "one's circadian rhythms" with individual, rotating reading lights that adjust in color and intensity; and built-in speakers that mask environmental noise. Lower-tech add-ons to the new Sleep Number smartbeds include a support bar to make it easier for mobility-impaired sleepers to enter and exit, and an attachable side table for reading, working or eating in bed.
During the High Point Market in April, BDI, a furniture source based in Chantilly, Virginia, introduced its Linq line of bedroom furniture, which it says was designed "with the needs of the connected lifestyle in mind." The pieces include height-
adjustable, slat platform beds. The Up-Linq model has a floating panel that conceals a recessed power center on both sides of the bed for convenient charging through three outlets, a USB-A port and a USB-C port. The Cross-Linq version has charging stations (both a USB-A and USB-C port) neatly concealed in both sides of the headboard for easy connectivity.
The company's two new Linq nightstands include integrated power centers (three outlets, a USB-A port and a USB-C port), a sliding top panel and generous storage. One version also has a lower pull-out tray. All features are focused on connectivity and usefulness, according to the company.
"Watching retailers' eyes light up as we reveal the hidden features has been the real delight," says Matthew Weatherly, BDI associate design director, who designed the collection. "People just don't seem to realize that they should expect more from their bedroom furniture."