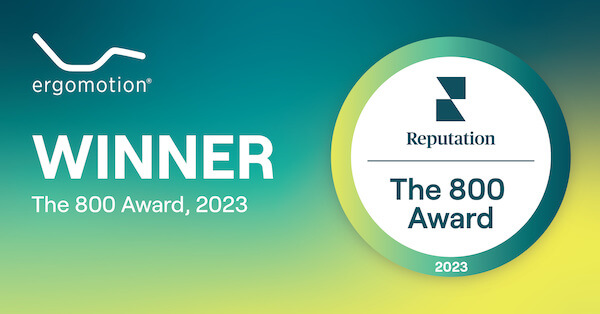 Ergomotion has received the distinguished 2023 Reputation 800 Award for delivering exceptional customer service in the past year. The award recognizes companies that have achieved a Reputation Score of 800 or higher, which is a key indicator of effectively managing online reputation. The honor marks the second year in a row that the company has earned the award.
Reputation's 800 Award highlights those that put customer experience at the core of their strategy and are driven by the voice of the customer to succeed. The Reputation Score is a proprietary tool that measures review sentiment, volume, spread, recency, response and length, along with brand reach and health, social engagement, business listing accuracy and search impressions.
"We're so honored to receive the Reputation 800 Award for the second year in a row, which reinforces our commitment to providing customers with an exceptional support experience," said Nikunj Patel, director of customer service at Ergomotion, based in Santa Barbara, California.
Ergomotion received highest remarks in the Courtesy, Competence and Sales Assistant/Staff categories. One of the positive reviews included: "My customer service representative was very patient and did a great job explaining what I needed to do as far as troubleshooting. He provided excellent customer service."
"We congratulate Ergomotion on its dedication to prioritizing customer satisfaction over the past year, as evidenced by the 800 Award honor," said Dave Mingle, global head of CX at Reputation. "Strong customer experiences are at the core of consistent business growth; we are thrilled to see that Ergomotion is committed to listening to and taking action on customer feedback to make meaningful improvements."