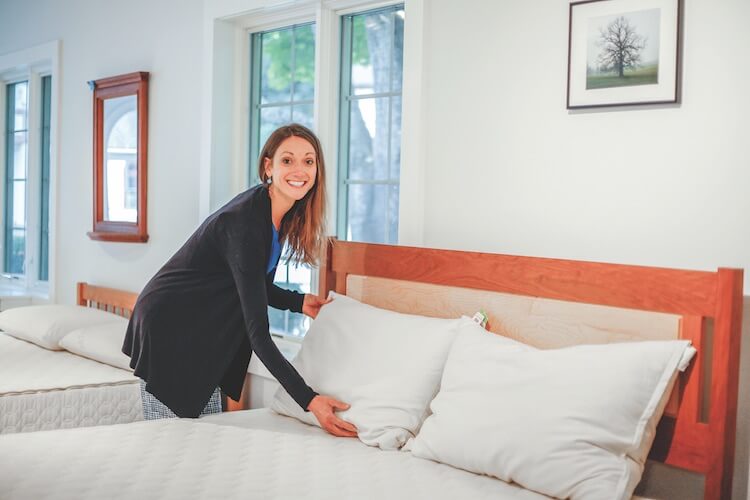 Emily Aborn, founder of this all-natural sleep shop in Amherst, New Hampshire, offers luxury bedding in a friendly, relaxed environment
Tucked in Organics is among the most specialized of specialty sleep shops — a single store in Amherst, New Hampshire, that focuses on natural and organic mattresses and accessories. But that doesn't limit its appeal to customers, who appreciate the well-edited product selection, serene atmosphere, and warm, knowledgeable service provided by founder Emily Aborn.
The store draws shoppers from the surrounding city of about 11,000 residents, but customers also come from neighboring and nearby states, including Maine, Massachusetts, New York, Rhode Island and Vermont. It has delivered beds as far away as North Carolina, and does a good business online, especially in accessories.
"We definitely want to be the go-to place for healthy mattresses and home products, but some people are just looking for a luxury, high-end mattress," Aborn says. "For people in both groups, all I want is for everyone to sleep well and love their mattress."
3 a.m. inspiration
Aborn studied health education and nutrition at Malone College (now Malone University) in Canton, Ohio, and Keene State College in Keene, New Hampshire, and has worked in those fields. But it was a two-year stint at The Organic Bedroom, a sleep shop in Raleigh, North Carolina, that led her to open Tucked in Organics when she returned to New Hampshire four years ago with her now-husband, Jason Aborn.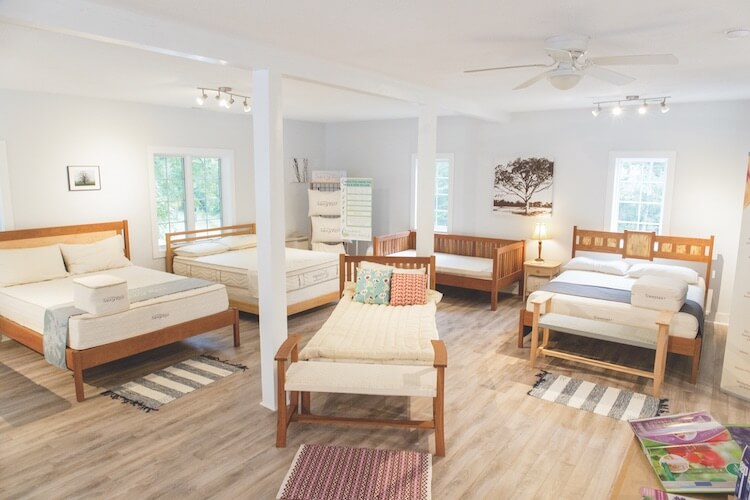 "I loved their business model and the quality of their products," Aborn says of Vicki and Joey Ashley, who owned The Organic Bedroom during her time there. "Since I was 5 years old, I've always wanted to own my own business, so when we moved back, we decided we'd do it."  In November 2014 — within nine months of her return to New England — Aborn opened the store.
Tucked in Organics is a small operation: just Aborn and her husband. She handles customer service, marketing, product purchasing, merchandising and day-to-day operations. Jason Aborn, who also runs a painting business, manages the store's financials and does deliveries, too. (Future plans include hiring a part-time sales associate.)
In an ironic twist for the operator of a mattress store who knows the importance of sleep, Aborn came up with the business' name during a bout of insomnia. "It came to me at 3 a.m.," she says. "I kept thinking: Tucked Away, Tucked in Bedding, then Tucked in Organics. I knew that was it."
She looked at several spaces before leasing the 2,800-square-foot location in a plaza called the Village Shoppes at Salzburg Square along the well-traveled Route 101, which carries motorists between Maine and Vermont. Neighboring businesses in the Bavarian-style shopping center include a toy store, yoga studio and coffee shop.
The space's original fluorescent-hued walls were replaced with a pale blue-gray. (Aborn notes that customers ask about the palette, wanting to replicate it in their own homes. For the record, the color is Benjamin Moore's Marilyn's Dress with Pikes Peak Grey accents.) Linens in neutral shades of shell and flax complement a floor covering that resembles wide-planked hardwood, and accent lamps provide soft lighting. The feel — clean, airy and calming — is as much spa as store.
Aborn limits branding and other promotional signage and instead hangs color photos she's taken of the New Hampshire countryside. The nature images, which change with the season to keep the decor fresh, echo the store's emphasis on natural products.
"People always say the store smells good, and my husband and I both love music, so I always have something playing," Aborn says. "Customers always comment about how relaxing it is here."
Simple, natural products
Tucked in Organics' product assortment appeals to New Englanders, who are conscious of natural and organic products and often seek them out, Aborn says. She requests certification documents from her vendors to show which components or products have met the requirements of the Global Organic Latex Standard and Global Organic Textile Standard and is careful to talk only about products being organic when she has supporting documentation.
On its sales floor, Tucked in Organics displays 10 beds from Green Sleep, OMI and Savvy Rest. Many mattresses are customizable, allowing people to change the comfort level — either across the entire surface or by creating different feels on each side of queen and king models. At $2,900 in queen size, the OMI Rossa represents the store's opening price point for mattresses. The hybrid features pocketed coils topped with Dunlop latex. At the top end, the store offers an all-Talalay mattress from Savvy Rest ($3,999).
The store's best-selling mattress is Savvy Rest's Serenity, a 9-inch, three-layer latex bed available with Dunlop latex, Talalay latex or a combination of both ($3,099). Like the other two, it is customizable.
"People love it. It's both a good starter bed and a good 'rest of life' bed because it's fully customizable," Aborn says. It is also the bed she typically takes shoppers to for an initial rest-test. The floor model is set up with one super-firm side and one super-soft side. "It's easy to open up so customers can see and touch the layers," she says. "I use it to explain latex and the layering, and customers really get it."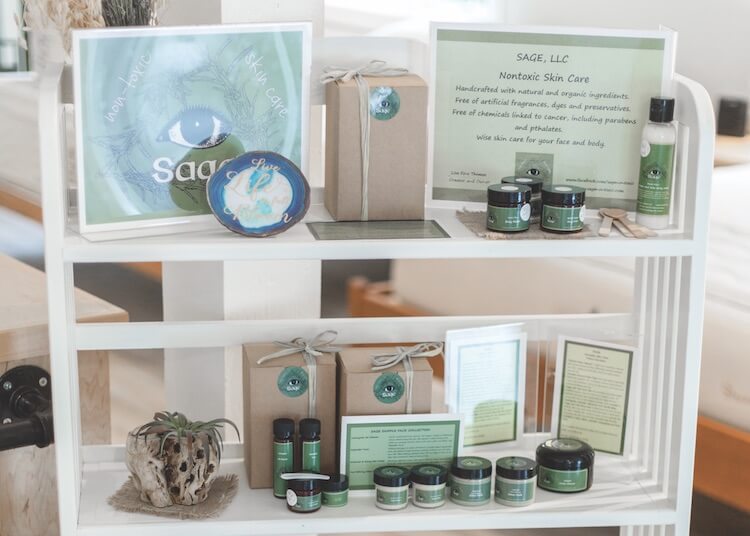 The retailer's average ticket ranges from $3,600 to $4,000, including accessories. It has inched up since the store opened, in part because Aborn no longer carries some lower-priced mattresses that weren't strong sellers.
About 30% of store sales come from accessories, including pillows; toppers, comforters, duvets and blankets; pads and protectors; and sheets — all made with materials such as cotton, wool, latex and kapok. Accessories vendors include Gotcha Covered, OMI, Pure Talalay Bliss, Sachi Organics, Savvy Rest, and Sleep & Beyond.
"We have people who come in just for accessories," Aborn says. "It's also a good source of repeat business. They buy them for themselves and as gifts for others."
Pricing for comforters and duvets starts at $239 in queen size. A wool version covered in an organic cotton sateen fabric from Savvy Rest that can function as a standalone comforter or be inserted into a duvet cover retails for $479. Pads and protectors, made of wool and cotton, are priced from $117 to $189. Sheet sets range from $109 to $256, and a set featuring soft Tencel fibers from Gotcha Covered is a customer favorite.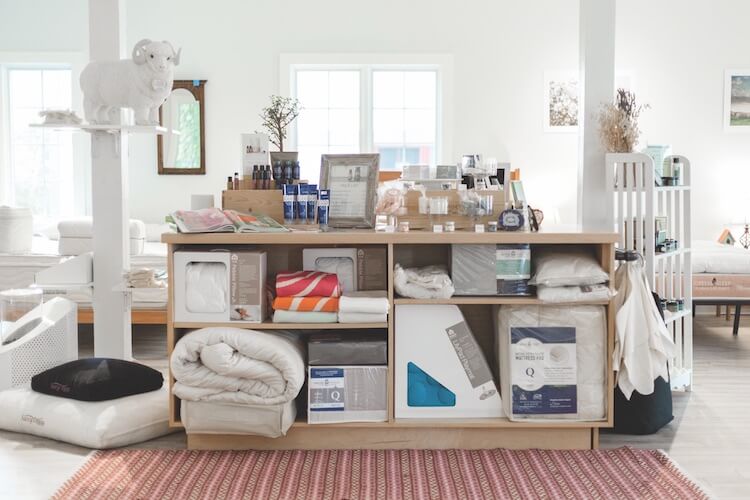 Tucked in Organics does a good business in mattress toppers ($319 to $1,499). The retailer offers an array of 3-inch latex versions, plus a thinner one made of wool. "With the lines I carry, I don't have any pillow-top mattresses per se," Aborn explains. "Toppers can act as a pillow-top. They make any mattress extra cozy, and it's nice because you can replace the topper without having to replace the entire mattress."
Her customers also buy twin XL toppers to send along with their kids as they head off to boarding school or college. "And some people aren't prepared to buy a mattress, so they'll buy a topper," she says. "But they often come back and say, 'That topper was so amazing, I'm ready for a mattress now.' "
When it comes to foundations, Tucked in Organics keeps it simple, offering traditional flat foundations and platforms. Bucking trends that Sleep Savvy sees among many retailers, few of the store's customers are interested in adjustable bases, Aborn says. "My customers are looking for the simplest options," she says. "We work with a local furniture maker who makes many of our wooden platform beds, which are both beautiful and often appeal to those looking for a simple solution."
The retailer's baby bedding, which represents about 10% of business, is made by Nook and includes crib mattresses, blankets, pillows and playmats made of natural materials such as latex, coconut, kapok and cotton. The store also carries an assortment of bath and body products, most made by local companies. It's a category Aborn would like to expand. "I love accessories," she says. "Once you have a bed you love, you want to make it and your bedroom as beautiful as you can."
Relax and kick off your shoes
Tucked in Organics' customers range from young professionals in their 30s to retirees. Many are well-educated, active and health conscious; a small percentage have chemical sensitivities and are seeking sleep products with the simplest natural components possible.
As soon as they enter the store, Aborn wants shoppers to relax and get comfortable — really comfortable. "I encourage them to take their shoes off and take things out of their pockets," she says. "I remind them no one sleeps with their wallet."
Early in the qualifying process, she asks "what they like and don't like about their current mattress," she says. "It helps me to know where to begin with them. And the importance of sleep and healthy sleep habits always is part of the conversation, she adds, noting that her customers may be unusual in that they typically bring up the subject first.
A glut of mattress retailers, plus countless online product reviews, means shoppers often arrive at Tucked in Organics "glazed over," Aborn says. "There are so many mattresses out there and customers have done so much research, they are well-educated but overwhelmed," she says. "I remind them, 'It's about you and what mattress works for you. That's the most important thing.' "
Her low-pressure sales strategy includes fitting shoppers for a pillow and then switching it out midway through the rest-testing process, if necessary, to make sure they have the right one when they do the final rest-test on the mattress they intend to buy. "If they don't buy the pillow that day, they typically will come back for it," she says.
Aborn calls "Hug Your Customers: The Proven Way to Personalize Sales and Achieve Astounding Results" by Jack Mitchell a life-changing book. "It shows the importance of building relationships with your customers, and that is our main goal as we strive to help people on their journey to better sleep," she says. And, clearly, the book's title lesson has taken hold. "I love my customers," Aborn says. "They often come in, give me a hug and tell me how well they are sleeping and how much they love their new bed."
To show gratitude — and to build repeat business and positive word-of-mouth — Aborn follows up purchases with thank-you cards and deals for returning customers. And she stays in touch with those who didn't buy. Following the advice of a business coach, Aborn tries to get one form of contact — either phone number or email — from all her customers and will follow up with them to make sure they're aware of any specials or promotions for the products they were interested in.
Aborn acknowledges that online sellers are putting pressure on stores like hers to offer free delivery and long windows for comfort returns, but she sticks with policies that work best for her store.
White-glove delivery and setup of a new bed and accessories starts at $99 within a 25-mile radius, although Aborn occasionally offers free delivery as a sale sweetener. Sometimes, Tucked in Organics is able to help move a customer's old bed set into another room or the garage, however, the retailer doesn't pick up and dispose of used bedding because Aborn doesn't mix old and new products in the delivery vehicle, and with no mattress recyclers in her city, disposal of used bedding is difficult. The policy is fully explained in a "Preparing for Delivery" sheet given to customers at the time of the sale.
As for comfort returns, Tucked in Organics doesn't offer them. "It's why I spend so much time with people and really strive to help them find the right mattress," Aborn says. There are other options if a bed doesn't feel quite right once a customer gets it home. For instance, because so many of the store's mattresses are customizable, customers have the ability to change the feel of the mattress themselves, and the retailer can swap out latex layers for them, if needed. A new topper also can change the feel of a bed.
"Online retailers are changing customers' expectations about returns, but a lot of people have been coming in who bought a bed online and returned it and bought another bed online and returned it," she says. "After several failed online attempts, they end up at Tucked in Organics looking for help finding the right mattress."
She adds, "Very few people even take me up on a latex exchange, and I have very few mattress complaints. We have a good track record."
Building community online and in the real world
When it comes to promoting Tucked in Organics, store founder Emily Aborn favors a mix of online marketing and in-person networking within Amherst, New Hampshire, where her business is located. The methods have two things in common: building community and collaboration with other local businesses.
The store's website, TuckedinOrganics.com, drives about 80% of the store's traffic, but it wasn't always that way. When Aborn opened the store in 2014, she says, she'd have customers tell her they couldn't even find her online. She credits the firm hasOptimization in Canterbury, New Hampshire, for improving her online visibility. Today, it's not uncommon, Aborn says, for shoppers to visit the store and then buy online, or buy online and pick up their purchases in-store.
Aborn also relies on Facebook, using a mix of promotional, informational, educational and inspirational posts, but in all her messaging across channels she strives to be "informative, yet fun — in line with our branding message."
"I also do educational videos on Facebook that get a lot of engagement. I don't necessarily enjoy shooting and starring in them," she says with a laugh, "but they are effective." A recent video series features Aborn interviewing local health and wellness practitioners about their area of expertise and how it relates to sleep. In an upcoming video, she'll talk to a money coach about how getting finances in order can lead to better sleep. Another will highlight the importance of shopping locally — another subject she's passionate about.
Aborn is on the board of the Souhegan Valley Chamber of Commerce, runs a networking group and sponsors local events. When the chamber put together welcome gift bags for newcomers, she inserted fortune cookies. The paper strip tucked inside each said, "Sweet dreams are in your future." In addition, Aborn started the chamber's Tuesdays on the Town blog, for which she interviews local business owners about their enterprises, and she is working on a directory of area health and wellness providers.
"My philosophy in everything in the way I market is to meet as many people as possible," she says. "I absolutely love what we are growing in our community."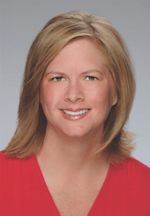 Julie A. Palm is chief wordsmith at Palm Ink LLC in Winston-Salem, North Carolina. She has 25 years of experience as a writer and editor for newspapers and magazines and as a publications director. She is a past editor in chief of both Sleep Savvy and BedTimes magazines. She can be reached at japalm623@gmail.com.