The January show did not disappoint. Buyers filled showrooms, browsing fresh ideas in sustainability, cooling, hybrid and split-head styles.
At the July 2022 Las Vegas Market, manufacturers agreed that they were looking forward to the winter market, held Jan. 29–Feb. 2. They predicted it would be highly transactional, the "comeback market," with showrooms buzzing with buyers.
And they were right.
BedTimes magazine caught up with Nick Bates, president of Spring Air International, at the end of the first day, and he was already pleased with traffic.
"What's different for us is that people are actually purchasing," Bates said. "Their intent is to add to their collections or replace things on their floors. So, we're writing orders this market, which for the past three markets, it's been window-shopping. … For this market, people are placing orders and asking, 'When can I have this?' "
Despite less-than-glowing economic reports, buyers packed into showrooms, gingerly testing mattresses, perusing products and staying for cocktails at the end of day.
"We've had a very good market. The attendance is back up to 2019 rates, and even though the economic news in the mainstream media has been a bit of doom and gloom, the atmosphere at market has been very upbeat," said Restonic President Laurie Tokarz. "People are looking for refreshing their floors, and they're looking for value."
And, of course, they were looking for new products — which were in great abundance. Most showrooms offered up at least one new item, and some manufacturers showcased several.
"Buyers came to the market looking for fresh concepts and head-turning values to drive business, and we were well-prepared with a fashion-driven approach right for the times, new offerings in key categories and expanded bestselling collections," said Kingsdown CEO Frank Hood. "It was refreshing to see that traffic has returned to pre-pandemic attendance levels in the bedding category."
The International Market Centers reported a 25% year-over-year increase in attendance, driven by an influx of new buyers — the return of many for the first time since the pandemic — and a strong fourth quarter. The event attracted attendees from all 50 states and 68 countries.
"Sunday was a very strong day, and Monday was absolutely ridiculous," said Bill Hammer, president of Shifman Mattresses. "It was as good of a market day as I've ever seen in probably any market in Las Vegas or High Point."
Five key themes arose: value, cooling, sustainability, hybrids and split-head configurations. Look below to check out all the new products uncovered at market.
---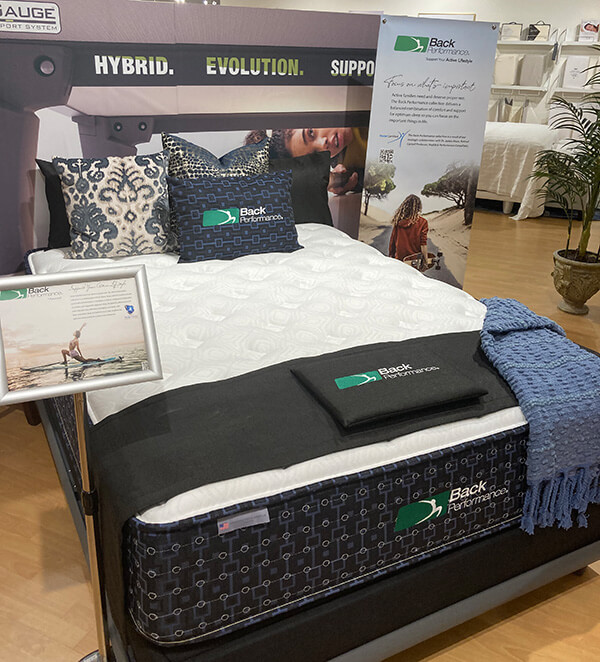 Even More Support
Paramount Sleep Co. continued to enhance its Back Performance collection. "The big changes here are we're going to a nested coil in the center third," said Richard Fleck, president of the Norfolk, Virginia-based company. "It's zoned in the center third because we have the memory foam lumbar. Then we take our pocket spring, we nest them in the center third, so you get 30% to 40% more support."
Creating Sleep Solutions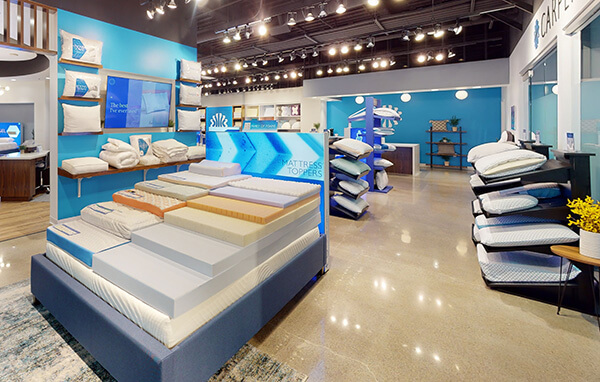 Richmond, Virginia-based Carpenter Co. celebrated two new concepts: its Hybrid TheraGel antimicrobial memory foam, as well as its evolving value-add top-of-bed programs. "It's about utilizing our proprietary foam technologies — technology in covers, technology in fiber fill and/or treatments — and pulling them all together to tell a sleep solution story," said Ken Brown, vice president of consumer products for Carpenter. "All our foams are value-added, from our conventional foam up to our most unique, Serene foam, and everything in between. And it all translates from mattresses to pillows to toppers and specialty shapes."
Trio of Trends
Bedding Industries of America showcased three trends: cooling, sustainability and split-head mattresses. BIA added three new cooling mattresses to its Eclipse International series: the Glacier Washington, Glacier McKinley and Glacier Everest. The Eclipse Glacier Black Ice comes in a split-head configuration. Finally, the Ernest Hemingway collection received two new additions, the Lifestyle and Key West, focusing on sustainability. "We continue with the concept of affordable luxury, giving the dealer extra margin in a product category that is luxurious, yet affordable to the masses," said Stuart Carlitz, CEO of the North Brunswick, New Jersey-based company. "What we're offering and have been consistent with is a niche, and that's between $999 and $2,000 in queen."
Back in Black (and Other Lines)
Atlanta-based Serta Simmons Bedding made a splash in its return to Las Vegas Market after a two-year hiatus. In addition to launching its sustainable iComfortEco line (see page 29), SSB updated its Perfect Sleeper collection to hit more accessible price points. Starting at $599 and topping out at $1,299, the line includes zoned support on all mattresses, which include innerspring and hybrid constructions. Also on display was its Beautyrest Black collection, featuring improved cooling, natural materials and a new extra-firm model. The brand also shared that it will relaunch Beautyrest Harmony later this year to further build on the sustainable aspects of the current line. Additionally, SSB brought a full display of its Tuft & Needle mattresses for the first time.
Very Cosmopolitan
Logicdata was back with a refined Cosmo adjustable base line. The Cosmo Vienna Luxe ($1,199), pictured, offers the most bells and whistles, with massage, Bluetooth connectivity, nightstand reach, UBS ports and underbed lighting. Others in the line include the
Vienna ($999), Austin ($999), Sydney Comfort ($999) and Sydney ($799). All features come pre-attached and maintain Logicdata's commitment to keep its bases compact, shippable and easy to assemble. "All you need is an Allen wrench," said Dexter Weber, president of the North American unit, with headquarters in Grand Rapids, Michigan. "We keep it simple."
Strike a Pose
The high-fashion Kingsdown window attracted a lot of interest. "It's all about upping the 'wow' factor in our showroom and in the stores," Chair Mike James has said. The Mebane, North Carolina-based company updated its Insignia hybrid with fresh new designs and more fashionable top fabrics, and the Prime collection's borders now reveal a unique fashion-centric color scheme.
Nationwide and Hybrid-Filled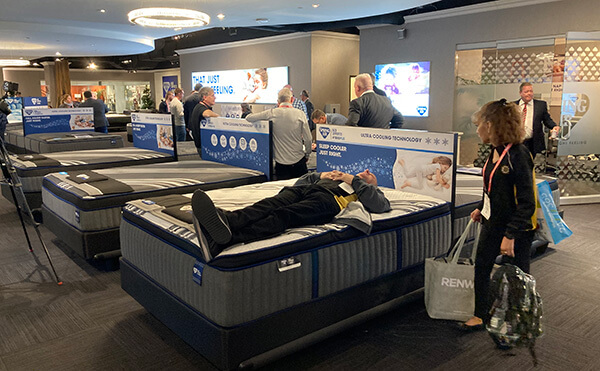 Woburn, Massachusetts-based Spring Air International hit a grand slam at the Winter Las Vegas Market, introducing not one but three new collections: the eight-bed Back Supporter Hybrid Plus line, the three-bed Grand Hybrid collection with cooling benefits, and Last Mattress by Spring Air, designed for consumers looking for ultra-durable mattresses. "But the biggest headline for us is that we have full national coverage through 13 licensees. It means never having to turn a customer away because we're not in that area," said Spring Air President Nick Bates. "We have full national coverage for the first time in 14 years of showing up to Las Vegas, and we're a united licensing company."
Give Me a V
Princeton, New Jersey-based Therapedic International offered something new in its Sustaina and Agility lines. V-Coil technology is a series of pocketed coils that are put together at an angle, so that it looks like a V. "The triangle is the strongest geometric shape," said Chad Antimori, general manager of Future Coil, which holds the rights to the technology. "It also uses less material, improves strength and durability, and increases airflow." The configuration also weighs 14% less than comparable units, he said.
Best of Both Worlds
Diamond Mattress got a good stretch at the market. With 50% more showroom space, the Rancho Dominguez, California-based company brought more models to the floor, including new boxed beds, natural collections and its Technogel mattresses. Diamond introduced two boxed bed versions of the original Technogel mattress, which include patented cooling gel technology. Retailing for $3,299, it was the hit of the market, said Trina Solomon, marketing director.
Something Cool is Coming
Casper is moving into new territory this spring with its Casper Snow mattress. The $1,995 bed features a cooling cover, Airscape foam with phase-change material and Heatdelete bands to keep sleepers cool all night long, said Emilie Arel, president and CEO of the New York-based omnichannel producer and retailer. The heat is pushed to the side of the mattress and out. "Our technology is incredible," she said. The company also showcased its $995 Casper mattress and its Casper Hybrid, which now retails for $1,495. "These are the right step-up stories for the RSAs," Arel said.
A New Adjustment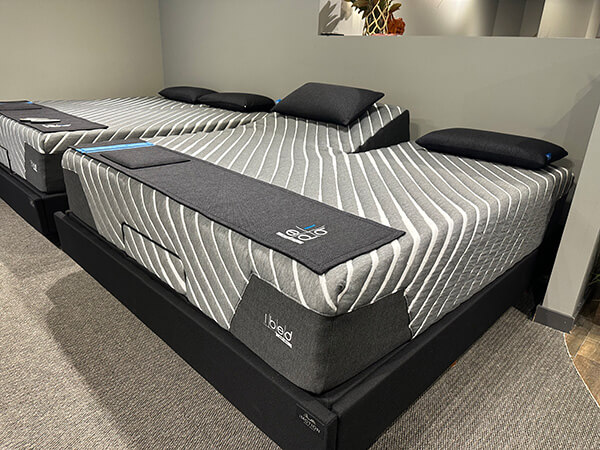 Hybrid is a hot word in bedding these days and King Koil has embraced it with a four-model ibed collection. The hybrid split-head mattresses offer a full perimeter coil system and a dark, striped cover with graphite ticking. The line starts at $1,499 and tops out at $1,799. The Avondale, Arizona-based company also showed its new five-bed, all-foam Signature Luxe collection, aimed at younger consumers and priced from $1,000 to $1,799.
Even Cooler
Buyers in the Tempur Sealy International showroom experienced the new Tempur-Breeze collection from within soothing sleep pods (shown). The new line features the company's most cooling technology to date. In addition, the company launched new Tempur-Ergo bases with advanced ergonomics and a zero-gravity setting. Relaxation features include soothing massage, and an app provides personalized sleep coaching. "This is an incredibly exciting market for Tempur-Pedic," said Jill Johnson, vice president of Tempur-Pedic. "We're really homing in on how we provide consumers better sleep by solving for the biggest sleep disturbances. The Breeze collection is all about sleeping hot. The new Luxe Breeze specifically sleeps 10 degrees cooler all night long."
From Online-Only to Bricks and Mortar
During market, Brooklyn-Helix announced a new Helix retail wholesale program — more big news coming on the heels of introducing a new corporate identity, 3Z Brands, headquartered in Arizona and New York, and the acquisition of Nolah Sleep. "Our goal at 3Z Brands is to be a one-stop shop for retailers, and it's those capabilities that we're showcasing at market this year," said John Merwin, CEO of 3Z Brands. "We've moved into this new, larger showroom to accommodate and showcase our many offerings, which include Helix Sleep, Birch, Bear Mattress, Infinity and our 40 Winks wholesale line."
Trifecta of Value — and Cooling
Restonic rolled out three new items: the Scott Living Anniversary collection, the HealthRest line and an 85th Anniversary special purchase ($799 retail). "The product that we've introduced hits the value price point. … It's what we call the 'meat and potatoes,'" said Laurie Tokarz, president of the Buffalo, New York-based company. While all three collections were well-received, Tokarz emphasized the HealthRest line with cooling TempaGel memory foam. "We've made it a very cooling story; it has phase change in the fabric but underneath it, we've added an additional layer of phase change," she said. "So, when you get into bed, it helps you fall asleep. But the phase change and the contouring of the memory foam help you stay asleep longer." Retails range from $999 to $1,699.
Immersive Experience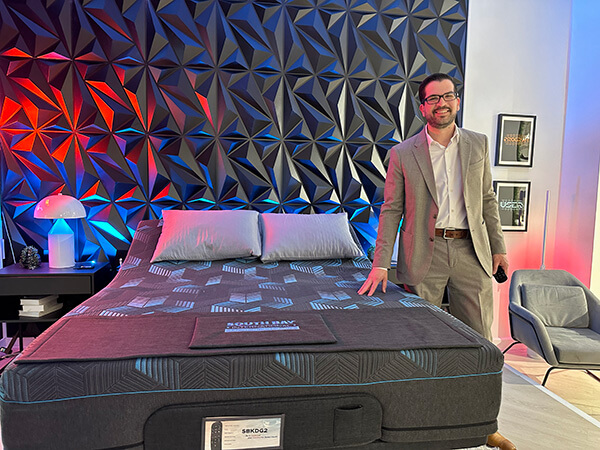 Rancho Cucamonga, California-based South Bay International had a lot to highlight in its showroom, but this Tron-themed bed, shown with CEO Toby Konetzny, might have been the most fun. Featuring 5-pound memory foam for durability, the 12-inch hybrid Quorra mattress is placed on a South Bay base with a ButtKicker to bolted the frame. Typically used for gaming, ButtKicker uses sound and vibrations to simulate the feel of what the user is watching or playing. Watching TV in bed may never be the same.
The Total Package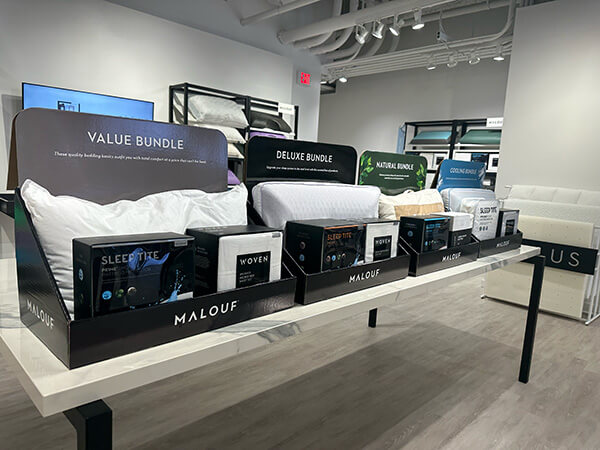 To make accessories sales easier, Malouf created bedding bundles — a display that pulls together three products that might interest the consumer. For example, retailers can put a cooling, natural, value or deluxe bundle — customized to whatever the retailer carries — on a nightstand or near the end of a mattress. "It helps support better cross-selling, increases your average order value, and just makes a more seamless process for the RSA," said Rebecca Lord, marketing specialist. The Logan, Utah-based company also featured its new Shoulder Zoned Gel Active Dough pillow, which retails for $85, and its updated S755 adjustable base. In addition to its new dark charcoal coloring, the base offers a slimmer deck, quieter motor and higher weight capacity. Suggested retail is $2,000.
In a Word: Pure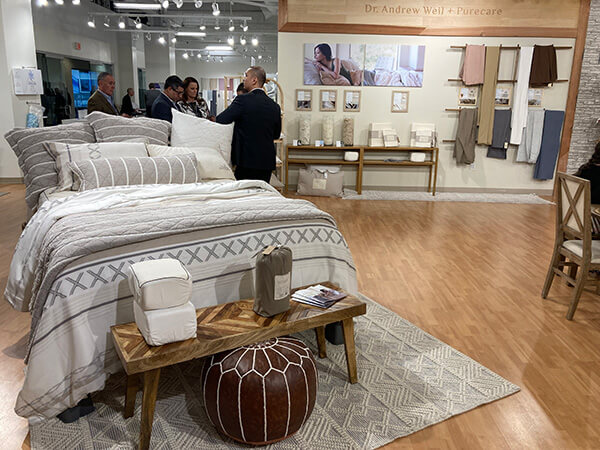 Purecare unveiled its exclusive bedding collection with Dr. Andrew Weil, known for establishing the first integrative medicine program at the University of Arizona in 1994. The collection spans mattress protectors, pillows, sheets, quilts, coverlets, and duvet covers and inserts — all in natural materials such as kapok, merino wool, goose down, hemp and Fairtrade cotton. "I think the products are beautiful, and I know how they're made, and I've started to use them," Weil said. "I love the hemp sheets. I think they're terrific. I love the earth colors. And I'm sleeping on the kapok latex pillow."
A Healthy Split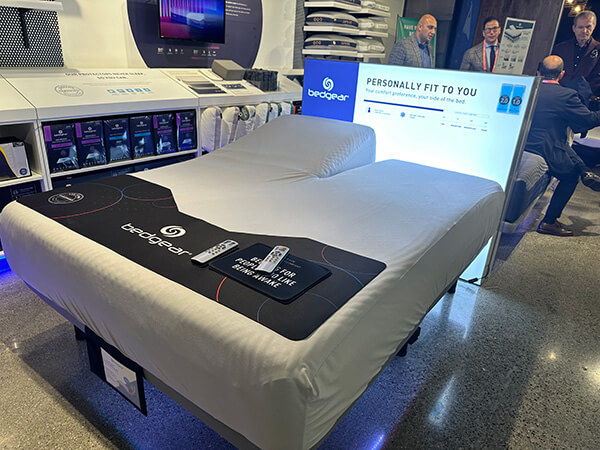 Bedgear wants to help sleepers get comfortable. To do that the Farmingdale, New York-based company debuted a split-queen mattress and base. Each side can be customized to the consumer's preference and is topped with a cooling cover and contains layers that promote airflow. The mattress retails for $2,999 and the base retails for $2,500.