It's been a minute since we've brought you a best-of Retail Road Trip story. Every few years, we like to revisit some of the retailers that have graced our pages and remind ourselves what they're doing well. From small, single-unit sleep shops to omnichannel retailers to full-line mattress stores, each retailer has best practices to share that may translate well to your store and your customers. See what inspires you. 
Offer that personal touch
In a world where just about anything can be purchased on a smartphone, savvy retailers can offer something unique — themselves.
Tom Wholley, founder and owner of Connecticut Mattress by Tom Wholley, isn't shy about being the face of his business. His picture is on placards inside the store, and he and his wife, Kathy, promote the store in straightforward TV commercials and ads. With more than 45 years of mattress retail experience, he knows his stuff, and consumers reward him with repeat business and referrals.
When the store's delivery team delivers a mattress, they place thank-you cards on the mattresses in customers' homes and include a box of Munson's Chocolates, a premium chocolate maker founded in nearby Manchester, Connecticut.
In North Carolina, Fred's Beds draws attention with its fun name. Founder Frank Stansbury picked up the name from a real estate class that used a hypothetical couple named Fred and Eunice to illustrate various scenarios. He and his wife, Beth, started jokingly referring to themselves as Fred and Eunice. When it came time to name their store, they decided Fred's Beds had a nice ring to it.
"You would be surprised how many people come in and say, 'I went to high school with Fred,'" says Lisa Stansbury Humphrey, Frank's daughter, who now leads the company. While customers may not know Frank, they feel as if they do and that's the kind of environment Fred's Beds strives to cultivate.
Factory-direct L&W Bedding in the Quad Cities corner of Iowa and Illinois has found its groove in offering two-sided, customizable mattresses. "We do things the old-fashioned way and that resonates with our customers," says John Wheatley, founder. And that includes customer service. "We are a mom-and-pop shop so we deal directly with any potential problems. We deal with the customer directly."

Avoid hovering
It's a tricky balance — retail sales associates need to engage with consumers to help them find their ideal mattresses but also know when to step away.
The Mattress Store in Annapolis, Maryland, stresses a no-pressure sales environment. With an all-female sales staff, the retailer promises professional and courteous assistance with "absolutely no high-pressure sales tactics," says Margaret Wright, store owner.
They do their best to make customers feel right at home. "When you visit our showrooms, you will notice a quiet and relaxing atmosphere, making your shopping experience more like taking a nap at your best friend's house," the retailer says online. "Noise and distractions are kept to a minimum because it's always naptime at the Mattress Store."
Chesapeake, Virginia-based Esprit Decor employs a similar methodology. "I leave shoppers alone to lie on the beds," says Beth Keenehan, president.
"I tell them I'll be back. I will not stare at them while they are trying the beds."
Her brother, Ricky Christian, agrees. "I just listen to the customers and see what they want. We are here to guide them. This is relationship selling."
For The Original Mattress Factory, the sales process is consultative, low-pressure and focused on educating shoppers about mattresses. "Our repeat and referral business is so high because our no-pressure approach makes people feel comfortable," says Kristen Hastings, director of corporate marketing for the Cleveland-based company.
Typically, the company's RSAs give an overview of the company's four mattress lines and use the Mattress 101 display to explain its manufacturing process and use of quality components. Then they'll turn to finding customers' comfort preferences, typically using a medium-soft and a medium-firm mattress as initial rest-testing models. But each sales conversation is unique and driven by the customer.
"We want our people to be dynamic, to think on their feet and to take their cues from the customer," says David Phillips, a sales and marketing partner.
Independent factory direct Fox Mattress in Holly Hill, Florida, understands the value of a laid-back approach. "We try to keep things light," Chelsea Carter says. "A lot of people dread mattress buying. We try to make the experience enjoyable."

Make your space unique
At the end of 2022, Minneapolis-based Sleep Number redesigned its showrooms to amplify the shopper experience. Consumers can see, hear and feel a Sleep Number mattress adjust their body, and in a 360 Smartbed, they can feel the bed warming their feet.
In addition to digital screens sprinkled through the store, shoppers also find QR codes that direct them to additional interactive experiences on SleepNumber.com. One QR code takes them to the PillowFit Quiz, while another opens a Bedding Visualization Tool, which allows customers to pick the color and design of their bedding.
The vibe is immersive and multisensory.
"We are leveraging the strength of human, physical and digital experiences to individualize the customer journey," says Angela Gearhart, vice president of connected brand experience at Sleep Number.
Sleepland, the bedding gallery of High Point, North Carolina's Furnitureland South, engages consumers, too. Open sight lines give shoppers a look at mattresses, just waiting to be discovered. Kiosks let shoppers experience key brands. And dramatic accessories, including large geodes at the entrances to the gallery, catch the eye.
All of these enticements to shop unfold in a department designed to offer the excitement of an Apple store, packed with new bedding technologies, says Becky Greene, executive director of merchandising.
"Shopping for a mattress historically is not sexy or fun," she says. "We want our customers to experience something fun. They are not just being sold a price point. I want shopping to feel like going to Disney World."
Sleepland's colors also summon the energy of the night sky, bursting with purples, oranges and charcoals.
"Spalike settings can be boring and sleepy," Greene says. "We wanted our department to be more passionate. We are suggesting exploration and discovery — a brave new world."
Speaking of brave new worlds, Green Front Furniture in Farmville, Virginia, makes sure its consumers know they're in for a treat when they visit the 13-building site.
"Shopping at Green Front Furniture is an unforgettable experience," the retailer says on its website. "It has more in common with a scavenger hunt at the Smithsonian than it does with the typical trip to the local furniture store."
While the bedding department used to be located in a basement, it now holds main floor space in Building 8. The sleep space stands out with a well-worn natural wood floor, big windows that bathe the room with natural light, painted white walls and exposed beams in the ceiling. The room feels comfortable and inviting, and it lets the mattresses take center stage while sleep quotes adorn the walls.
But stores don't have to be large or immersive to be memorable. Square Deal Mattress Factory in Chico, California, covers about 2,000 square feet and displays about 40 mattresses. But it's the atmosphere that matters to consumers.
"We had an employee go shop our competition and she was amazed at how much better our showroom looks than others," says Jessica Lash, secretary of the family-owned company. "Here, it's like coming home. It's not sterile with a bunch of plain mattresses and bright lights. It's homey and classic."
Have fun
Square Deal is run by CEO Richard Lash and his daughters Jessica Lash and Jamie Anderson, chief financial officer. They keep their tone light, frequently making little jokes, especially about the company's name. They say it's important that they give customers "the square deal promised" by its name. "Well, I guess because it's a mattress it's more of a rectangle deal, but our mattresses are the real deal," Jamie says, joking.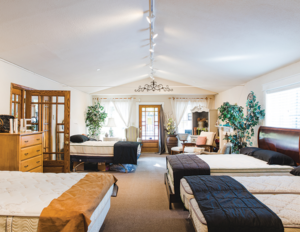 Fun is part of the equation at Sweet Dreams Mattress & Furniture, located in the Lake Norman area of North Carolina.
They're not afraid to make jokes about "bootylicious" sofas and sectionals in commercials. And then there's Mattman, a mattress-wearing sleep superhero, who is the alter ego of store manager Andrew Schlesser. He makes appearances in the stores, especially when kids snore three times, and takes on these arch nemeses: The Sleeping Bandit, Miss Information, the Caffeine Chameleon and Tyrano-Snore-Us-Rex, the King of the Dino-Snores.
They also list employees' theme songs online. They look for employees who "work hard, play hard, serve others," co-owner Greg Law says.
Remember why you do what you do
Broad River Retail, an Ashley licensee in North Carolina and Georgia, calls its RSAs Memory Makers. Much like Disney has its cast members, Broad River uses Memory Makers to serve their guests. As company officials say, Broad River is not just selling furniture and mattresses; it's enriching the lives of its customers with home furnishings that will generate memories for them and their families.
Chelsea Carter with Fox Mattress finds purpose and meaning in retail. "I like to be in the retail setting and enjoy working with people," she says. "I have a degree in social work and worked with elderly populations, but I feel like I do more social work now than when I was working in a nursing home. I always wanted to help people, and now I help people get a better night's sleep."
Tom Wholley of Connecticut Mattress might have said it best: "For me, it's not really about selling a set of bedding. There's no better feeling in the world than helping someone find the right mattress, the mattress that will provide years of healthful, energizing sleep."