From the earliest iterations of sleep products to now, innovation is the cornerstone of the industry.
Every night, we fall asleep on mattresses, rest our heads on pillows and cover ourselves with some combination of sheets, blankets and comforters. But do you know the origins of those items? I didn't until the other day, when out of curiosity, I decided to do some Googling.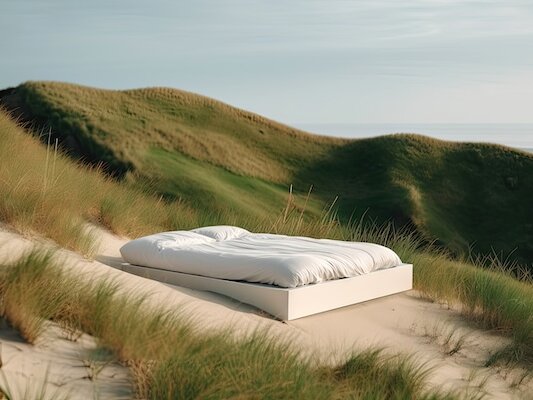 I learned that in 2011, archaeologists unearthed the oldest known mattress in the world at the Sibidu Cave site in KwaZulu-Natal in South Africa. According to National Geographic, it was made approximately 77,000 years ago. Designed to hold an entire family, its base layers of reeds and rushes measure 1 foot in height and 22 feet in length.
Pillows wouldn't come along until much later, with the earliest versions recorded in approximately 7000 B.C.E. in Mesopotamia. Made of stone (ouch!) and carved into a cradlelike shape designed to elevate people's heads off the ground, only the wealthiest could afford them. We can thank ancient Greeks and Romans for creating fluffier versions, more closely resembling what we're used to, made from cotton, straw or reeds.
Rashid Sab-Anah invented the first flat sheet in the year 1000 A.D. in Cairo using thick yarn crafted from flax plants. But it wasn't until 1957 that an American, Bertha Berman, filed a patent for its mate, the top sheet. It's funny to think that the bedding industry — which, according to Grand View Research, is worth approximately $95 billion annually — began thousands of years ago with such simple designs.
Fast forward to now, and today's sleep products are downright luxurious, as showcased in our product spotlight. And the word "phygital" (coined by Australia-based ad agency Momentum Worldwide in 2007) has entered our lexicon. This month's Tip Sheet by Julie A. Palm highlights how retailers are bridging the gap between the physical and digital worlds to create distinctive shopping experiences. Another sign of the future? Consumers can purchase products directly from social media platforms. Our social commerce feature on highlights the importance of a robust social selling strategy and ways to convert views into sales. However, traditional sales channels, like trade shows, are still important. You'll find our recap of the October edition of High Point Market in High Point, North Carolina.
It's incredible to witness the ongoing innovations and creativity in this industry. I think we can all agree that no matter our personal preferences — plush or firm mattresses, memory foam or polyfill pillows — we've come a long way in comfort and convenience from those early days of reeds and stones. And for that, I think we can all share some gratitude. Speaking of gratitude, as we approach the holidays, I wanted to share how appreciative I am to work in this special industry and with such an incredible team of people. Even though I'm only a few months into my role, everyone has been so warm and welcoming.
I wish you and yours a healthy and happy holiday season filled with joy and laughter.
See you in 2024.