New products, upgrades and showroom swaps. The fall market did not disappoint, with bedding manufacturers reporting positive results.
The temperatures dipped, the leaves began to change, and the High Point Market blew in on a fall breeze, Oct. 14-18, with some scattered showers on the first day.
Despite the rainy weather, attendees swirled in with their umbrellas on Saturday and continued streaming through on Tuesday before the official closing day on Wednesday. While it sometimes didn't feel as busy as previous fall markets, most bedding exhibitors seemed happy with the level of business and reported good attendance overall.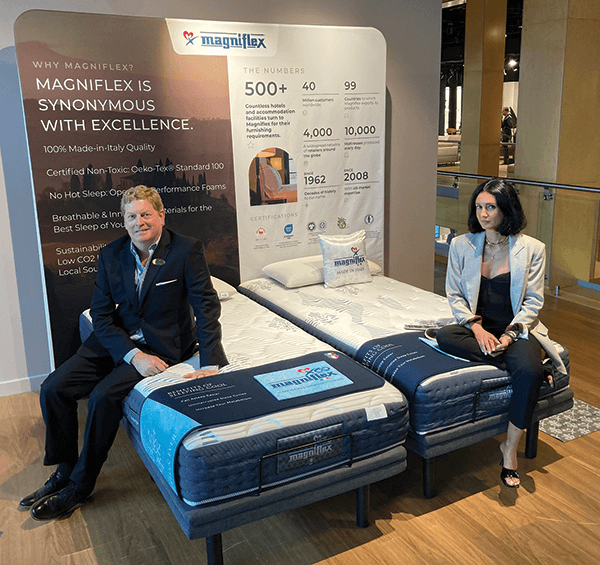 "We felt this was a fantastic market for us," said Bradley Rogers, senior vice president of Ashley Bedding, headquartered in Arcadia, Wisconsin. "The mood of the buyers was great because of what they were seeing in our showroom. The traffic was steady, and those that were here, were buying."
Coming off its 20th anniversary celebration this year, Malouf also enjoyed an upbeat market.
"It's always great to connect with retailers in person," said Jesse Gibbs, vice president of national sales at the Logan, Utah-based company. "The steady foot traffic at High Point meant we could spend quality time strategizing and talking about expectations for the year. Overall, I believe people feel cautiously optimistic about 2024. Our aim is to make things easy for retailers and be the solid partner they're looking for."
At Norfolk, Virginia-based Paramount Sleep Co., premarket planning was important. "I am a true believer that market is what you make of it, and you can't let overall market traffic drive your performance," said Richard Fleck, president of Paramount. "The biggest challenge is traffic patterns and shifts in buyer behavior. There is no real market traffic pattern any longer that is dependable. Therefore, our team was there for seven days to capture early customers and late
market-ending customers."
Fleck reported a 25% increase in traffic over the 2022 fall High Point Market, with many top regionals, super regionals, independents and designers perusing the Paramount showroom. "The overall mood was challenging but cautiously optimistic," he said, echoing Gibbs.
In a showroom shake-up, Prato, Italy-based Magniflex moved from a space within Copeland Furniture to its own spot inside Casa Italia, formerly the Natuzzi building. "Our High Point Market experience turned out even better than we had anticipated," said Billy Curtright, national sales manager of the company, with U.S. headquarters in Miami. "It was a great move, and we are very excited about future markets in such a dynamic venue with other like-minded, Italian-based brands."
The new space just off the second-floor escalator allowed Magniflex to reach customers who may not have been familiar with the company, he said. It also afforded space for large-scale visuals and marketing materials to create a complete brand experience.
"The end result is that we experienced steady traffic throughout the market, opening several new galleries with new accounts," Curtright said. "It was an exceptionally upbeat and exciting time for us."
Istanbul-based Yatas Bedding also cut the ribbon on a new showroom in the International Home Furnishings Center adjacent to its sister division, Enza Home — the perfect space to debut its new smart line of mattresses in partnership with Sleep Nerdz. (Stay tuned for a "Take 5" video to see the new showroom and learn more about the Smart Recovery beds.)
Smart technology was just one of the many trends we observed at market. Prevailing themes included cooling elements, adjustable bases and sustainable materials. Keep reading to see some of what the fall High Point Market had to offer.
Luxury and sustainability
Paramount Sleep Co. debuted its Hypnos Whole Sleep collection and Arthur 9.0, the latest in the Paramount Legacy collection honoring Arthur Diamonstein, the company's late president and chair. The 9.0 stands for 90 years in business. "It took us awhile to get the product right, because this bed takes about three days to handcraft," said Richard Fleck, president of the Norfolk, Virginia-based company. The three-bed collection features a calico- encased coil unit, outer hand-tufting and an inner tufted mattress. In a nod to sustainability, the Hypnos Whole Sleep collection includes four cotton models and three wool models. Collaboratively engineered in England and manufactured in the United States, the new range is ethically handcrafted using all-natural materials.
Luxe for less
Shifman Mattress Co. expanded and refined its entry-level Quilted collection. The Pearl, an extra-firm model, is the latest entry in the line, priced at $2,399. Each hand-assembled bed features Belgian damask covers, an abundance of cotton and Shifman's signature double-sided construction. Starting at $699 and topping out at $2,999, the collection is designed to give retailers a good-better-best story on their floor. "The biggest misconception about Shifman is that we only offer $10,000 mattresses," said Alison Minella, marketing director of the Newark, New Jersey-based manufacturer. "When you're talking about true value, this line is it. We don't skimp on anything in this collection."
Based on improvements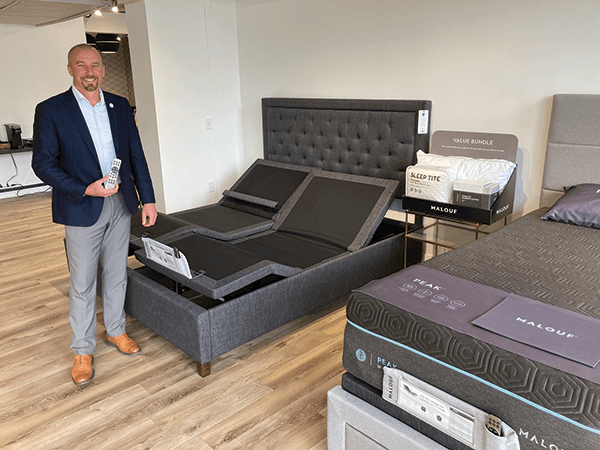 After introducing a new adjustable base at the January Las Vegas market, Malouf debuted the complete collection at High Point. The new line features a darker charcoal color for a sleeker look while also better matching the mattresses. The bases are lighter and more portable, with updated USB-A and USB-C ports. "We've improved a lot of the components, including higher lift capacity, quieter motors and a better frame design, which allow them to ship and deliver more easily," said Jesse Gibbs, vice president of national sales for the Logan, Utah-based company. The bases are now in warehouse and available to retailers.
As easy as 1, 2, 3
Bedding Industries of America rolled out a way to let consumers compare apples to apples, or rather, mattresses to mattresses. Called Your Comfort, the five-bed program allows consumers to try each mattress to determine their best feel. All the mattresses are the same, with the exception of foam firmness. Retailers are encouraged to ask customers to start in the middle, at bed No. 3, and then move up or down the line, depending on desired comfort. Once consumers figure out their number, they can look for other beds on the floor with the same number or they can stick with the mattress they just chose. "It's a game changer," said Steve Karns, vice president of sales. The mattresses retail between $2,499 and $2,999, depending on the retailer. The North Brunswick, New Jersey-based manufacturer also featured two additions to its Wellness collection — the Cosmopolitan, with 3 inches of latex, and the Copper Luxury, with a gel- and copper-infused viscoelastic foam incorporating phase change material and a cooling cover. Both retail for $1,999.
Home movies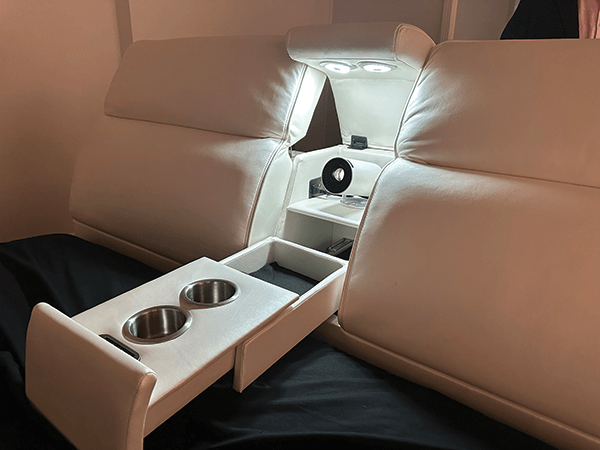 Luxfort Home has taken the concept of home theater to a whole new level. The High Point, North Carolina-based producer of upholstered beds and seating debuted four new Power Beds in casual contemporary styles. The Theater Bed, pictured, comes with a built-in projector and Bluetooth audio that the consumer can sync together, creating a surround-sound experience. Suggested retail ranges from $1,299 to $1,499, depending on the accessories included.
Getting smarter
Yatas Bedding not only celebrated a new showroom in the International Home Furnishings Center, the Istanbul-based company also introduced a line of smart mattresses in partnership with Sleep Nerdz, based in Cave Creek, Arizona. Thanks to a Smart Recovery app, the smartbeds can collect and analyze data, including average heart rate, respiratory rate, sleep duration and sleep depth. Sleepers can also wear a smart ring that constantly communicates with the app. "We're getting real data to understand how you're sleeping so that we can understand what your recovery is like," said Andrew Carrington, founder of Sleep Nerdz. "It's a percentage of how well you slept throughout the night." The goal is to track sleeping habits to understand how sleep affects overall health.
Just right
Bedgear showcased a Balance 3.X pillow for athletes and others who might want something larger to lay their heads on. Offered in either the cuddle curve or regular profile, the pillows feature an Air X gusset for airflow and Dri-Tec fabric for moisture wicking. The Farmingdale, New York-based bedding and sleep accessories producer also provides pillowcases with each model. Those come with Powerbands to grip the pillow and prevent sliding.
Bigger and better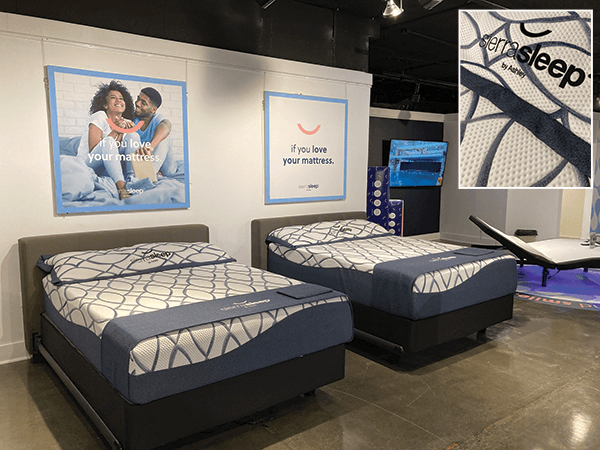 While Ashley Furniture introduced a mattress protector and pillows to its bedding program, the real market story for the Arcadia, Wisconsin-based company is more compelling: "We have totally revamped our mattress line and now, for the first time in 12 months, we have a complete line that's shipping," said Bradley Rogers, senior vice president of Ashley Bedding. "We're also focusing on new looks and getting our new marketing campaign out there, and everybody seems to be jumping on board. With raw material calming down a little bit, we've found that we're in a better position to add more value to the product, as opposed to just lowering price on existing product. … So, our value proposition is getting better and better with each new generation of product category."
Cool from within
New York-based Sleeptone introduced its Cool Control pillow, complete with Icetone fabric that's cool to the touch and Coldcore technology that cools from within. "It's unique in that it has a MaxCool side and a CozyCool side," said Chris Diolosa, wholesale sales specialist. "Technically, you can have a colder side and a cooler side." A removable Tencel cover makes cleaning easier, he said, and an Activent design absorbs and dissipates heat while improving air circulation. It's also available in a side-sleeper model. 
They've got your back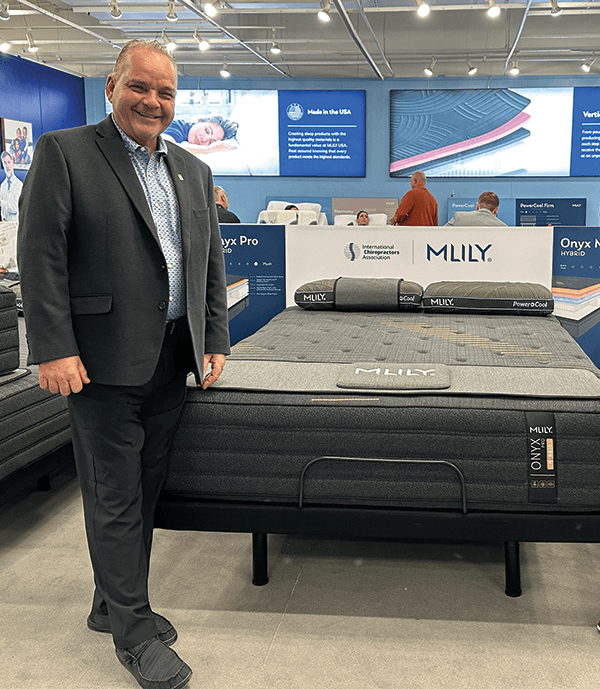 Mlily USA, headquartered in Knoxville, Tennessee, returned with its answer to the economic pressures of the past year. The three-bed Onyx line not only offers a good value, topping out at $999, but it has the seal of approval from the International Chiropractors Association. These beds, which start with an extra firm, have been tested extensively, said Glenn Kobylarczyk, executive vice president. While the beds debuted earlier this year, Mlily is delivering them to retailers now.