Sleep Savvy offers a retrospective of previous Retail Road Trips,
highlighting best practices and brilliant ideas — and providing
inspiration for the new year
It's no surprise that Sleep Savvy's most popular and longest running regular feature is the Retail Road Trip, which gives readers a glimpse into the strategies and practices of successful mattress retailers.
We all can learn from each other, and Sleep Savvy brings you lessons from every type of mattress retailer, from omnichannel pioneers to single-unit sleep shops to full-line furniture stores to large mattress chains. Here we've collected the best practices from retailers we've featured in the past two years. How many do you incorporate into your business? Where could you do better? What can you do differently? We want 2019 to be your most successful year to date and guarantee you'll find inspiration within these pages.
1.

Treat customers as guests or, even better, friends
The process of wowing shoppers in-store starts with making them feel welcomed and valued.
Although Nest Bedding's sales online outpace those in-store, founder Joe Alexander believes brick-and-mortar offers something people crave that e-commerce can't replicate — human connection — and he's rapidly expanding across the country the number of physical Nest Bedding locations. In our profile of the Albany, California-based company in April 2017, we mentioned Alexander's book, "Retail Relationships." In it he writes, "For many, shopping is the only time in their day they get to physically talk with other people outside their workspace. Thus we, who work in sales — in particular, retail sales — have the opportunity to take full advantage of this situation and make a friend of our customers. And trust me, it's much easier to make a sale when your customer sees you as a friend, not a salesperson."
Nest makes in-store shopping easy for its friends: Stores are small, with a tightly edited product selection so as not to overwhelm shoppers, and retail sales associates are hired more for their friendliness than their sales experience. "I'd rather hire nice people and teach them how to sell than try to hire a veteran salesperson and teach them to be nice," Alexander said.
Nice folks that they are, Kara and Ron Shovlin, the husband-and-wife team at Shovlin Mattress Factory, a factory-direct manufacturer and retailer in Fanwood, New Jersey, strive to be gracious hosts to their shoppers. "When they come in, we treat them as if they're walking into our home. We ask if we can take their coat, if they'd like something to drink," Ron Shovlin told us in July/August 2018. "We treat them as a potential friend, not a potential sale."
Michael Alan Furniture & Design in Lake Havasu City, Arizona, tells its customers how important they are from the get-go with a sign above the entry that says: "Through these doors walk the greatest people … our customers." As we noted in our March 2017 profile, the retailer steps it up from there, with a director of first impressions who greets shoppers, offering them freshly baked cookies, even wine or beer, before setting them up with an RSA/designer to help them shop. The company's annual anniversary gala, one of several parties it hosts each year, draws as many as 500 customers, who line up outside before being cheered and greeted by staff as they come through the door.
2.
Tout your expertise
Mattress retailers thriving today know a warm welcome is just the beginning. The next step is giving shoppers a compelling reason to buy: Successful retailers offer expertise in sleep and sleep products that consumers can't find elsewhere.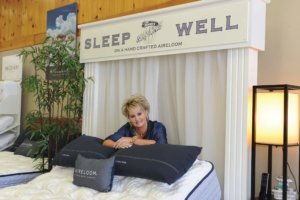 Jennifer Rudick, owner, president and chief executive of Moore's Sleep World, a small sleep shop chain based in Eureka, California, prints "Mattress Expert" on her RSAs' name tags and she expects them to live up to the title. The sales process in her stores includes consumer education about the benefits of specific mattress features but also the importance of supportive bed frames and mattress protectors to keep warranties valid and the value of rotating mattresses and foundations to extend their lives. "So, you're building a ticket, but you're also educating people," she told us in May/June 2018.
So confident is Ron Shovlin that his team has the knowledge and experience to help shoppers find the right mattress, "if someone says they're just looking or want to shop around, we encourage them to see what else is out there," he said. "I'll tell them, 'If you see something at another store you don't understand or have a question about, give us a call and I'll explain it.' " The attitude works, with about 80% of store browsers turning into buyers.
3.
Offer a distinguishing brand
With consolidation at both the manufacturing and retail levels, a lot of brick-and-mortar mattress sellers are carrying the same few mattress brands, leaving consumers with limited options and predisposing them to price-driven purchases. If you partner with a mattress manufacturer to create an exclusive private-label brand, you distinguish yourself and, as a practical matter, can offer constructions, features or price points your other vendors may not provide.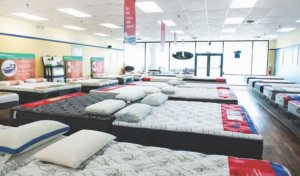 Mark's Mattress Outlet, an Evansville, Indiana-based chain with stores in Indiana, Kentucky and Tennessee, launched its Sleep Natural brand in 2011 and grew it into a full line of mattresses and sleep accessories, including adjustable bases and pillows. The line began with an imported boxed bed but today the complete range of mattresses is made at the retailer's own factory and at contract producers in the Midwest. When we talked to Mark Hisle, founder and president, for the September 2018 Retail Road Trip, he described the line as "the best Tempur-Pedic alternative." "When compared side by side, we believe it's a better build, and for up to 50% less," he said.
Rotmans, a furniture and mattress retailer in Worcester, Massachusetts, offers its own Evaya brand, a mattress collection featuring latex and hybrid latex mattresses with allergy-free and environmentally friendly components. The line represents a relatively small portion of overall sales but meets a specific consumer demand. "Our customers increasingly want natural, sustainable, allergy-free furnishings for their homes that are healthy, environmentally sustainable and safe," Steve Rotman, president and CEO, told us in September 2017.
4.

Sell them, dammit!!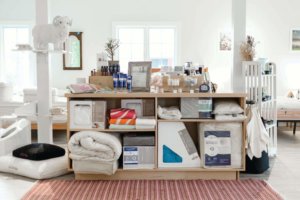 Please excuse the cursing (and double exclamation points, for that matter). Sleep Savvy feels strongly about this one. A complete sleep ensemble includes protectors, sheets, pillows and comforters/quilts/duvets. Consumers are going to buy those somewhere. We want them to buy from retailers who can help them build a suite of complementary products that reinforce the benefits of their mattress.
Tucked in Organics gets this, with about 30% of store sales coming from accessories and now has "people who come in just for accessories. It's also a good source of repeat business. They buy them for themselves and as gifts for others," said Emily Aborn, founder of the sleep shop in Amherst, New Hampshire, in November/December 2018.
Like many of our featured retailers, Michael Alan Furniture & Design, which has the adjacent America's Mattress franchise, uses an initial pillow fitting to educate shoppers about the importance of pillows and to introduce other accessories. "If they love the pillow, it's an easy way to transition to talk about a mattress protector that will protect their purchase and then we can move into sheets," sales manager Dave Williams told us. "If they sleep hot, we'll talk about how super-high-thread-count sheets can keep a mattress from breathing well and suggest better options. So, we'll do a whole pillow to mattress protector to sheet presentation. It's an easy transition."
5.
Advance adjustables
Selling adjustables boosts a retailer's average ticket — and, as important, helps people unwind and sleep better. As our Retail Road Trips have shown, retailers who have the greatest success with adjustables commit to the category, putting them under as many mattresses as possible, including them in every sales conversation and pricing them as part of a bed set.
When Sleep Savvy talked with Michael Alan Furniture & Design, the retailer recently had posted a month with a 70% attachment rate for adjustables. The key? A robust marketing effort and putting a power base under every mattress in the store so shoppers can feel — and not just imagine — how their chosen model is enhanced by the base's features. "Everyone comes in looking for a mattress, but what they often don't know is they can get an even better night's sleep with an adjustable base underneath it," Williams said.
Seeing adjustables in action is key. Trent Bedding, a sleep specialist based in Bowling Green, Kentucky, has an average attachment rate of 50% by following the same philosophy of putting a power base under every articulating mattress. The store also took space in the center of the city's largest enclosed mall to tease consumers with the display of a continuously moving base. Owner Trent Ranburger told Sleep Savvy in the October 2017 issue that Trent Bedding brochures and discount cards remind mall visitors where they can buy the product.
All Sleep, a sleep shop in South Windham, Connecticut, saw its adjustable base sales increase dramatically when Joshua Eves, then store manager and now owner, decided to make a seemingly simple change: flooring a king-size adjustable base. "I used to be happy to sell two (adjustable bases) a year," Eves told us in November/December 2017. "But that changed … when I decided to floor an adjustable base in king size so people could see how the sides worked independently. When we started, we sold six that month. Now we put them under as many beds as possible." Following another best practice of retailers with outstanding adjustable sales, All Sleep helps shoppers make the bases part of their buying equation by pricing every mattress with a box spring, a low-profile platform and a power base. Another pro tip: Keep a mattress or two in an articulated position to entice customers as soon as they walk in.
6.
Think inside the box
To satisfy consumers' curiosity about boxed beds, brick-and-mortar retailers are adding them to their own sales floors. "People are interested in the idea of a boxed bed, so I have one that they can test and feel," Eves said. "I think people feel better about beds they can touch." Boxed mattresses make a nice cash-and-carry business, too.
Mattress Depot USA, a Bellevue, Washington-based chain with more than 30 stores in Oregon and Washington, addressed the needs of the boxed-bed customer by asking two vendors — Lady Americana and Restonic — to construct new models retail priced under $500 that can be compressed, rolled and shipped in a box. Such beds can be promoted in-store or online for pickup at a Mattress Depot USA location or drop shipped to a customer's home. "Boxed-bed sales are disrupting for everybody," David Smith, founder and CEO, said in our January/February 2018 Retail Road Trip. "It's unclear what the direct impact will be but, for now, we needed some products that would appeal to this consumer."
7.
Harness the power of reviews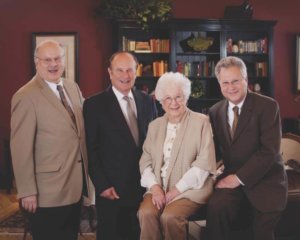 With so many consumers' path to purchase starting online, Rotmans knows a lot of negative comments can send a consumer looking elsewhere, so the retailer has invested heavily in monitoring and responding to comments across review sites and social media, including Google, Yelp and Facebook. "It's made a huge difference, and we now have one of the highest Google ratings for a furniture store," Rotman said. "… Some stores contend that 'the customer isn't always right.' But there is no such thing as a customer with a problem that we should not try to solve — it is our obligation, not theirs. We're going to fix it, even if we have to bend over backwards and take a loss on that sale."
Nest Bedding makes a habit of reposting positive comments about its products on social media. It's especially nice when the praise of a new Nest mattress ("We are absolutely loving it! Best sleep ever!") comes from someone like Ayesha Curry, an actress and cookbook author with a ginormous social media following. (Her husband, Golden State Warrior star Steph Curry, is pretty famous himself.) Nest builds word-of-mouth — and sells beds — using another creative tactic: providing beds to Airbnb "superhosts," who get a commission on all Nest products they sell.
8.
Cross-sell
For furniture retailers, department stores and other retailers who carry a wide variety of home furnishings, cross-selling categories maximizes sales. Rotmans logically houses its bedroom case goods and mattresses in a store-within-a-store, training its sales force to sell both.
Appliance Factory and Mattress Kingdom, which we profiled in March 2018, found it sold more mattresses when the retailer put them front and center in stores, near the registers. The Denver-based company requires RSAs to ask all shoppers about potential bedding needs and encourages people to take a rest-test, giving them a gift card toward a mattress or appliance purchase. If customers add a mattress to an appliance buy, they often receive a $300 in-store rebate off the price of the appliance.
9.
Deliver the goods
Trent Bedding owner Trent Ranburger got his start in the mattress business working a delivery truck, so it's no surprise that he views delivery as the final step of the sales process, not something distinct that happens later. And, most importantly, the delivery team creates the last impression a new customer has with the store. "Our guys will do whatever the customer needs. They set up the new bed, take out the old. If the customer needs a recliner moved to another room, they'll do that, too," Ranburger said. He also expects his delivery team to be uber-punctual (on time or, better yet, early) and exceedingly polite.
Moore's Sleep World actually uses its delivery team as sales support. The retailer stocks every truck with protectors and frames in all sizes, as well as box springs in two heights to ensure each mattress fits perfectly into customers' bedroom furniture.
If customers didn't buy a frame or protector earlier, the delivery team can remind them about the importance of those products and sell them on the spot, accepting either checks or credit cards. "It's not a high-pressure sale," Rudick said. "… Sometimes a customer doesn't know what kind of frame they have at home or realize the importance of a protector until they get the new bed home. We have them emphasize, like we do in the store, that we sell 'from the floor up' — everything they need for a
complete bed and a good night's sleep."
10.
Embrace evolution
Successful retailers aren't afraid of change, whether that's a gradual shift in merchandising or a restructuring of their business model. Not surprising given its moniker, the Appliance Factory started selling refrigerators, washing machines and ovens. As the 28th largest appliance dealer in the United States today, it still does a huge business in those products at its locations in Colorado, Indiana and Ohio. But nine years ago, the retailer added its first mattresses, and in 2014, changed its name to Appliance Factory and Mattress Kingdom to reflect the growing importance of the category to the company. "Appliances will always be where the vast majority of our sales come because that's the core of our business, but the expansion into mattresses has been a big plus for our profits because the margins are better," Ewing, founder, owner and CEO, told Sleep Savvy.
Mark's Mattress Outlet also has found success through evolution. The retailer began in 2005 as an outlet store selling mattress closeouts, overstocks and "opportunity buys," the favored term of founder Hisle. The retailer then grew into a sleep specialist selling its own brand and recently morphed again into a wholesaler, too, offering its Sleep Natural brand of mattresses and sleep accessories to other retailers.
Mattress Depot USA also got its start as a warehouse selling factory seconds, then transitioned into a sleep chain offering deeply discounted beds. But about six years ago, the retailer was frustrated by stagnant same-store sales and began adding more high-quality, brand-name mattresses. Since then, the chain has doubled its average ticket, which continues to climb, and closeouts now represent less than 10% of its business. "Back then … our motto was 'Stack them high and let them fly.' … Our customers now see us as the place to go for a large selection of high-quality mattresses — not just the lowest price," Smith said.
11.
Have fun. Seriously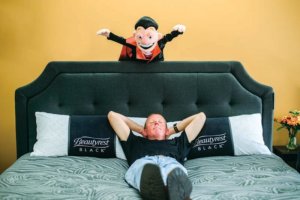 Advertising pioneer David Ogilvy said, "Where people aren't having any fun, they seldom produce good work." Successful retailers like Trent Bedding and Shovlin Mattress Factory prove this to be true.
When he opened his store, Ranburger made a few traditional mattress commercials but quickly abandoned the practice. "I wanted to be different," he said. So, he switched things up, dressing as characters (Uncle Sam, Fred Flintstone and Austin Powers, to name a few) to star in funny, attention-getting TV spots and social media videos. In 2017, Ranburger and his marketing team stepped it up, creating a new character — a custom-made puppet named Lil' Trent. Ranburger's sidekick is a versatile little dude, whether "helping out" in the store filling pillows or rapping along with Ranburger and his staff in the song, "It's Just Like…A Mattress Store."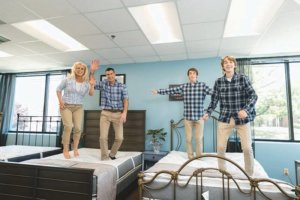 Kara and Ron Shovlin have had a little fun with the video camera themselves, creating a series of tongue-in-cheek marketing spots spoofing the "Fifty Shades of Grey" movies. To mark the release of each installment of their own trilogy — "50 Shades of Shovlin," "50 Shades Firmer" and "50 Shades Delivered" — the couple invited friends and customers to celebrate. "We had big, fun, sexy-themed parties at the store — maybe 120 people, catered with beer and wine and entertainment — each time a movie came out," Kara Shovlin told us. "…We like to have fun."
---
Just be you: Set Yourself Apart by Celebrating Your Uniqueness
In every Retail Road Trip, Sleep Savvy highlights the best practices of a retailer to showcase its success and provide lessons others can use to elevate their businesses. Along the way, we come across unique strategies that don't necessarily translate well.
Case in point: Mark's Mattress Outlet, a regional chain based in Evansville, Indiana, with stores in Indiana, Kentucky and Tennessee, converts nearly half its stores to fireworks stands for a couple of months each summer. It is not a business plan most MBA schools, or banks for that matter, would approve. But Mark Hisle, founder and president of the mattress chain, started out selling fireworks and has built a successful brand in that sector called RGS Brand Fireworks. As he told us in September 2018, there's no reason to change a dual retail strategy that's been lucrative.
Likewise, it doesn't make sense for most retailers to carry waterbeds, but All Sleep, which began as a waterbed specialist in the mid-1970s, continues to do a solid business in both waterbeds and their accessories. "They're fun to sell," Joshua Eves, then store manager and now owner, told us in November/December 2017. The retailer also makes traditional wood waterbed frames in a workshop in its warehouse—a sideline that has expanded to custom beds for people who need odd sizes.
We love the quirkier, yet successful practices of such retailers. We consider them "You Do You" approaches, and the lesson we hope other retailers take away is that they need to build authentic companies that make sense for them.
---
Hug Your Customers!
We don't advise every retailer to adopt a policy of hugging your customers, but if they return to your store with an urge to give you a thankful embrace, we consider it a sign you're doing something right. The staff at Michael Alan Furniture & Design in Lake Havasu City, Arizona, are "all huggers," owner Chris Cooley told us in March 2017, and that affection extends to longtime customers who are warmly welcomed back to the store, whether they're there to shop or for one of the retailer's many annual parties.
Shoppers at Tucked in Organics are taken with the Amherst, New Hampshire-based sleep shop's emphasis on natural mattresses and sleep accessories, personalized service and well-edited selection — and many are eager to show their appreciation.
"I love my customers," founder Emily Aborn told us in November/December 2018. "They often come in, give me a hug and tell me how well they are sleeping and how much they love their new bed."
---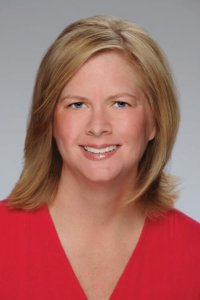 Julie A. Palm is chief wordsmith at Palm Ink LLC in Winston-Salem, North Carolina. She has 25 years of experience as a writer and editor for newspapers and magazines and as a publications director. She is a past editor in chief of both Sleep Savvy and BedTimes magazines. She can be reached at japalm623@gmail.com.