According to the 2023 National Consumer Rage Study (it says a lot that there is such a thing), customers are having more issues with products and services than ever. 74% of customers reported experiencing at least one issue in the past year. And customers are increasingly turning to social media and online reviews to post complaints. The study reveals that the average customer posts on social media 41 times "about their experiences with products or services." 69 is the average number of times per year customers use social media to view others' social media reviews and complaints, nearly double the average reported in 2020.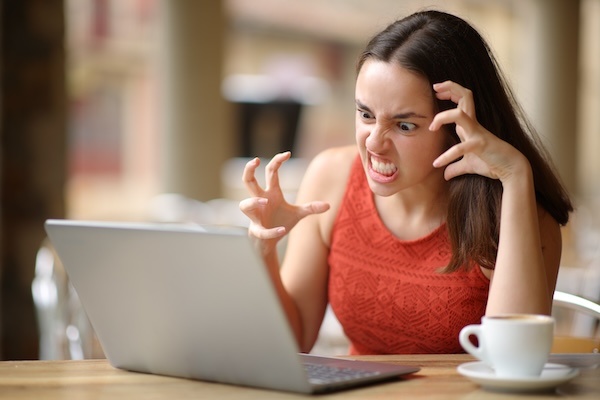 While the skills needed to deal with customer complaints on social media and online review sites don't differ from those required when speaking with customers in person or on the phone — you need to remain calm, polite and proactive, resolving the issue as quickly as possible.
What differs is that online criticism isn't so "in your face" — and you can miss it if you don't devote staff time to monitoring all the places where customers may complain and responding quickly to their issues. A study by Gartner revealed that companies that never respond to social media messages can experience a customer churn rate of up to 15%.
Customer Service and Social Listening
Mention, a social listening software company, revealed from a study of more than 35 million tweets on X (formerly known as Twitter), that only 9% directly tagged or mentioned the brands. Even if you're monitoring direct mentions and messages, it's important to stay abreast of all online conversations about your company, including indirect posts and mentions. If you haven't already, it might be time to adopt a social listening strategy by searching for your company or product names regularly, or better yet – using a social media listening tool like Sprout Social, Brandwatch or Mention to alert you to activity on Facebook, X and Instagram. From there, you decide if and how you want to engage in the conversation.
Complaints by the Numbers 
Number of complaints about mattresses* – 1,980
% of complaints settled – 86%
Industry ranking based on complaints – No. 120
Number of complaints about bed sales – 559
Industry ranking based on complaints about bed sales – No. 324
% of complaints settled – 96%
Number of complaints about adjustable beds – 80
% of complaints settled about adjustable beds– 96%
Industry ranking based on complaints about adjustable beds– No. 1,094
* Complaints about mattresses exclude complaints specifically about mattress cleaning, mattress renovation and mattress supplies, which are tallied separately by the Better Business Bureau.
Source: Better Business Bureau's inquiry and complaint statistics, sorted by industry, for the United States and Canada in 2022 (the most recent year available)
Words Matter
Saying the wrong thing can push a customer up the anger scale from annoyed to enraged. Retail sales associates, customer service representatives and others who regularly interact with customers should know the best dialogue for effective and pleasant service. A recent article by Gregory Ciotti for customer communications software Help Scout, outlines phrases to incorporate into your lexicon and others to avoid.
Here are some phrases to use:
"Happy to help!"
"I understand how (blank) that must be."
"As much as I'd love to help…"
"Great question! I'll find that out for you!"
"Nice to meet you!"
"Thank you for bringing this to our attention."
"I completely understand why you'd want that."
"I'd love to understand more about…"

Even though the below phrases may seem well-intentioned, they could further alienate customers due to their vague sentiments. Here are some phrases to stay away from:
"Our apologies for any inconvenience this may cause."

By the time a customer has started complaining, they're already inconvenienced. Eliminate this reductive phrase from your customer service playbook.

"Thank you for the feedback."

Instead of being vague, try thanking them for a specific aspect of their feedback so that they feel heard.

"Can I help you with anything else today?"

If you haven't yet resolved the issue with the customer, this question can make the customer feel as though their entire exchange has been a waste of time.
With so many channels to monitor, fielding customer feedback can seem overwhelming. But using the right phrases and implementing the right tools can help keep you – and your customers – happier.