Enthusiasm, traffic high as industry returns to more normal footing.
The mood of the recent High Point Market was, in one word, exuberant.
Bedding and sleep accessories producers praised a market that featured heartfelt handshakes, strong traffic, a selection of new products and, importantly, a level of enthusiasm not seen in recent years.
"This is the strongest post-Covid market," said Brad Rogers, senior vice president of bedding for Arcadia, Wisconsin-based Ashley Furniture. "We've been extremely busy. There is a lot of pent-up market fever. People want to get out. They want good things to happen, regardless of what is happening."
Other bedding exhibitors agreed with that assessment, describing the show as the strongest since Covid-19 hit the industry in 2020, and saying retail moods were positive, despite a business climate that still poses some challenges.
"Market has been amazing," said Richard Fleck, president of Norfolk, Virginia-based Paramount Sleep. "We keep building momentum. We always bring new ideas to market. We are here to be innovative. We had top 100 retailers coming through our space. They were very impressed with what we brought."
Bill Hammer, president of Newark, New Jersey-based Shifman Mattress Co., was also pleased with the market, the strongest High Point show in three years.
"The attitude is so positive," he said. "This is something we haven't felt in a long time. That's why we feel so good. Retailers were back in High Point and the industry is getting back to normal, whatever that is."
He said the industry has shaken off the fears that accompanied the onset of the Covid-19 pandemic.
"People were no longer afraid of talking to you," he said. "We are back open as a people and as an industry. That feels really good to me."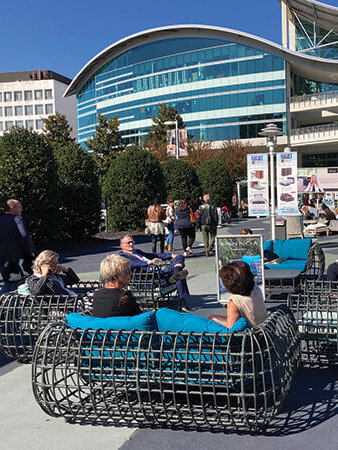 Also giving the October market a strong review was Eugene Alletto, chief executive officer of Bedgear, a bedding and sleep accessories producer based in Farmingdale, New York.
"This felt like the first time at a real market," he said. "I am blown away by how many people are shaking hands. There is a level of human interaction here I haven't seen in three years. We are getting back to what High Point has always been about."
Stuart Carlitz, president and CEO of North Brunswick, New Jersey-based Bedding Industries of America, also gave High Point an upbeat review.
"High Point turned out to be a great market for us," he said. "We had good traffic but, more importantly, quality customers who were in buying mode. Affordable luxury continues to be our category leader. The new models of the Ernest Hemingway collection, Eastman House Lifetime and Eclipse Glacier were incredibly well-received. The other superstar was the Eclipse Hope Collection. Every buyer who saw it, bought it, reacting positively to its design, price point and quality."
Mark Akerman, president of the Enso Sleep division of Asheboro, North Carolina-based Klaussner Furniture Industries, was busy in a showroom that hummed with twice as many appointments as one year ago. "Retailers are buying, and they are putting new bedding programs in place," he said.
Sleep Savvy highlights some of the notable introductions at High Point Market below.
Latex Luxe
"Affordable luxury" was one of the themes at Bedding Industries of America, the North Brunswick, New Jersey-based bedding producer, which added a new latex line to its growing product portfolio. The emBrace latex line features all-natural latex on high-resilience foams at prices from $1,499 to $1,899. The beds offer the feel of all-latex mattresses, said Stuart Carlitz, BIA's chief executive officer. "Latex is still strong in the market," he noted. The emBrace name is a nod to Knickerbocker's emBrace designer bed bases, which supported the emBrace beds in the showroom.
Adjustable-Base Friendly
Shifman Mattress Co. introduced a Modern Shifman Vintage line, in addition to expanding Shifman Vintage to four models (cushion firm, super firm and two pillow-tops). "This is most like the original Shifman from 100 years ago," said Bill Hammer, president of Shifman, based in Newark, New Jersey. "It has the tried-and-true techniques using very high natural content, primarily cotton. And they're two-sided mattresses that are hand-tufted." The new Modern Shifman line features the same sturdy construction, only with individually wrapped coils to allow for an adjustable base.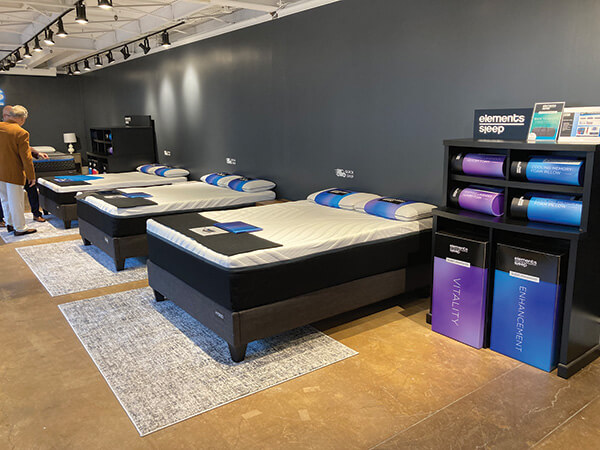 It's Elemental
To fill out its bedding line consisting of promotional and luxury mattresses, Elements International debuted a new midpriced premium collection of boxed beds — all hybrids. "For this market, we took the technology that we're using in our luxury line, and we put in a center zone of gel for the new premium line," said Dave Brummett, vice president of sales for the Mesquite, Texas-based company. "It has pocket coils underneath and it's conforming to your body." The new collection is available in 10-, 12- or 14-inch heights, and can be shipped anywhere in the country. Average retails are about $799, $999 and $1,199.
Rollin' Out the Dough
Thanks to the success of its six ActiveDough pillows — infused with lavender, peppermint, chamomile, CBD oil, bamboo charcoal and cooling gel — Malouf has added a seventh. The new Shoulder Zoned Gel ActiveDough pillow springs back like latex and conforms like memory foam. Designed for side sleepers, it features a shoulder cutout to better align the spine. "With a traditional pillow for side sleepers, there can be a void in support between your neck and your head," said Jesse Gibbs, vice president of national sales for the Logan, Utah-based company. "This new pillow pushes your head farther up onto the thicker part and gives you better support."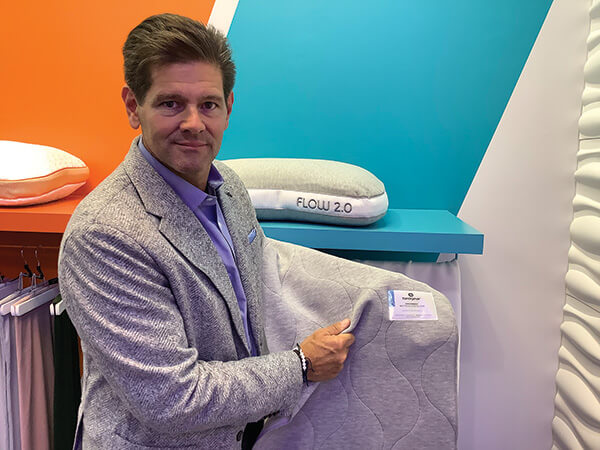 Accent on Airflow
Bedding and sleep accessories producer Bedgear touted a breathability story with new sleep accessories. The company rolled out its Air-X Performance mattress protector (displayed by Chief Executive Officer Eugene Alletto), which features a design that encloses a pocket of air for sleeping comfort throughout the night. The new Ver-Tex Performance mattress protector also incorporates breathable technology, as does the Dri-Tec Performance mattress protector, made with soft, breathable layers, and offered in a split-head king design. And new Hyper-Cotton Performance sheets also feature the split-head design, one that the Farmingdale, New York-based company says is gaining ground in the market.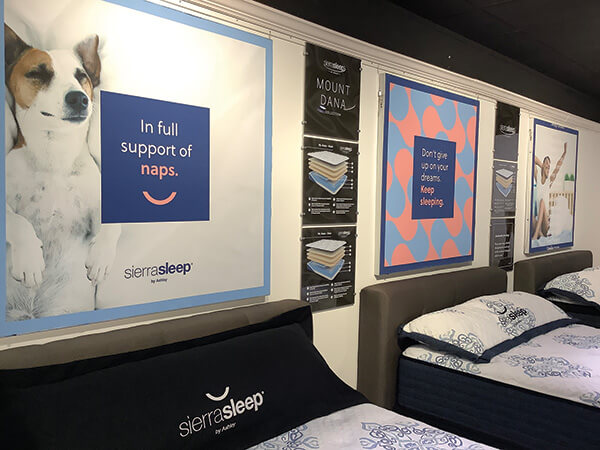 "Sleep Happy"
Ashley Furniture rolled out a new marketing program for its fast-growing Sierra Sleep by Ashley brand. It's one that features smiles on several messages, including "Sleep Happy" and "In Full Support of Naps." Another key message: "Don't Give Up on Your Dreams. Keep Sleeping." Brad Rogers, senior vice president of bedding for Arcadia, Wisconsin-based company, said the new marketing materials were designed to keep the company's bedding program on the ascent with an upbeat, fresh presentation. "Our new offerings from the last couple of markets are retailing extremely well," he said. "We've got lots of velocity in better products."
Sustainability Story
AW Industries dove deeper into its Silentnight Eco-Range collection. "We had three models at the April market. Now, based on market trends, obviously inflation and gas prices, we've introduced three new models," said Adrian Wertz, vice president of the company's retail channel. "We have a $1,299 euro-top and a $999 firm and plush." The Eco-Range line features cool-to-the-touch ChillSense fabric powered by Repreve technology — each queen bed set is made from 150 recycled bottles. "You're getting a sustainability story at the front end when you purchase the product," Wertz said. "And then if the mattress is taken to a mattress recycling center, almost all the components are recyclable." The Landover, Maryland-based company is a Silentnight licensee, debuting the bestselling British brand to U.S. retailers in 2020. (Shown: Paul Kahl, vice president of sales for AW Industries.)
Hybrid Value
Enso Sleep Systems, the bedding division of Klaussner Furniture Industries, based in Asheboro, North Carolina, is doing well with a value-packed line of hybrid mattresses made in North America. The good-better-best story spotlights three mattresses, with profiles ranging from 10 inches to 14 inches, retailing between $599 and $999. "This is a strong value proposition," said Mark Akerman, Enso's president. "Pound for pound and inch for inch, these are the best values in our line. This is a simple, understandable package." The ArcticTouch line features phase-change technology in the ticking.
Mr. D's Legacy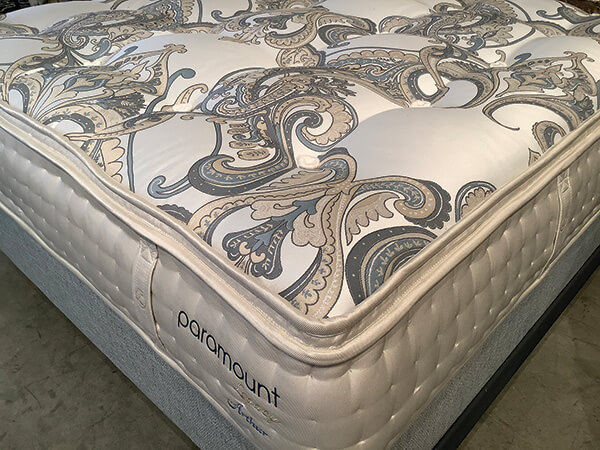 Norfolk, Virginia-based Paramount Sleep successfully introduced three Arthur beds, named for the late
Arthur Diamonstein, in the Legacy line. Retailing from $7,500 to $10,000, all feature "Arthur" embroidered on the border. The top model incorporates side stitching, a calico-encased coil unit, inner and outer hand-tufting, more than 50 pounds of natural cotton, a coconut fiber pad and exotic fibers, including horsetail and Joma and alpaca wools. The knit and damask fabrics covering the mattresses are inspired by 1930s art deco designs, and the mattresses are reminiscent of the luxury beds that would have been found at resort hotels on the Atlantic seaboard, said Richard Diamonstein, managing director.
Powerful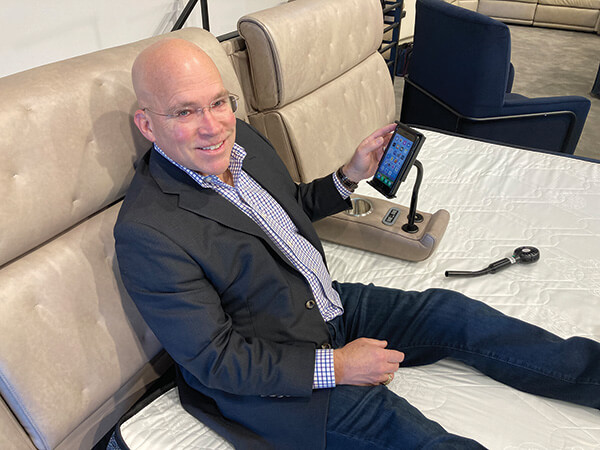 Built-in, power-adjustable headrests. A console with cupholders and power grommets to hold and power your cellphone or tablet. Bluetooth speakers that sync with your device, as well as LED-touch reading lights. No, it's not a motion sofa — it's a Power Bed by Luxfort Home. "We're adding long-past-due functionality to proven upholstered bed styles," said Lee Boone, president of the High Point, North Carolina-based company. "Everything you need for healthy neck support, relaxation, personal entertainment and communicating is right there in the bed." Available in a variety of cover options, including top-grain leathers and performance fabrics, Power Beds ship with an upholstered footboard, bed rails and a 14-slat mattress foundation. The starting price is $999.
Sweet Life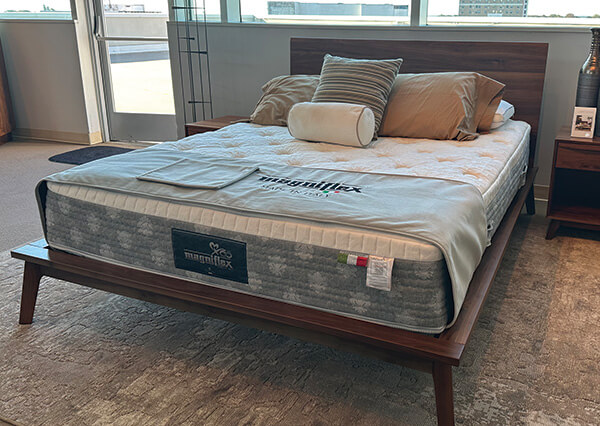 Prato, Italy-based bedding manufacturer Magniflex gave its Dolce Vita line a new look and feel and launched three new models — Dual 10, Dual 12 and Dual 14. "We found some of the most innovative fabrics and incorporated new quilting patterns to really enhance the design and create a more high-end look and Italian feel, with the benefits of Dual Core technology and supportive foams," said Billy Curtright, vice president of sales at Magniflex. The new models retail for $2,999, $3,199 and $3,999.
Boxed Bed Remedy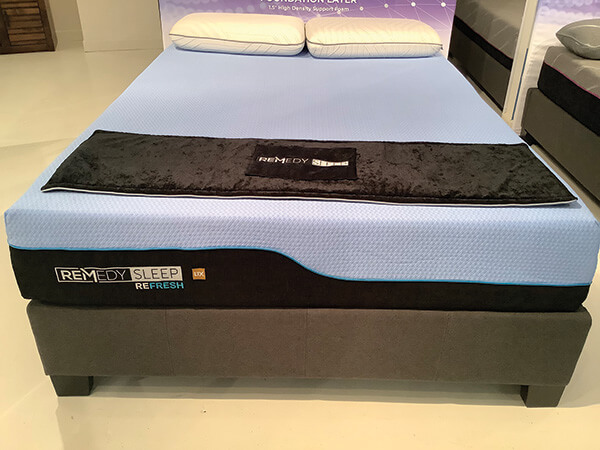 Remedy Sleep is a six-model line of boxed mattresses retailing from $599 to $1,699 that offers retailers the key features and benefits they need to boost their bedding volume, said Marty Melcher, vice president of sales for bedding at Legends Furniture, a case goods, upholstery and bedding producer based in Tolleson, Arizona. The line features copper-
infused technology and includes the Regen, an 8-inch model; Regen+, a 10-inch model; Refresh, an 11-inch hybrid; and Renew, an 11-inch foam core model. Refresh LTX, a 12-inch hybrid model, and Renew LTX, an 11-inch model, both feature a layer of Talalay latex.