NEWS RELEASE | VEGAS 2023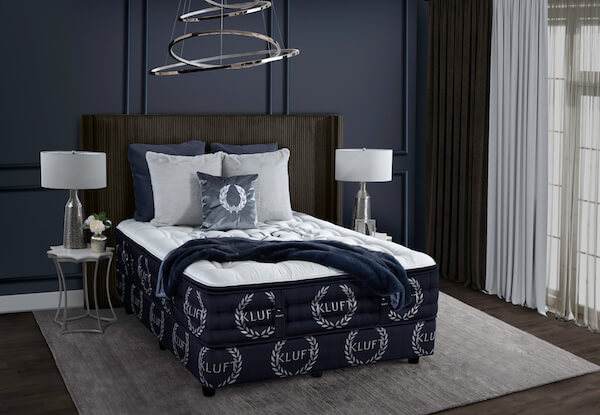 RANCHO CUCAMONGA, Calif. – Answering the continued demand for luxury bedding, E.S. Kluft & Company is introducing new ultra-premium collections under its Aireloom and Kluft brands at 2023 Winter Las Vegas Market.
The new products include a totally refreshed Aireloom Karpen Luxury collection, the most luxurious line under the Aireloom brand, the new Kluft Divine Luxe bed as well as a low profile beds line in the Kluft National collection. In addition, both Aireloom and Kluft will offer new pillows programs.
"We continue to hear that luxury bedding sales are going strong and outperforming the lower priced models," said Jon Stowe, managing director of E.S. Kluft & Company. "These new product additions allow us to strengthen our position as a leader in the premium market.
"And, while 2023 will likely be a challenging year for our industry, we are still planning for growth of our business," Stowe said. "We see three key drivers that will contribute to that growth: a continued interest in high value products, strengthening our business with our current retailers, and opening key new accounts in the U.S., Canada and export."
To further its commitment to providing best in class service and quality products to all its customers, E.S. Kluft opened its third U.S. factory in November 2022 with plans to ramp up production from the new Grand Prairie, Texas location in January of 2023.
At 2023 Winter Las Vegas Market, Jan. 29 – Feb. 2, E.S. Kluft will showcase its new and existing collections from the Kluft, Aireloom and Marshall Mattress brands in two showrooms at the World Market Center. The new Aireloom Karpen Luxury collection as well as the Aireloom Preferred, Pacific Palisades, Karpen Natural and Hybrid lines will be featured in showroom C-1501 and the Kluft and Marshall Mattress lines will be presented in showroom C-1562.
"Among our new 2023 models, Aireloom Karpen Luxury and Kluft Divine Luxe are the most luxurious we've ever introduced for each brand," said Magali Castillo, vice president of marketing for E.S. Kluft & Company. "These new lines provide our retailers with even more options for their most luxury-minded consumers and help us to be the brands of choice for our retailers and consequently for the end consumers when it comes to high end beds."
Aireloom Karpen Luxury
This new four-bed collection is the most luxurious for the Aireloom brand. It embodies the brand's high-end essence and attention to detail for the ultimate in comfort.
Rooted in the brand's 80-year legacy of meticulous design, the Karpen Luxury collection includes the brand's patented Aireloom Lift™, which features a natural chamber between the springs and the mattress top that allows every element to
breathe. When the chamber meets the layers of luxurious materials, the bed completely synchronizes with the user's body, providing a feeling of lift for the ultimate level of support and comfort.
Hand tufted, the Karpen Luxury models are handcrafted with the highest quality natural fibers, including cashmere, wool, silk, alpaca, and horsetail, as well as TerraPur™ latex and double layers of micro-coils. A cover made of luxurious Belgian Jacquard Damask completes the elegant look in this luxurious collection.
Karpen Luxury also offers an 8-way hand-tied foundation and the option for a luxury pad that features TerraPur™ Latex, wool, alpaca and cashmere fibers.
With different levels of firmness available, the collection is priced at retail from $8,999.99 to $10,999 (Queen size).
Aireloom Pillows Program
New queen and king size pillows, in both low and high profile versions, will be available in 2023. Suitable for all body types and sleeping positions, these pillows will feature a premium memory foam insert for the ultimate in support and comfort with a soft, moisture wicking and temperature regulating Tencel™ fiber cover.
Kluft Divine Luxe (National Collection)
The new Divine Luxe model completes the Kluft National Collection, introduced in 2021, as a masterpiece of the finest natural materials, traditional craftsmanship and meticulous attention to detail. Divine Luxe represents the most luxurious bed in the collection with all-natural materials and no polyurethane foams.
Featuring the patented Kluft Standard™construction, Divine Luxe is made-to-order, hand-tufted and handcrafted with the finest natural materials such as cashmere, wool, silk, organic cotton, alpaca, and horsetail, as well as TerraPur™ latex and high density latex encased perimeter support. Carefully hand side-stitched and with the exceptional support of the original patented Marshall Mattress pocketed coil system, this bed offers a plush feel for ultimate comfort and the pinnacle of divine luxury. An exquisite Belgian Jacquard Damask cover completes the elegant and sophisticated look.
An 8-way hand-tied foundation is available with this model, adding to the ultimate sleep experience. Also available with this product is an exclusive luxury pad. Coupling the highest quality goose down with excellent design and workmanship, it completes this sleeping set to provide an extra layer of sublime comfort.
Kluft Divine Luxe is priced at retail at $38,999.97 for the set (mattress, foundation, luxury pad – King size).
Kluft Low Profile bed collection
Developed for national and international customers who are looking for a more contemporary look, the new four Low Profile beds collection features profiles from 9.5" to 12" with different levels of comfort and firmness.
Handcrafted with natural materials like silk, wool, cotton, horsetail, TerraPur™ latex, and a cover made of elegant Belgian Jacquard Damask, the Low Profile beds collection continues in the tradition of the Kluft brand, masterfully constructed with luxurious design work and attention to detail for an exceptional night's sleep.
The Kluft Low Profile collection is priced at retail from $3,499.99 to $5,599.99 (Queen size).
Kluft Pillow
The new Kluft pillow features the ultimate in luxurious comfort and support. Filled with a combination of two of the finest natural materials – shredded latex and goose down – this new pillow adds to the most opulent sleep experience and provides the perfect complement to a Kluft mattress. Encased in a comfortable 100% cotton cover, this luxurious pillow is available in Queen size.
About E.S Kluft & Company
Based in Rancho Cucamonga, California, E.S. Kluft & Company's two brands are Aireloom and Kluft. Kluft is its most luxurious brand available through Bloomingdale's and other prestigious retailers. Aireloom offers artisanal quality and legacy features such as hand-tied coils and hand side-stitching in the best-in-class category. These quality designs feature cutting edge, patented production methods. To learn more about Kluft and Aireloom product lines, please visit www.KluftMattress.com and www.aireloom.com.
About Marshall Mattress
Founded in 1900 by machinist and engineer James Marshall, Marshall Mattress is best known for its handcrafted luxury pocket coil mattress collections. Marshall invented and patented the original Marshall Pocket Coil, the first independent spring system designed to provide a unique, optimum, comfort and support environment for sleep. The company pairs luxurious materials – such as cotton wrapped and individually-sewn pocket coils, natural New Zealand wool, pure cotton and finely woven Belgian damask fabric – with new technologies and quality manufacturing. To learn more about Marshall Mattress, please visit www.marshallmattress.com.
About The Flex Bedding Group
E.S. Kluft & Company and Marshall Mattress are owned by The Flex Bedding Group from Madrid, Spain. Founded in 1912, The Flex Bedding Group is amongst the world's top 10 global sleep products producers with production plants in Spain, Portugal, Germany, Brazil, Chile, the United Kingdom and the United States, and commands a leadership position in premium bedding.