Many consumers want recyclable mattresses made with sustainable components using green production methods. Manufacturers are delivering.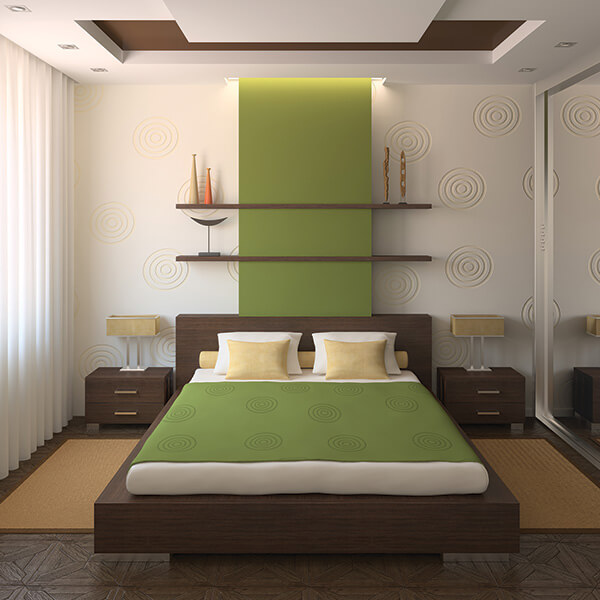 It may not top the list of every shopper stepping into your store or perusing your e-commerce site, but buying environmentally friendly bedding is increasingly among consumers' considerations as they choose a new mattress. This is especially true among younger shoppers — the generations who will be the majority of your customers in the years ahead. And mattress makers are meeting the growing demand with a host of sustainable products.
According to recent research from the Better Sleep Council, 45% of consumers say it is very important that the mattress they purchase is recyclable at the end of its useful life, and 43% say it is very important that a mattress manufacturer uses environmentally sustainable practices or materials. Those are notable numbers, and the percentages are highest among younger shoppers. For instance, 53% of adult Gen Z consumers (ages 18-24) and 54% of millennials (ages 25-40) want a mattress that's recyclable. (The BSC leads consumer education and research for the International Sleep Products Association.)
What's in a word
"Sustainability" can mean different things to different consumers. Some may be looking for bedding made with natural, renewable materials such as organic cotton, wool or latex. Others might be most interested in buying products that incorporate recycled materials or mattresses that can be easily recycled themselves when consumers are ready for a new one. Still others might prefer to buy products from retailers and manufacturers that are striving to reduce their carbon footprint and waste.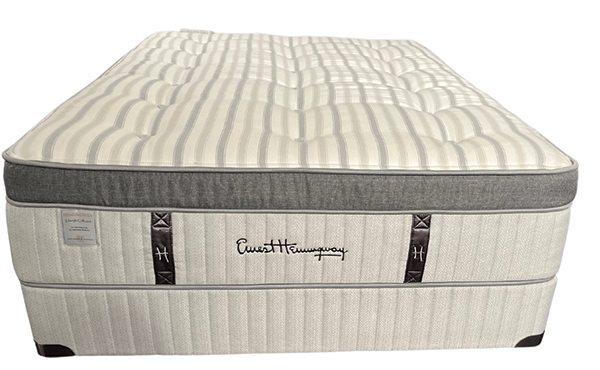 Many manufacturers are trying to meet all of those demands, but they, too, may focus on certain components or manufacturing methods to deem a line sustainable.
This is why you'll want to be clear with consumers in your labeling, marketing messages and sales conversations. Rather than just say a particular mattress is sustainable, it's much better to specify and explain what makes specific components sustainable or how the manufacturer has "greened up" the construction. (See story on sustainability training on page 33.)
Producers are adding more sustainable mattresses with each market cycle. Let's look at some of the latest you may want to consider for your lineup.
A focus on components in Vegas
From the fabric to the core, mattress makers are incorporating sustainable components into every layer of the bed, as seen at the Winter Las Vegas Market.
Bedding Industries of America offers a number of products that "are all-natural and sustainable," including its Natural Dreams brand, says Stuart Carlitz, chief executive officer of the multibrand producer, which has headquarters in North Brunswick, New Jersey. In Las Vegas, the company added the Lifestyle and the Key West — two models focused on sustainability — to its Ernest Hemingway collection.
"We have a variety of products that are all-natural and sustainable," Carlitz says. "We're using natural latex, a lot of wool, a lot of silk." Its springs are recycled steel, and the company uses only CertiPUR-US certified foams. "Millbrook is also sustainable," he says. "It's a line that was designed in the U.K. Two of the beds are manufactured in the U.K., and three beds that we produce in the USA lead up to it, and there are no foams at all in those beds. It's coil on coil, cashmere, wool, silk and cotton on top of 2,500-coil units."
NCFI Polyurethanes unveiled an EcoLux mattress (as part of its BedInABox division) and a new EcoLux sustainable cover in Vegas. The memory foam EcoLux mattress is certified under the USDA BioPreferred program, "which means that the overall content of the finished bed is 30% renewable content," says Chris Bradley, executive vice president of the company, which has headquarters in Mount Airy, North Carolina. The sustainable cover is made from 50% recycled polyester and 50% recycled cotton.
King Koil, a mattress producer and international licensing group, highlighted its Re-Spun mattress line, featuring recycled denim, during the Vegas show.
"Too often, the sustainable choice is the least exciting one. It is possible to create a mattress brand that makes being sustainable stylish and visually exciting," says David Binke, CEO of King Koil, which has headquarters in Avondale, Arizona. "King Koil is committed to producing mattresses that consumers will be attracted to, while simultaneously lessening our carbon footprint."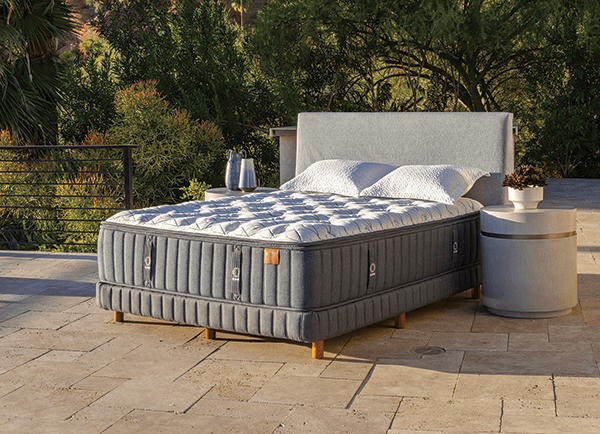 The line incorporates EverJean fabrics, which are made of 50% post-consumer recycled denim, and the faded blue hue means the producer can skip dyeing the fabrics, saving water and energy. According to King Koil, the material adds a bit of durable elasticity to the beds, which also feature New Zealand Joma wool and glue-free QuadCoil and Flexecore spring units. (Glues can make it difficult to separate fabric encasements from pocketed coil units for recycling at the end of a mattress' useful life.) The seven-model line, priced from $1,999 to $3,499, has certifications from organizations including Greenguard, Oeko-Tex, Global Recycled Standard and others.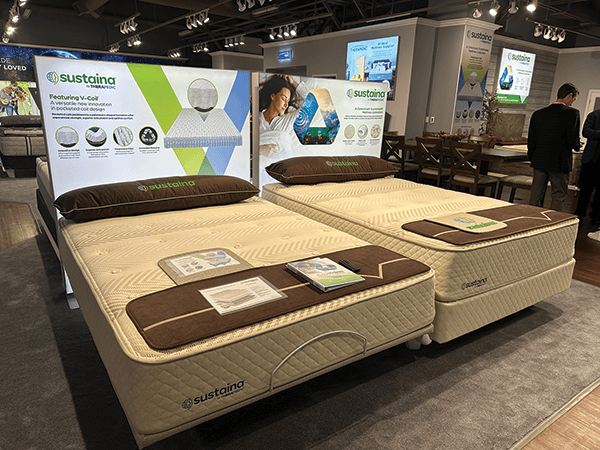 During the winter market, Therapedic International debuted its three-model Sustaina line, which the licensing group bills as a "consciously sustainable mattress collection." According to the Princeton, New Jersey-based company, Sustaina's signature V-Coil unit features pocketed V-shaped coils at an angle, allowing for more efficient use of steel and lower product weight, which reduces fuel use during transportation. Cushioning materials include natural latex and New Zealand wool. Its organic cotton ticking is certified by the Global Organic Textile Standard.
"With sustainability being a top-of-mind issue in today's marketplace, we wanted to supply our retailers with a strong offering in that arena," says Gerry Borreggine, Therapedic president and CEO. The beds retail from $1,799 to $2,199.
Majors embrace sustainability
One of the latest additions to the Serta brand is the Serta iComfortEco, which will launch in April. The line is in response to consumers asking for "the integration of more sustainable materials" into mattresses, says Shelley Huff, CEO of Atlanta-based Serta Simmons Bedding.
Key features of iComfortEco mattresses include a CoolTemp cover made in part with Repreve performance fiber derived from recycled plastic bottles. Recycled plastics are also part of the bottom support layer. A comfort memory foam layer with 30% plant-based content has USDA BioPreferred certification. At the center of the hybrid models in the line is a five-zone coil unit made from 85% recycled steel and assembled without glue. The iComfortEco models retail from $1,299 to $3,499.
Sealy uses a "good for you" and "good for the planet" message to promote its premium Naturals collection, which also features eco-friendly components throughout, beginning with a top cover made of organic cotton, hemp and plant-based Modal fiber. The brand, part of Lexington, Kentucky-based Tempur Sealy International, touts that the latex used in the collection is "not only sustainably sourced but also entirely biodegradable. We harvest the latex from unique trees that remain unharmed during the process and can continuously produce latex for 20 years." Sealy, too, promotes the fact that its Naturals mattresses use less glue, in this case, because it hand tufts the beds.
"Really, it's a marriage of the legendary quality of Sealy and responsibly sourced materials," Steve Russo, president of U.S. sales, told Sleep Savvy when the line debuted last year.
The Naturals line is Greenguard Gold certified, indicating the mattresses don't emit harmful levels of chemicals into the air. Like many other sustainable mattresses, the beds come with a premium price tag: Retails start at about $3,500.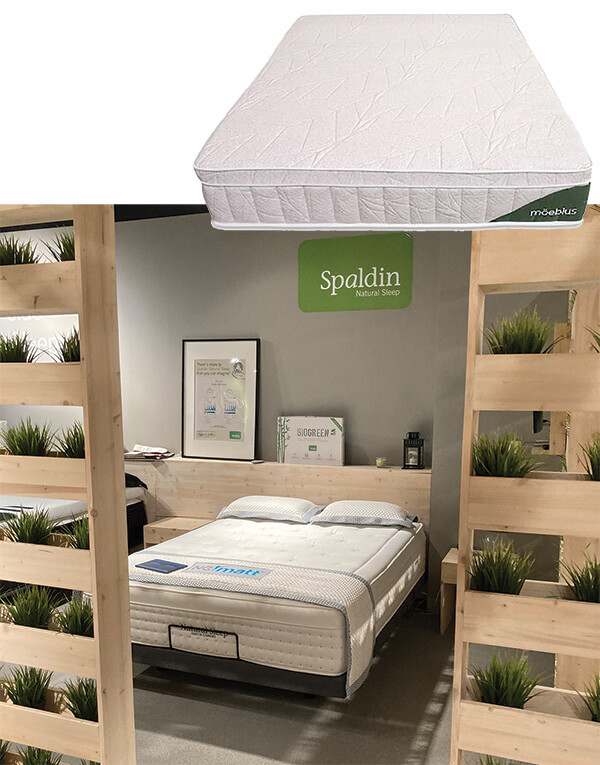 Recyclability and circularity
Some mattress makers are directly addressing the need to make mattresses easier to recycle.
At ISPA's inaugural Sustainability Conference last fall, Spaldin introduced MöebiusOne, a fully circular boxed mattress, to the U.S. market. To create it, Spaldin joined with Niaga, part of the Leverkusen, Germany-based Covestro group. The bed uses a modular design of steel and polyester that allows the materials to be easily disassembled at the end of the mattress' useful life. The materials can then be recovered and used in new bedding. By scanning a "product passport" on the mattress, consumers can learn more about its components and how the bed can be returned so that its materials stay in the production loop.
"We want to make our contribution to unravelling the issue of waste in the world," Oscar Valdemoros, president of the Logroño, Spain-based company said last year. "We know how scarce materials are, and we have to stop destroying them and start recovering them. Where others only see waste, we see valuable materials. Möebius is the best way we've found to be honest with our company and with our conscience."
At the Winter Las Vegas Market, the company unveiled a full range of MöebiusOne products, including a mattress topper, infant mattress and pillow, and even a bath pillow.
Last summer, Paramount Sleep Co. launched the licensed A.H. Beard Origins line, which is billed as a fully recyclable luxury mattress. "The Origins mattress is not only a beautiful, luxurious product, but it is also a solution to the landfill problem," says Richard Fleck, president of the company, which is based in Norfolk, Virginia. "A fully recyclable mattress is the ultimate sustainable mattress." The product makes sense for Paramount, which helped launch the Mattress Recycling Council and whose managing director, Richard Diamonstein, serves on the MRC's board. Diamonstein is being honored by ISPA in March for his efforts to improve the industry's recycling efforts.
But back to the Origins lines: Mattresses in the three Origins collections (Planet, Populace and Prosperity) are made with steel springs, wool and natural rayon. The components are joined without glue, making it easy to disassemble and separate the various layers for recycling.
Tony Pearson, CEO of A.H. Beard, says the company created the Origins line, in part, "to inspire others to join us in creating mattresses that are as good for your sleep as they are for people and the planet."
---
A Good Topic for Spring Training
Yet another session could focus on mattress recycling. If you sell mattresses in California, Connecticut and Rhode Island, you should be familiar with the Mattress Recycling Council, which runs the state-mandated mattress recycling programs in those states, and its consumer-facing Bye Bye Mattress resources.
You might want to devote a sales training session specifically to sustainability — or create a series of modules because there is a lot to cover. One session could focus on the sustainability of certain components in the mattresses you carry. Another could be devoted to the various sustainability-related certifications, from CertiPUR-US to Oeko-Tex to the Sustainable Forestry Initiative and more. (Sleep Savvy has a primer on certifying organizations and their standards. You can find it at SleepSavvyMagazine.com/Certifications-Guide.)
The MRC offers good overviews on the recyclability of mattress components and a locator for consumers interested in recycling their used mattresses, regardless of where they live in the country. And, of course, MRC also offers extensive, specific information about recycling in California, Connecticut and Rhode Island. Visit MattressRecyclingCouncil.org and ByeByeMattress.org.
A final training session could include role-playing exercises so that retail sales associates can get comfortable explaining what they've learned in ways that are accurate and understandable to shoppers.
Managing Editor Waynette Goodson contributed to this report. Note: All prices are suggested retail for queen-size mattress only unless otherwise noted.