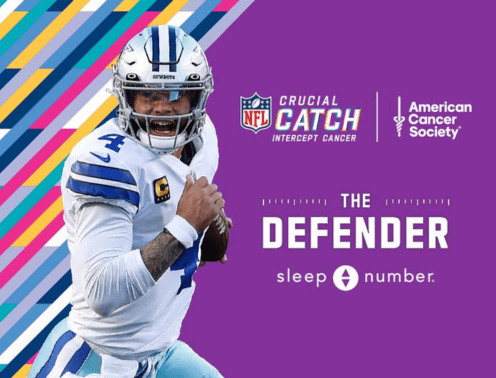 Named an Official Crucial Catch Partner of the NFL, Sleep Number Corp. has joined forces with the NFL and the American Cancer Society in the fight against cancer. The company is also adding its own initiative, an online resource called The Defender.
The NFL started Crucial Catch in 2009 to empower fans to take their health into their own hands through cancer screening, education and risk detection. Since then, the initiative has raised over $27 million for ACS through sales of Crucial Catch branded merchandise, NFL auction items and general fundraising.
The Official Sleep + Wellness Partner of the NFL, Sleep Number is the presenting partner of The Defender, an online resource where fans can learn how to reduce their cancer risk and find local screening resources.
Located at NFL.com/CrucialCatch, The Defender can determine what type of cancer screening that users need, find their local cancer screening center, schedule screening reminders, and have their cancer-related questions answered through ACS's 24/7 chat and hotline.
Individuals who visit the site are asked questions about common lifestyle practices that may impact their chances of getting cancer, including sleep, diet, exercise and more. The assessment takes a few minutes to complete and provides the participant with a personalized overview of lifestyle changes to minimize cancer risks. As a thank you, upon completion of the quiz, participants will receive $20 off a Sleep Number pillow online or in stores, good through Oct. 31.
"Championing early cancer detection and prevention initiatives through The Defenderis closely tied to Sleep Number's purpose: to improve the health and wellbeing of society through higher quality sleep," said Shelly Ibach, chair, president and CEO of Sleep Number, based in Minneapolis, Minnesota.
"We know that simple lifestyle changes — like prioritizing sleep — can have a meaningful impact on risks for certain types of cancers," Ibach said. "Sleep Number is proud to join the NFL and ACS in the fight against cancer. It takes all of us to end cancer as we know it, for everyone."
As an ACS partner and the 2022 Corporate Partner of the Year, Sleep Number is collaborating with ACS on sleep research that may lead to the first-ever sleep guidelines for cancer prevention and recovery. The company is also supporting patients and caregivers at ACS Hope Lodges with smart beds and temperature-balancing bedding.
In addition, Sleep Number partners with the NFL Players Association and several teams to provide sleep expertise and guidance. More than 80% of NFL players have a Sleep Number smart bed. Through the company's four-year relationship with quarterback Dak Prescott, he is ACS's new Global Brand Ambassador and is amplifying the impact of Crucial Catch.