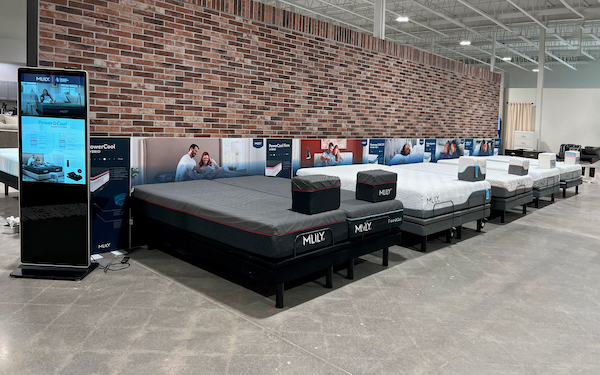 Furniture and mattress retailer Mor Furniture for Less will launch 33 Mlily USA galleries in stores across the West, Northwest and Southwest United States this month. The expanded presence is part of the strategic direction of Mlily's parent company, Healthcare Co. Ltd., which acquired Mor Furniture for Less in 2020.
Each Mlily gallery will include up to 10 mattress models, representing bestsellers and products that exemplify the company's range from all-foam and hybrid mattresses to adjustable bases and pillows.
"The Mlily brand will have increased visibility and better communicate its value and offerings," said Glenn Kobylarczyk, executive vice president of the Knoxville, Tennessee-based company. "In addition to a refreshed design, new point-of-purchase materials featuring enhanced graphics and video will aid retail sales associates and consumers to select the best mattress."
Mor Furniture recently opened its newest store in Tacoma, Washington, with the Mlily gallery offering the PowerCool sleep system and top performers Harmony Chill 3.0, Fusion Supreme, and WellFlex 2.0 and 1.0 mattress models. Mor Furniture for Less stores can be found in Washington, Oregon, California, Nevada, Idaho, Arizona and New Mexico.